Made from recycled magazines, this magazine mosaic flag is a fun art activity that kids will love. Showing your patriotism is not just reserved for adults, kids love showing off their USA pride too! This is a great way to use some of those old magazines and allow kids to express their creativity.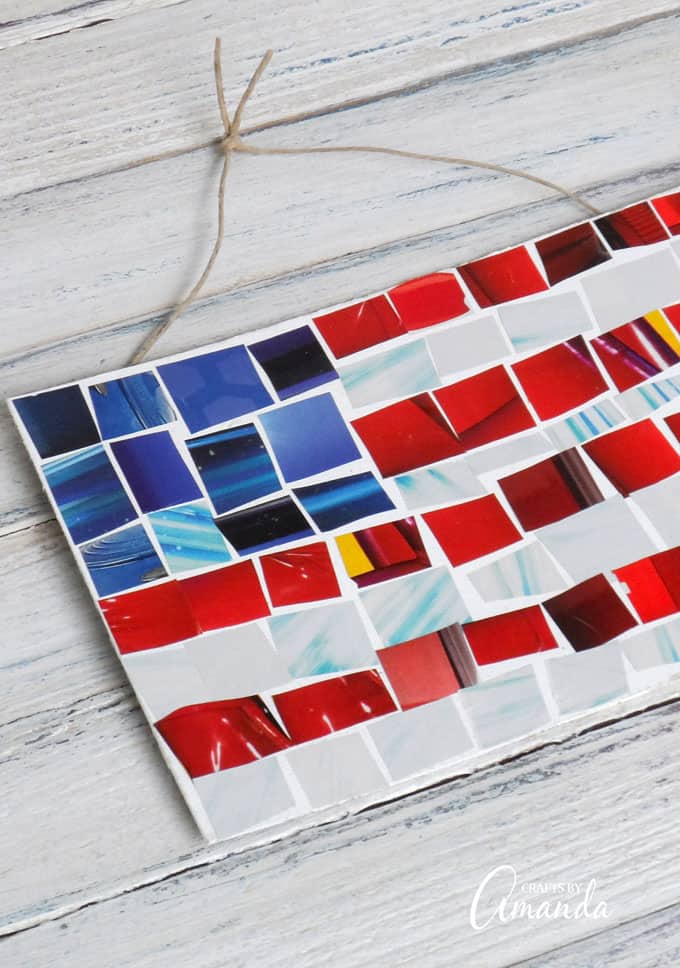 Magazine Mosaic Flag
I initially shared this post on my blog in honor of the 11 year anniversary of September 11th, now known as Patriot Day. I remember every last detail from that day, from the whereabouts of my children to the place I was standing when I heard the news. It's important for us to share the significance of this day with those that come after us.
We will never forget.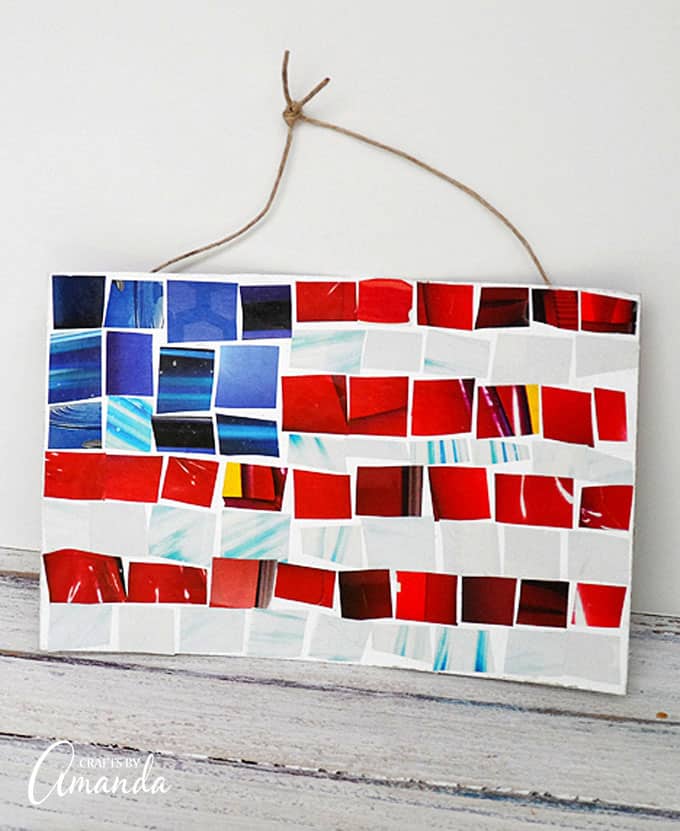 I'm sharing this easy magazine mosaic flag project with you so you can share it with your children, whether it be for Memorial Day, Fourth of July, or Patriot Day.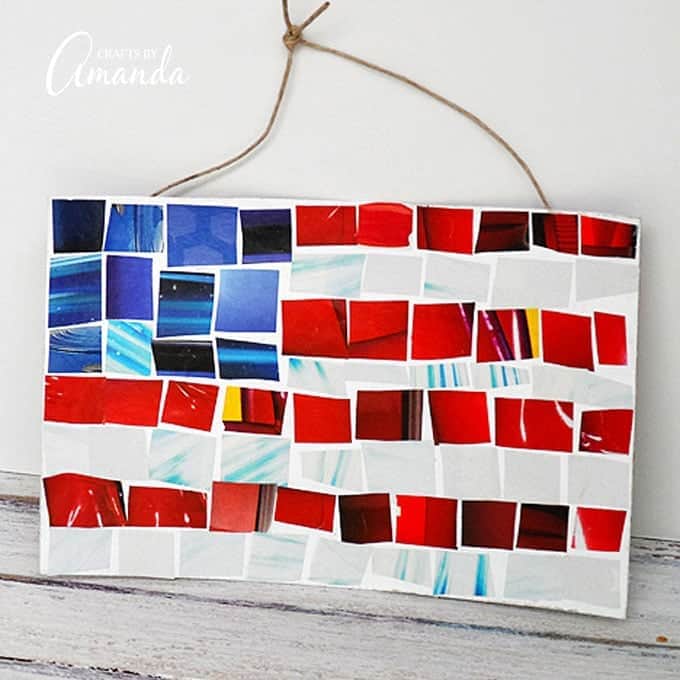 What you need to make a Magazine Mosaic Flag
4" x 6" piece of thin cardboard (cereal box, notepad, etc)
Magazines
Making the Magazine Mosaic Flag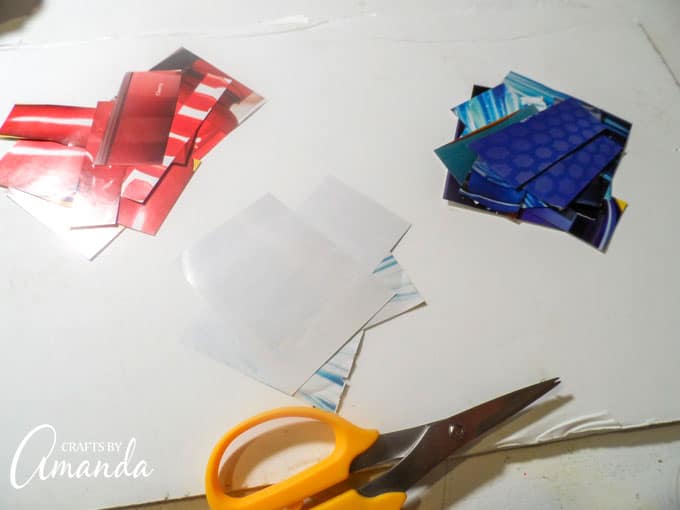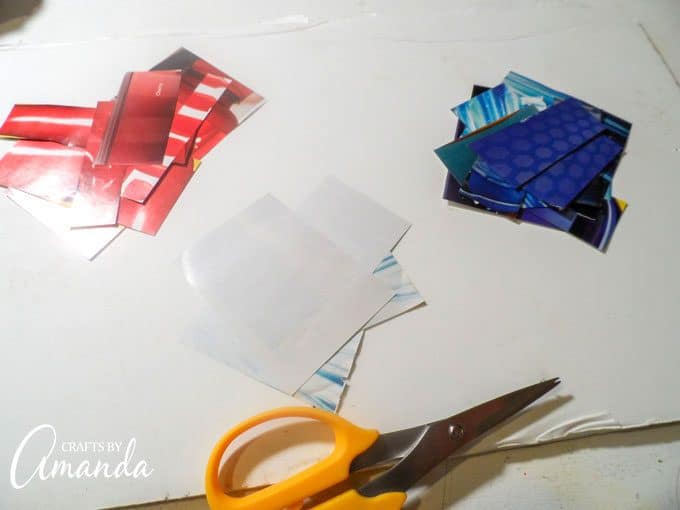 This activity is simple and a great way for kids to celebrate this great country of ours.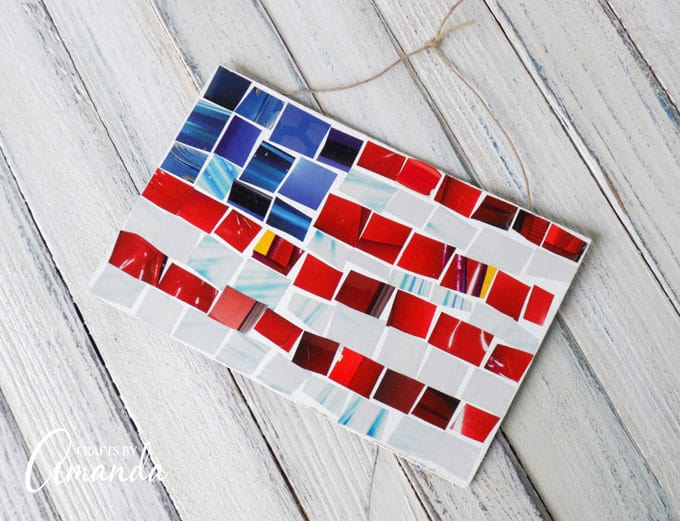 Check out more crafts to show your patriotism on Fourth of July or Memorial Day like these Fourth of July Luminaries. They can also light up a path to the door to welcome home a soldier! If you're having a gathering, these Recycled Patriotic Utensil Holders are a great addition. Last but not least, this Patriotic Duct Tape Parade Stick is fun for kids during parades or for parties at home.
More fun patriotic crafts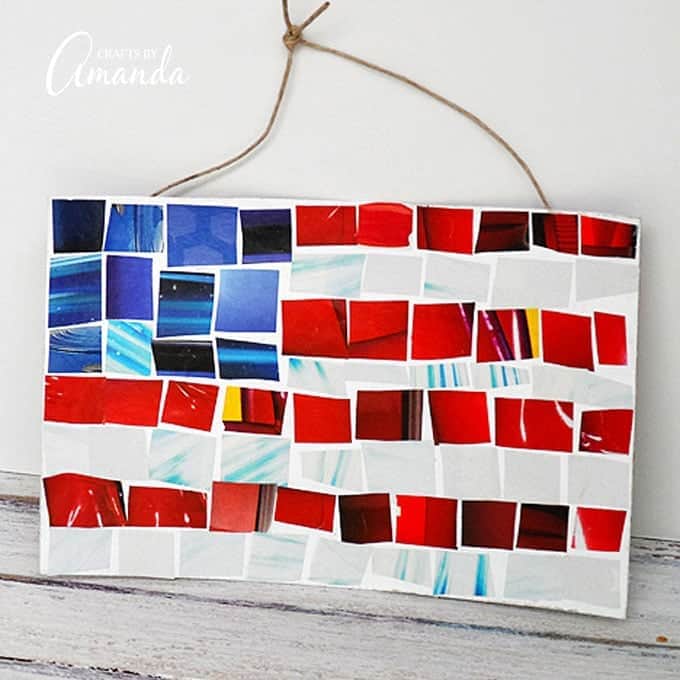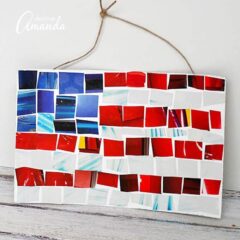 Print Project
Magazine Mosaic Flag
Supplies
4" x 6" piece of thin cardboard

cereal box, notepad, etc

White acrylic craft paint

Magazines

Scissors

String

Glue stick

Hot glue gun or instant grab glue
Instructions
Paint cardboard with white paint and allow it to dry completely.

Cut red, white and blue areas from magazines and cut it small squares.

Apply glue stick to the top of the cardboard and press blue squares in the upper left corner. Add stripes with red and white squares.

Tie a piece of string in a knot and hot glue to the back of the flag (parents should handle glue gun).
This post was originally published on this blog on Sept. 11, 2012.
Latest posts by Amanda Formaro
(see all)