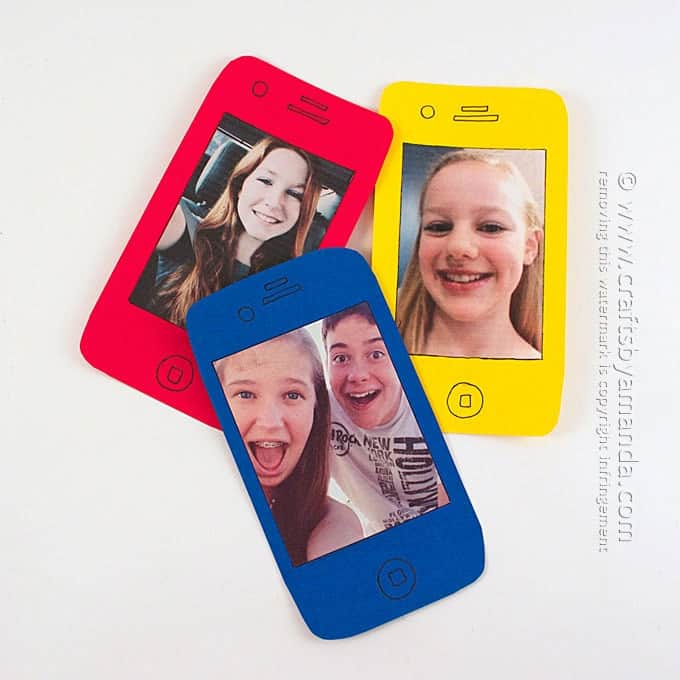 Need a fun and unique idea for your kids for Father's Day? Kids of all ages are carrying cell phones these days and they are the kings and queens of #selfies! Make a card shaped like a phone and attach a selfie from your child to their dad.

Special thanks go out to Kendell Stroud and Tanner Bell of Little Craft in Your Day, as well as Kyra Chiappini and Jessica Langelier for sharing their selfies with me!
I originally made this project for Spoonful. Spoonful has since closed and the instructions were taken down. I am putting the instructions here until such time that Spoonful projects are redirected to a new home. At that time I will remove the instructions and link directly to the project on their site.
Cell Phone Selfie Father's Day Card
Supplies
Card stock
Selfie photo printed on white copier paper
Tools: Scissors/cutting board, glue stick, fine point black marker, pencil
Directions
Cut card stock into a rectangle about the same size as a cell phone. You can use your own phone as a guide to draw on any buttons or controls with a pencil. Round the edges of the rectangle with scissors.
Write your message on the back. Something like: "I can't stop my #selfie from thinking you're the greatest DAD!"
Trim your photo to fit the area on the front of the card and cover the back completely with glue stick. Stick it to the front of the card. Use a fine point marker to trace around the photo to give it a border and to trace around any controls or buttons.
Amanda Formaro is the crafty, entrepreneurial mother of four children. She loves to bake, cook, make kid's crafts and create decorative items for her home. She is a crafting expert and guru in the kitchen and has appeared online and in print publications many times over the years. She is also the editor for the Home & Garden channel at Craft Gossip and owner of FunFamilyCrafts.com.
Latest posts by Amanda Formaro (see all)