Paperweights have always made great gifts for Father's Day. Just head outside and find some rocks, they're super easy to make and are useful! Dad can use them at work at his desk, or at home in his own space. These Father's Day Hero Stones rock paperweights tell dad what he is to you. He is your hero, so tell him!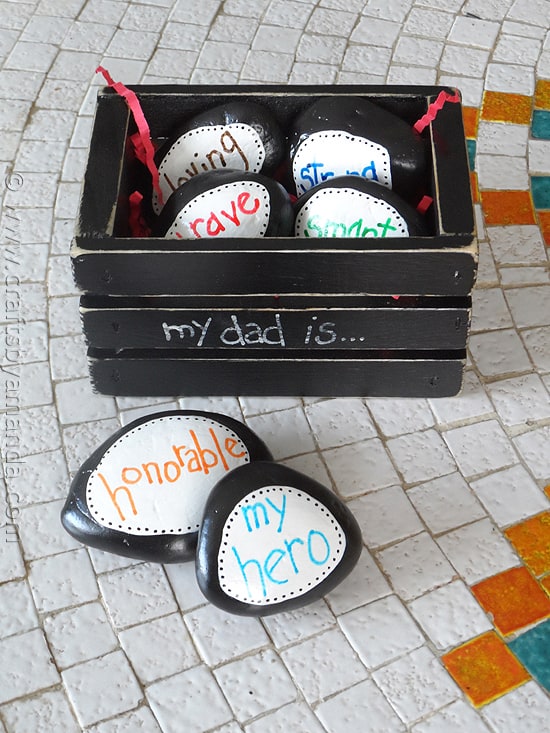 Painted Rocks for Father's Day
This is a great project for older kids to make for dad. However, with some help from mom, these are also great for the younger set.
Related – check out a ton more ideas for painted rocks!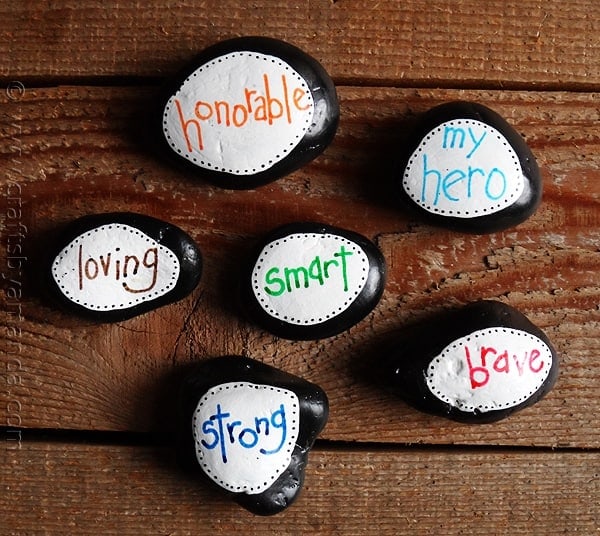 I've put these into a little wooden crate as well. These crates can be found at Michaels and are only a couple of dollars.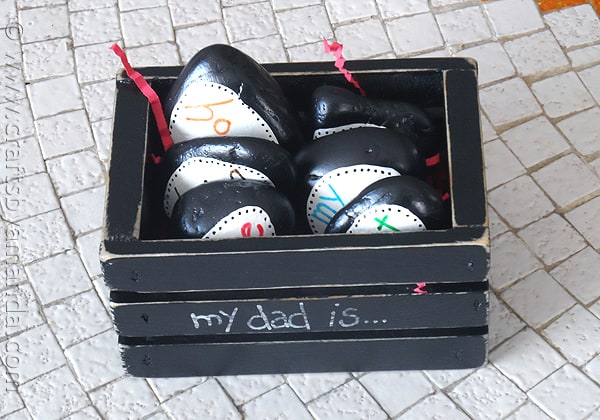 What You'll Need to Make Father's Day Hero Stones
I've suggested some words in the instructions, but you can certainly substitute any others that you see fit.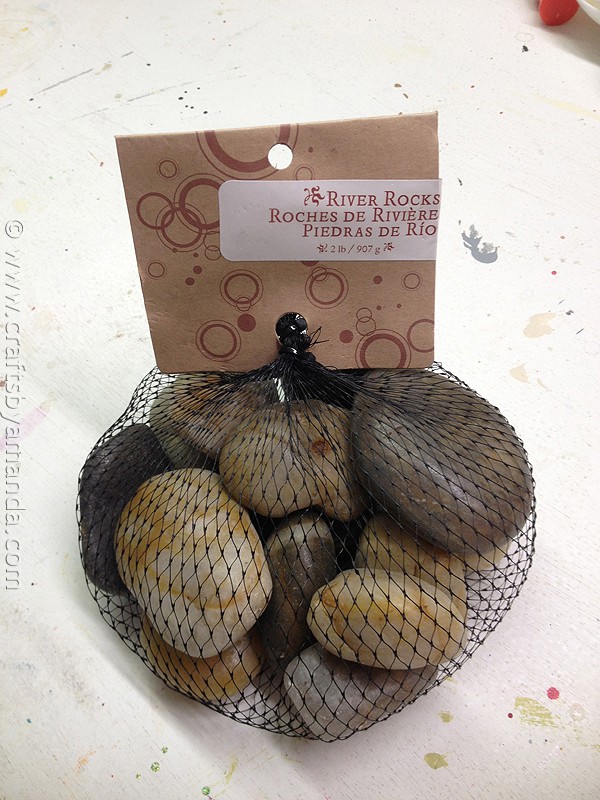 As I mentioned, you can get rocks out of the yard, or you can buy a bag from Michaels or other craft stores. I found mine over by the seashells near the florals.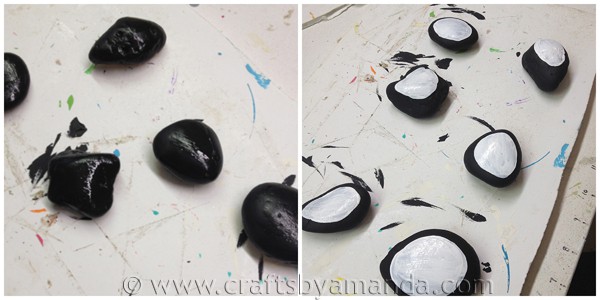 Start by painting the rocks black. Once they have dried completely, paint a circle of white paint in the center of each. You may need 2, or even 3 coats.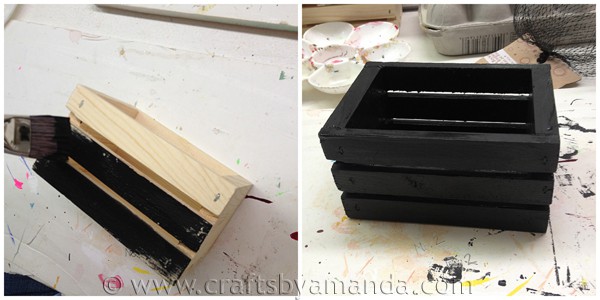 Sand the edges of the wooden crate and paint it black. After it dries, sand the edges to expose some of the wood. When you're all done you'll write "my dad is…" on the front of the crate.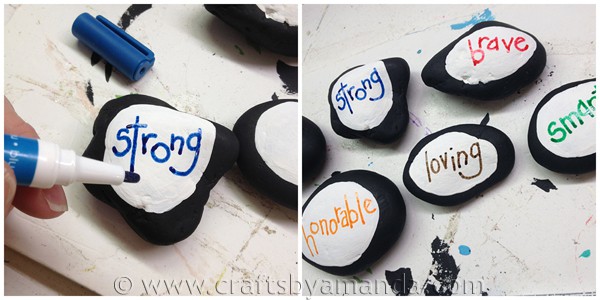 To decorate the rocks, use colorful paint pens to write the words on the rocks. Add polka dots around the border of the white circles.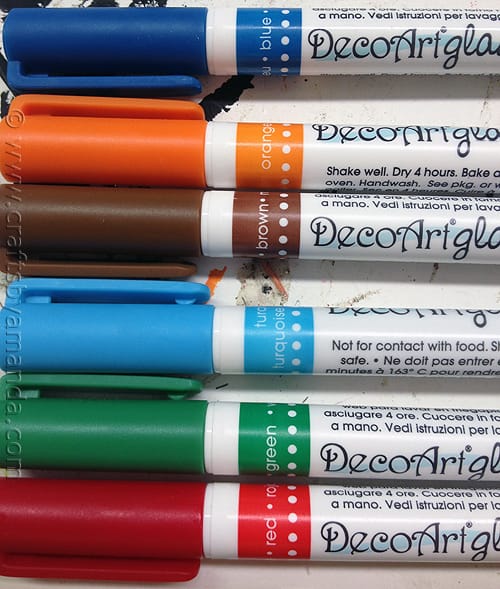 Note: I used DecoArt's paint pens, which I LOVE. I used them for the first time when I made my Colorful Mustache Mugs. However, you could use colored Sharpies if you want to. However, if you do, you will need to allow the Sharpies to dry for a couple hours before adding the sealer. If you don't, the Sharpies might run and ruin all your work!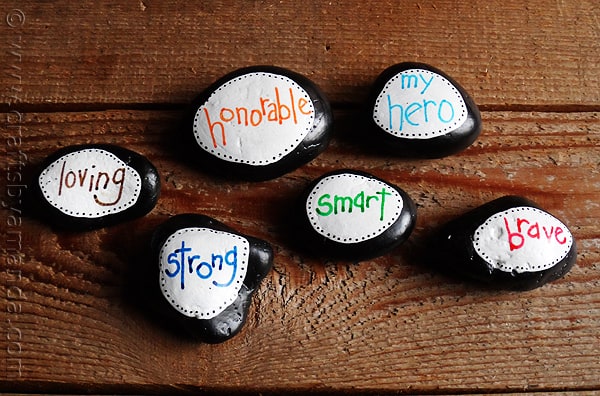 Full detailed instructions below. Have a Happy Father's Day!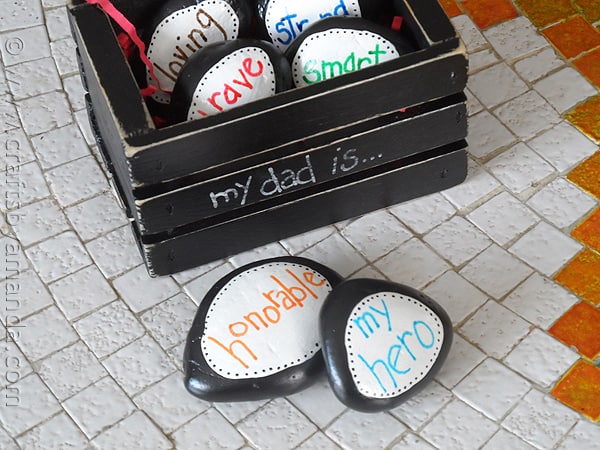 Find more Father's Day craft ideas at the links below!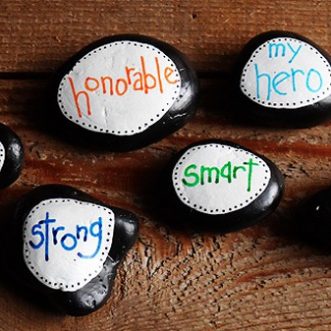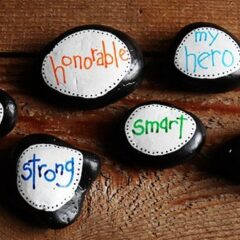 Print Project
Father's Day Hero Stones
These painted rocks are ideal for Father's Day! Create these stones that come with their own case and make great paperweights!
Supplies
Small wooden crate

6

smooth stones

Black and white acrylic paint

Paint pens or colored Sharpies

Sandpaper

Acrylic sealer

matte or satin finish
Instructions
Paint the stones black and let dry completely. When dry, paint a circle on the stone with white paint. You will probably need 2-3 coats to cover; allow to dry between coats.

Sand the wooden crate and paint it black. When dry, sand the edges to expose the wood underneath. Use a white paint pen to write "my dad is…" across the front on both sides.

Use colored paint pens to write the following words in the white circle of the stones: strong, brave, smart, loving, honorable, my hero.

Use black paint pen to add small dots all around the inside edge of the white circles.

Allow everything to dry for several hours. Sharpies will run when sprayed with sealer if not allowed to dry completely so be sure not to skimp on this step!

Spray the crate and the stones with acrylic sealer. When dry, apply a second coat.
Expert Tips & FAQs
Use smooth stones you find outside, or you can purchase them near the floral department at your local craft store.
This post originally appeared here on May 26, 2013.
Latest posts by Amanda Formaro
(see all)