I moved into my studio a little over a year ago. When I was first putting furniture together or shopping for supplies or making decor, I used the hashtag #amandasstudio to chronicle everything on my Instagram account. Well now that it's been a year I wanted a way to display some of those posts in a creative way. Then I found my new favorite photo paper and created this Instagram cabinet!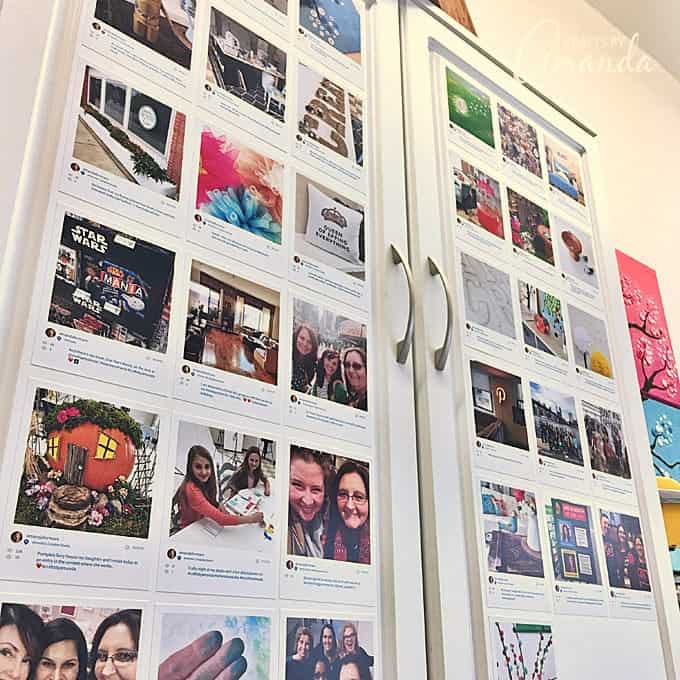 Instagram Cabinet
I have two tall white cabinets in my studio. They turned out to the be the perfect surface for this Instagram photo display idea! It will take some time, but they will each become their own Instagram cabinet.
Be sure to keep reading to find out exactly how I did this…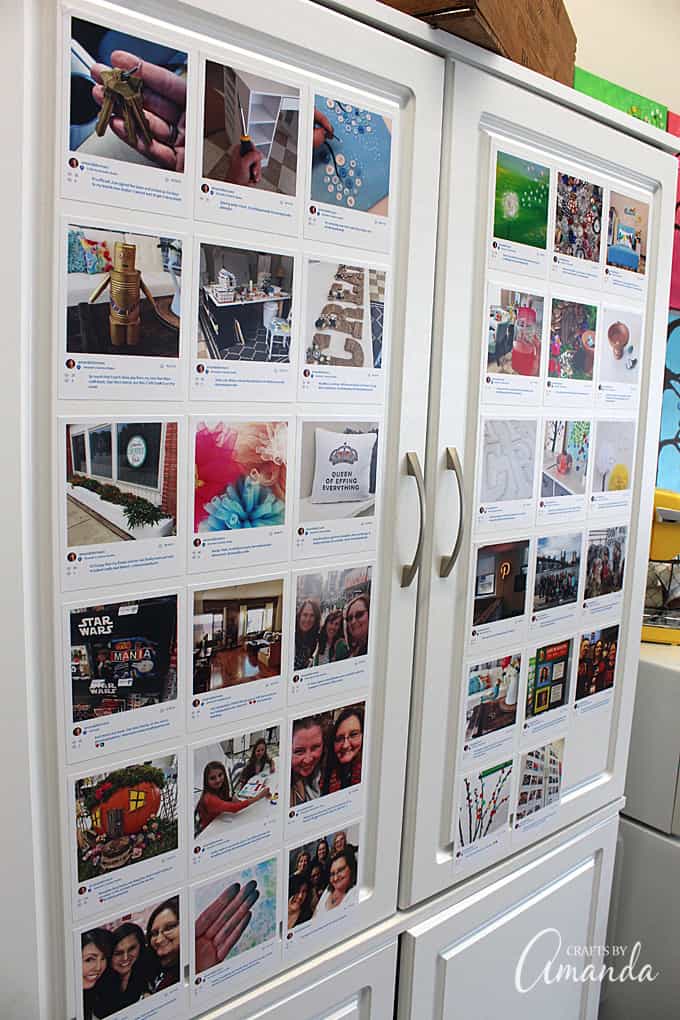 After one full year working in the studio, I've taken a lot of photos. Putting them on display was a great reminder of my journey and has also turned out to be a great conversation starter! Whenever someone stops in, even the UPS driver, they always look at the pictures. It's become a focal point that draws people in.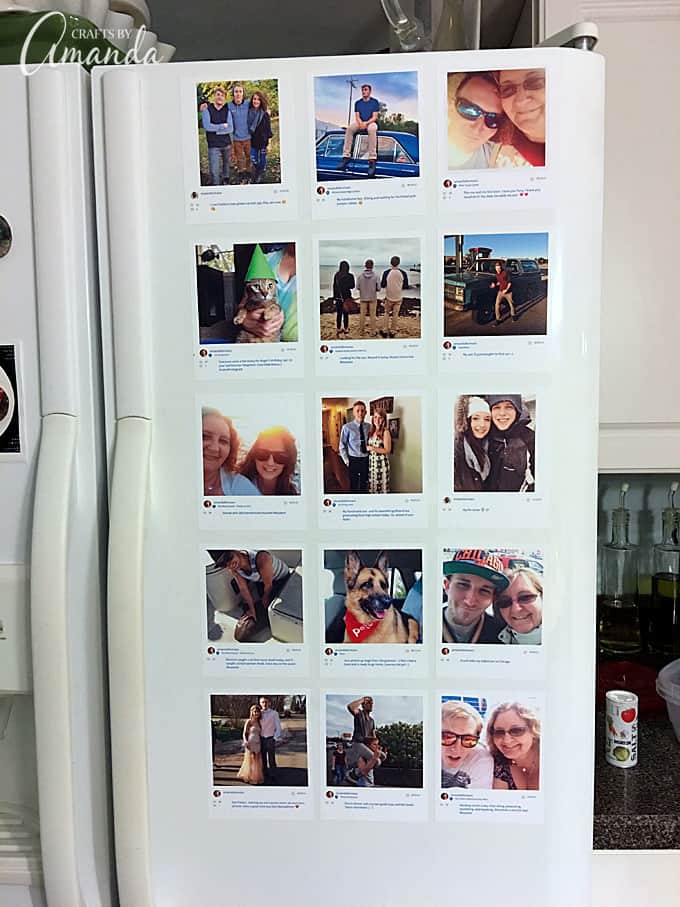 I actually did something similar at home too on my refrigerator. The same thing happens there. Everyone that comes into the house gravitates toward the fridge to see what all the photos are.
Back to the cabinet.
There are affiliate links in this post. That means if you buy something from that link, I will earn a small commission, but it won't cost you anything additional.
As I said, I wanted to put my first year in the studio on display. I recently discovered a free app and some awesome photo paper that will turn your Instagram (or camera roll, or Flikr or Facebook) photos into peel and stick Polaroids, complete with Instagram captions and like/comment numbers.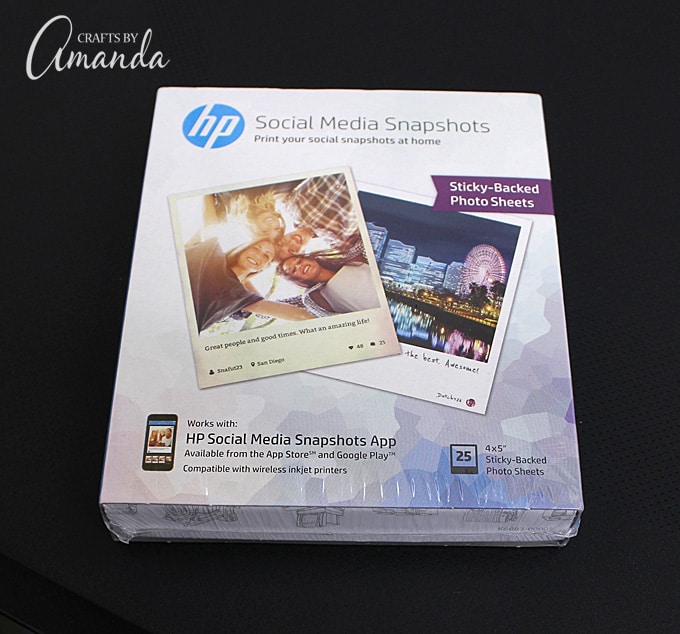 I used HP Social Media Snapshots photo paper and the free phone app called HP Snapshots. A box of 25 sheets is approximately $9.99 and I recently `found some at Office Max. However this link on Amazon has them for $6.99 with free Prime shipping! If you aren't a member (I am!) you can try Amazon Prime on a 30-Day free trial
.
A year in pictures
Looking back through these photos was a lot of fun for me. This was a big step in my business, so seeing it documented in a fun and colorful way was perfect for my creative brain.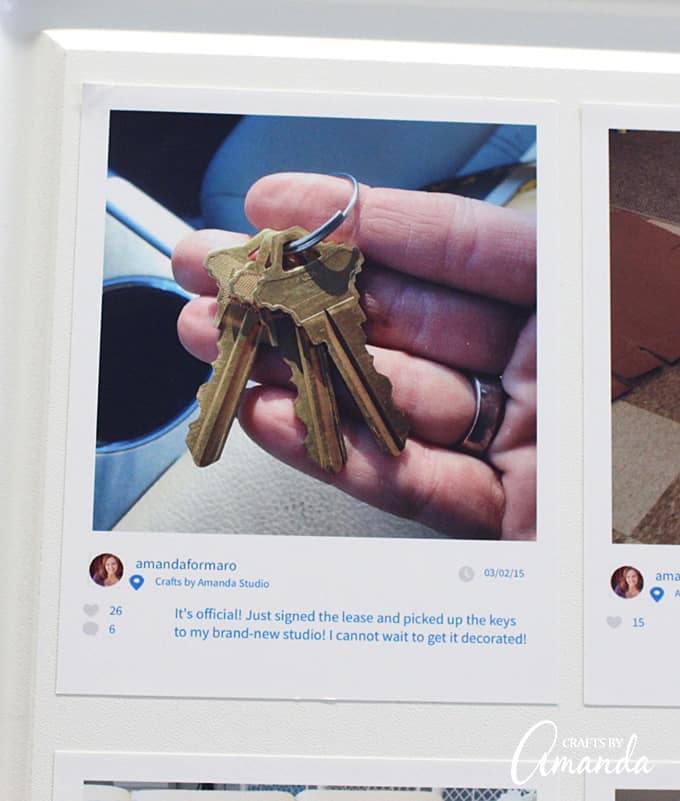 This was the beginning! After signing the lease for the studio, I snapped a picture of the keys and started my Instagram journey.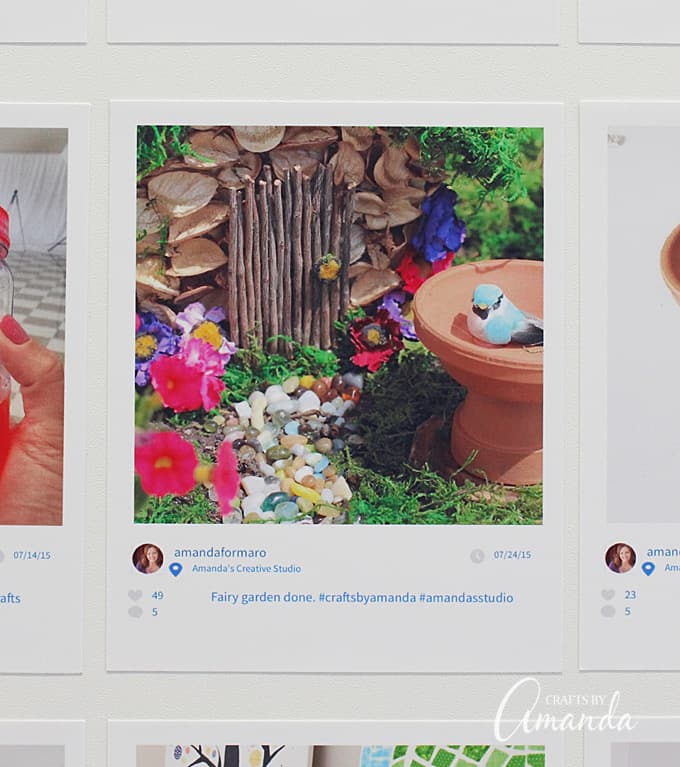 In July of 2015 I put together my fairy garden. Who knew it would become such a popular post on this blog!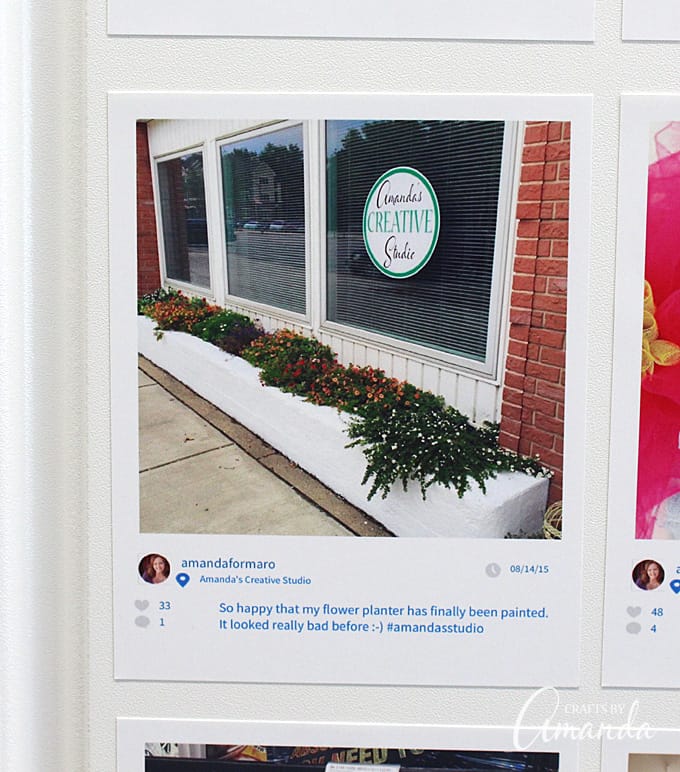 Planting flowers in this planter cost me over a hundred bucks! But I didn't care. They made me smile every time I walked up to the door. I received tons of compliments last summer, and once the tulips die off this spring I will plant again.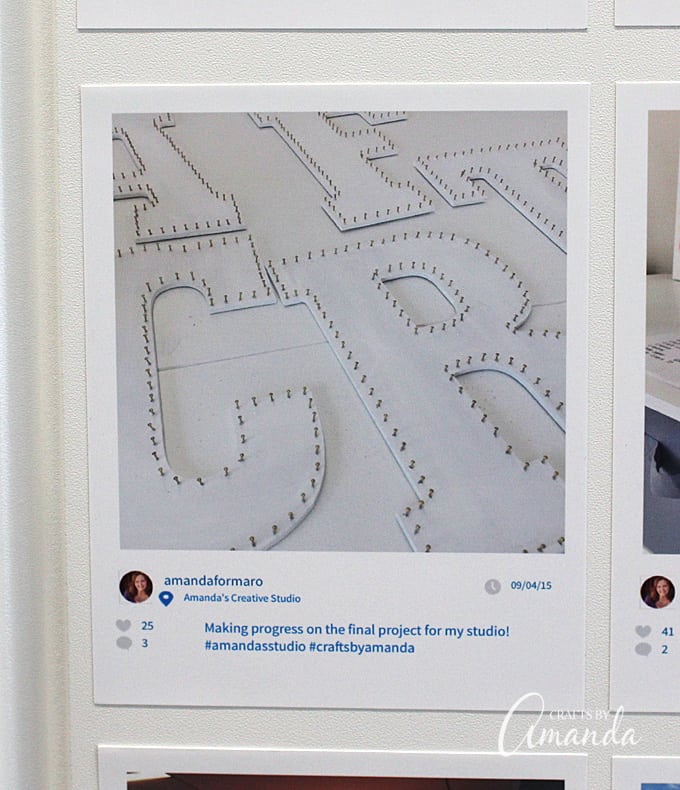 I made quite a few different projects to decorate this studio. The string art letters were the finishing touch for the walls.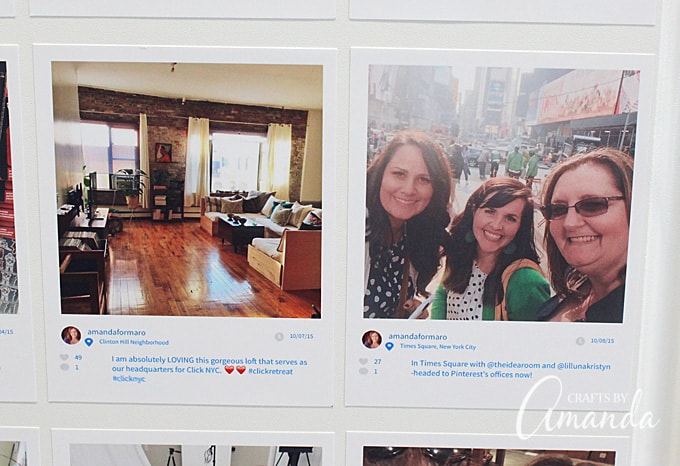 My business takes me places too, I'm not always in the studio. In October 2015 I attended a conference with several blogger friends in New York City. We stayed in an amazing loft in Brooklyn. It was my first time in the Big Apple!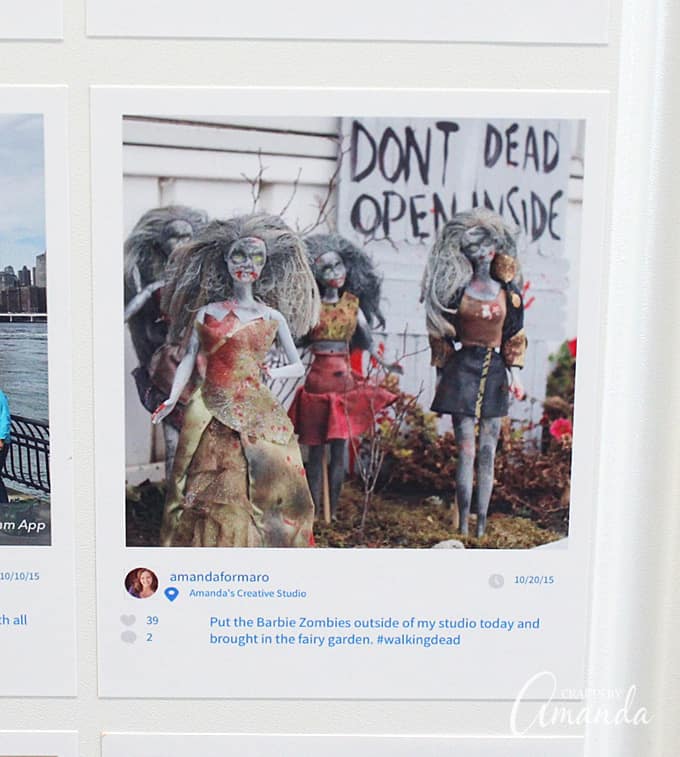 When the weather cooled off and it was time to remove the fairy garden, I displayed my Barbie Zombies. I can't help it… I am a big Walking Dead fan! They were a big hit in the window box last year so they will definitely go out again this fall.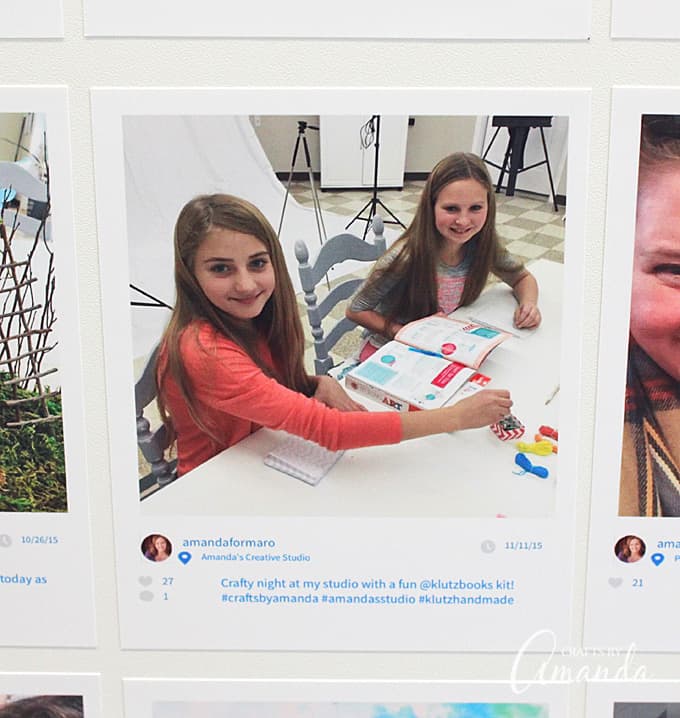 A couple of the neighbor girls came by the studio to do some crafting one night in November. Some day I may offer classes. But for now it was just fun sharing my space!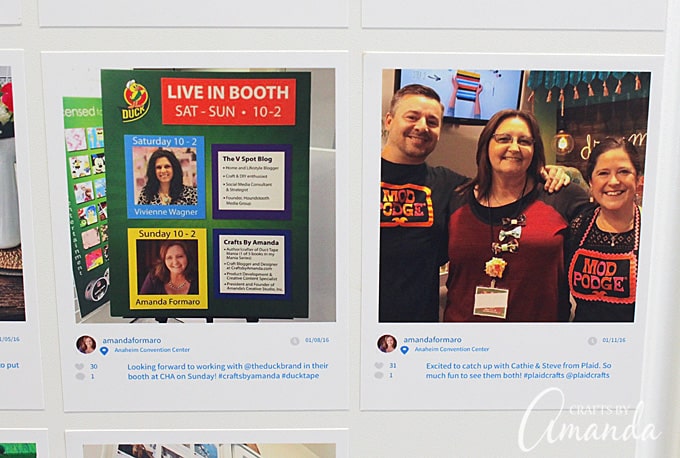 January brought more business travels when I went to California for the annual Craft & Hobby Association trade show known as CHA. It's always great to catch up with old friends, including crafty celebrities like Cathie & Steve!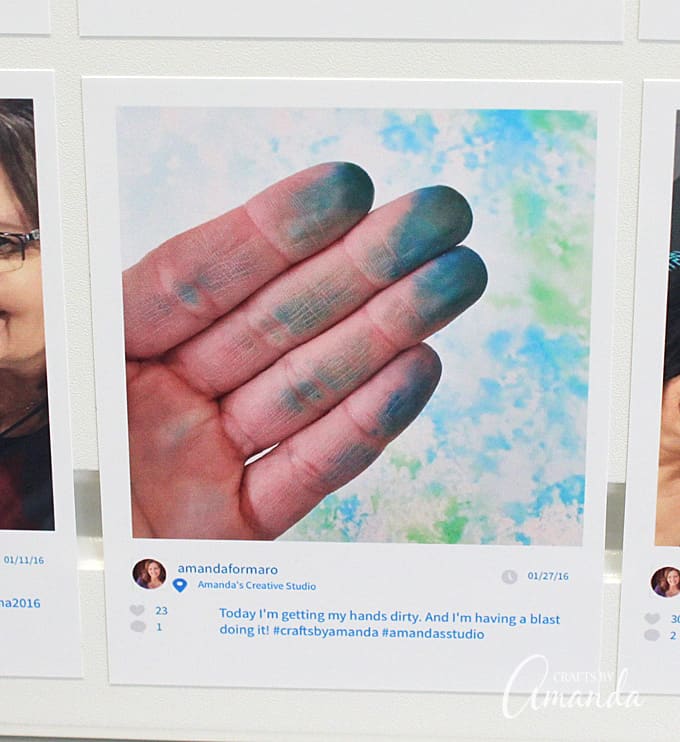 And of course I craft. :) This picture was a spur of the moment shot while I was working on my bleeding tissue paper bird art.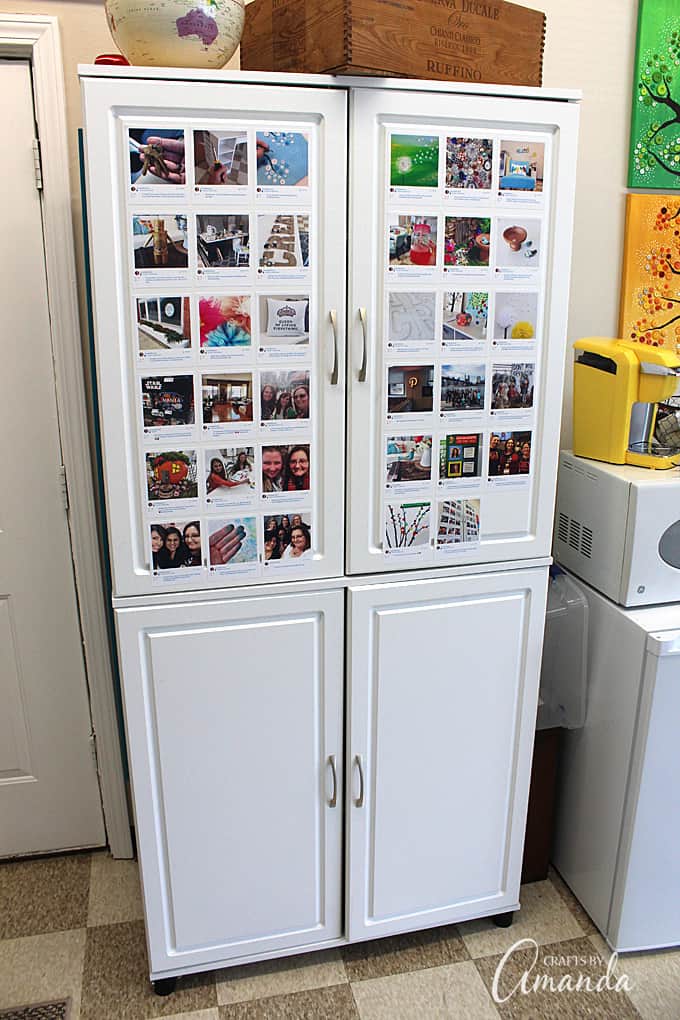 In case you are wondering how I stuck these pictures to the "Instagram cabinet", the photo paper is peel and stick. And you can move them around (within reason of course)! So as I take more pictures, I'll print more and add more to the cabinet. What would you cover with your Instagram photos?
Thanks for joining me!
Latest posts by Amanda Formaro
(see all)