Many crafts are for preschoolers and up, but even your little ones can get in on the fun with this Paper Snowflake Banner, perfect for toddlers. This blog post is sponsored by Crayola on behalf of the Mom It Forward Influencer Network. All opinions are mine alone. #MyFirstCrayola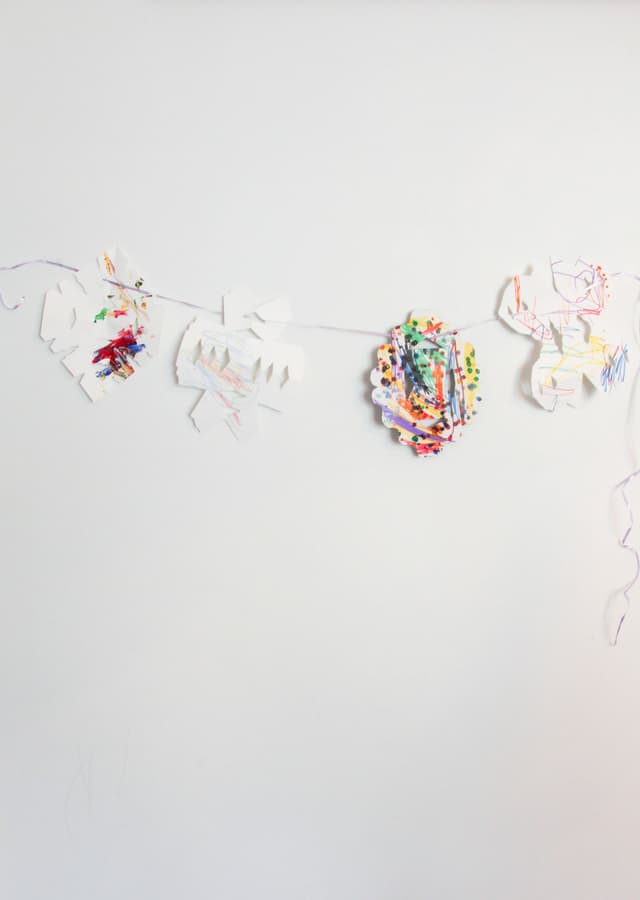 Paper Snowflake Banner
Running a daycare means you have to find fun things for a variety of age groups. We loved making these melted crayon paper plate ornaments, but we were looking for something for the littles. I've had kids as young as a year old, up to 4 years old, and my 6-year-old popping in from time to time.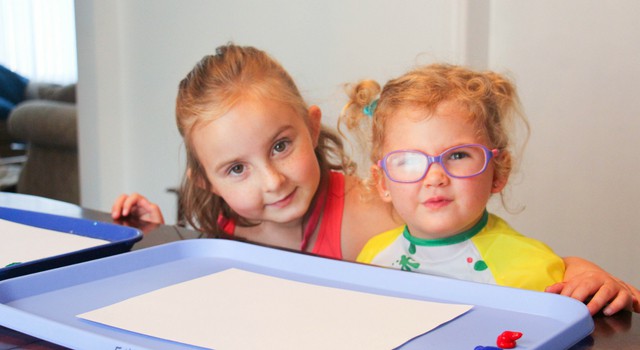 Every single one of them enjoys arts and crafts; it's a wonderful way to foster and empower imaginative thinking and provides a fun environment to practice critical thinking skills.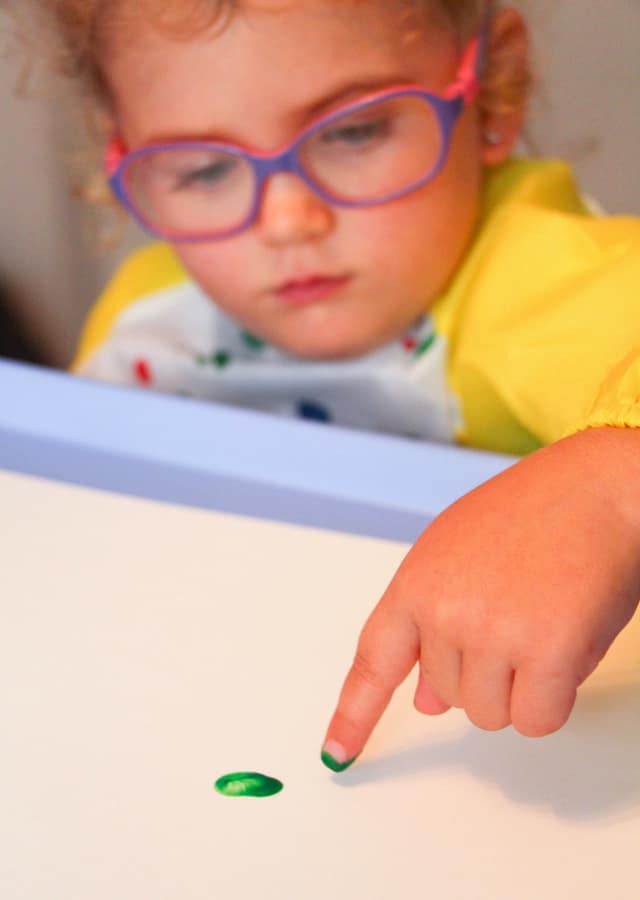 I like to encourage them to do crafts that are somewhat open-ended so that they can feel free to experiment and be self-expressive, and group projects where they all get to contribute are my absolute favorite.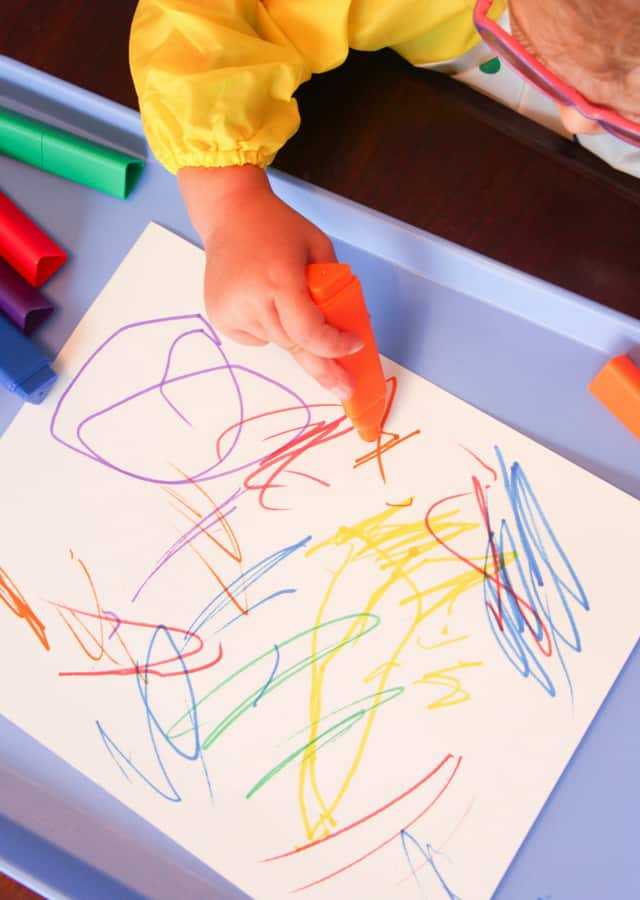 Sometimes I have to alter the projects or art materials for my younger kids to allow them to participate.
It's harder for them to hold thin crayons (without breaking them) and they have an easier time controlling large paint brushes or just painting with their fingers rather than working with the thin paintbrushes that the older kids prefer.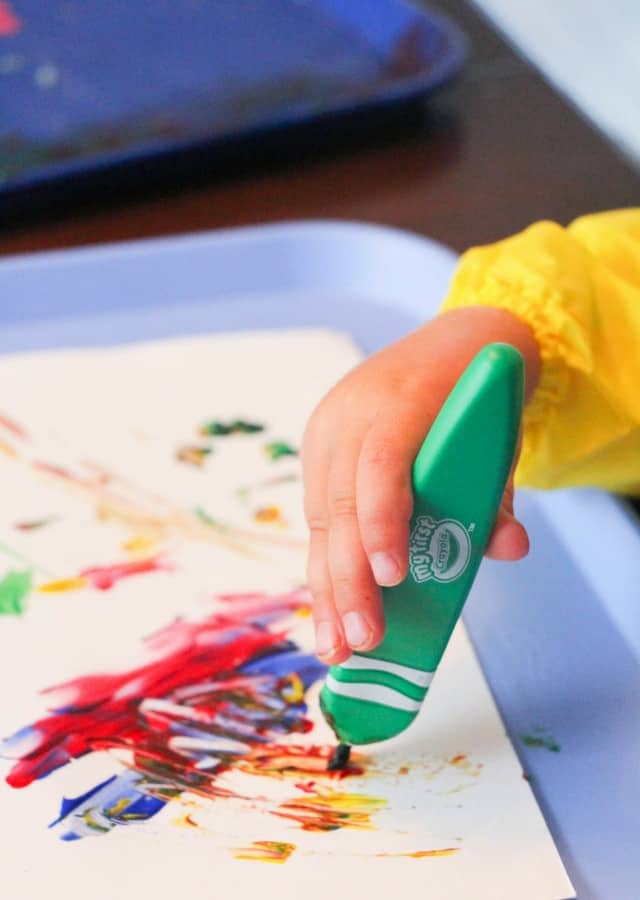 For this paper snowflake banner project, I decided to break out some of our new My First Crayola products, including egg-shaped crayons, non-toxic finger paint, triangle-shaped paint brushes, and pattern safety scissors so that Miss Z could create some gorgeous artwork alongside my daughter.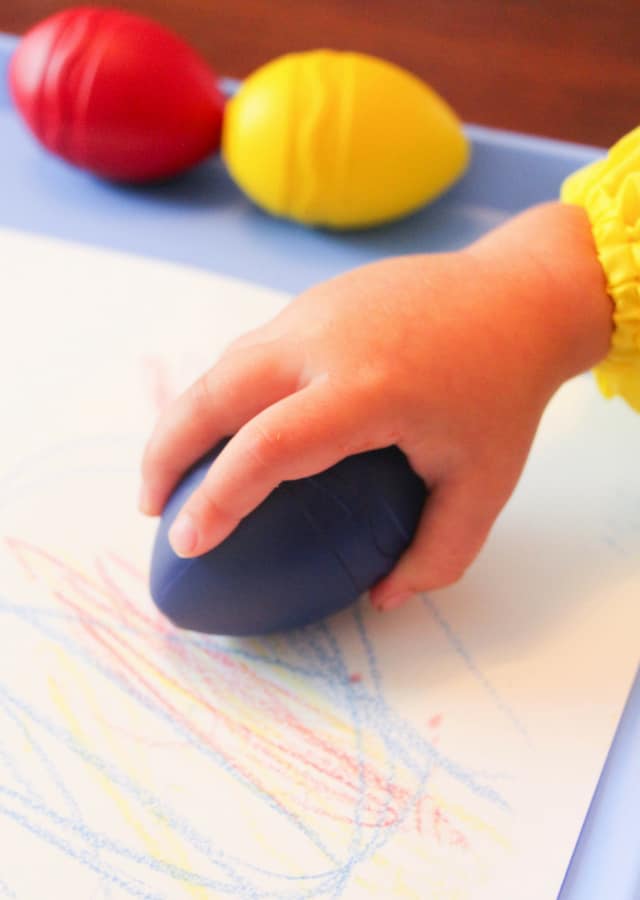 I really love that these products are specially designed for tiny hands! The egg crayons look cute, but they are also ergonomically designed to fit into a little palm for children who are still learning how to "mark" paper.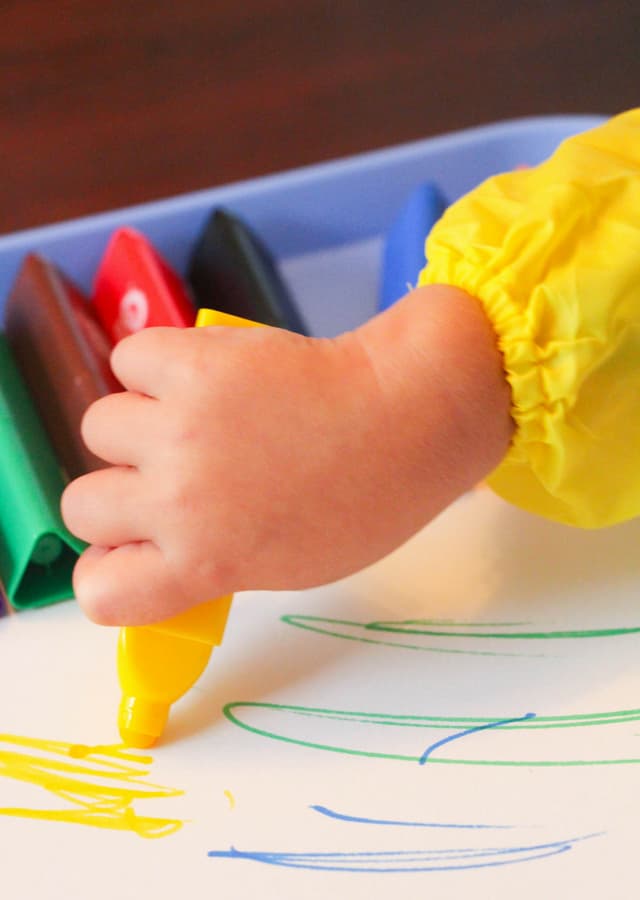 As children get older and develop their finger muscles and precision while drawing, they graduate to the triangular crayons (or triangular markers or paintbrushes).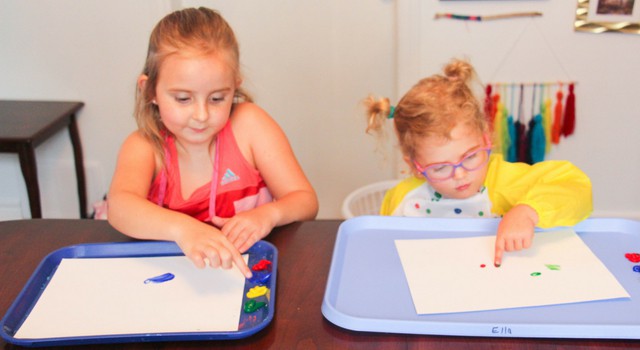 Miss Z really loved using the "real paintbrushes" and scissors – and I was delighted that my daughter enjoyed finger painting again! Giving Z age-appropriate products allowed her to feel included and empowered, without experiencing frustration trying to use products that weren't meant for her.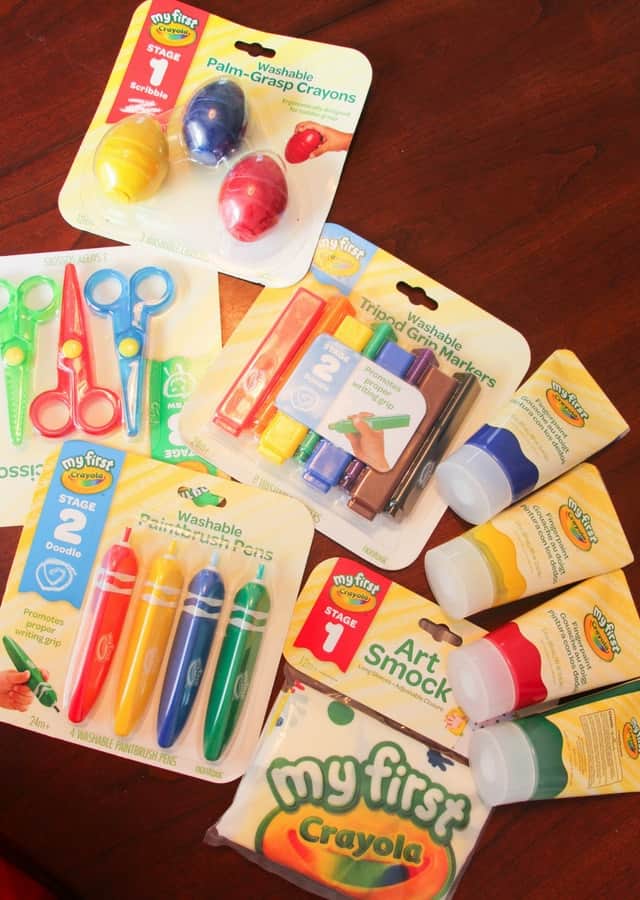 Supplies Need for this Snowflake Banner
My First Crayola Fingerpaint
My First Crayola Art Smock
My First Crayola Washable Paintbrush Pens
My First Crayola Pattern Scissors
My First Crayola Washable Tripod Grip Markers
My First Crayola Palm-Grasp Crayons
Paper
Ribbon
Tape
Trays (I always use these kitchen trays for art work – they are great for trapping mess, defining "personal work space" and also serve as a safe space for wet art to dry)
Tip: You can use just crayons or just paint or markers, but we were excited to try all of them and we took the opportunity to develop our language skills, using lots of descriptive words to describe the differences between the different art supplies.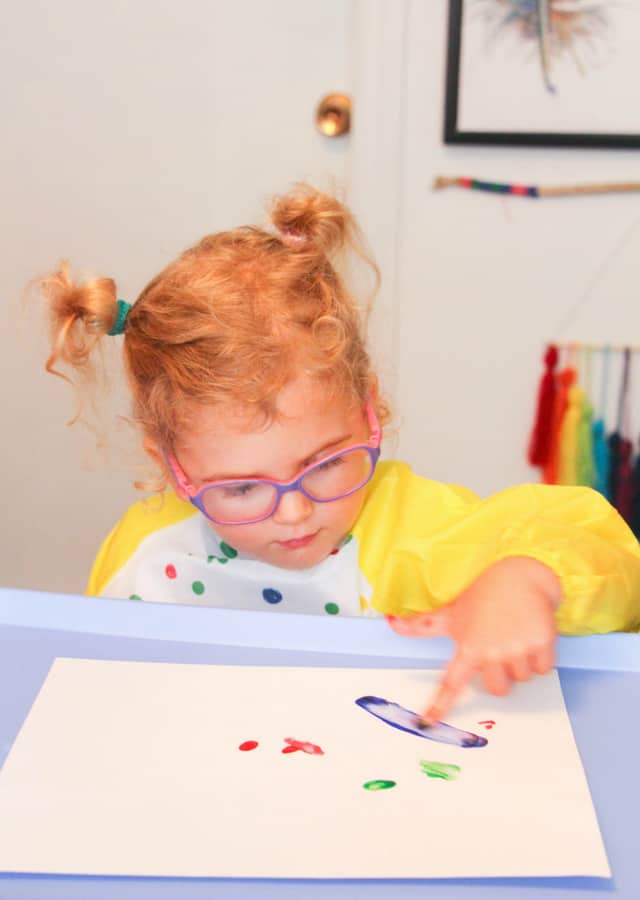 How to Make a Snowflake Banner
First things first: contain the mess!
Have kids wear their art smock and put trays out for them to experiment on. Have rags or wipes handy for quick clean up between artistic moments.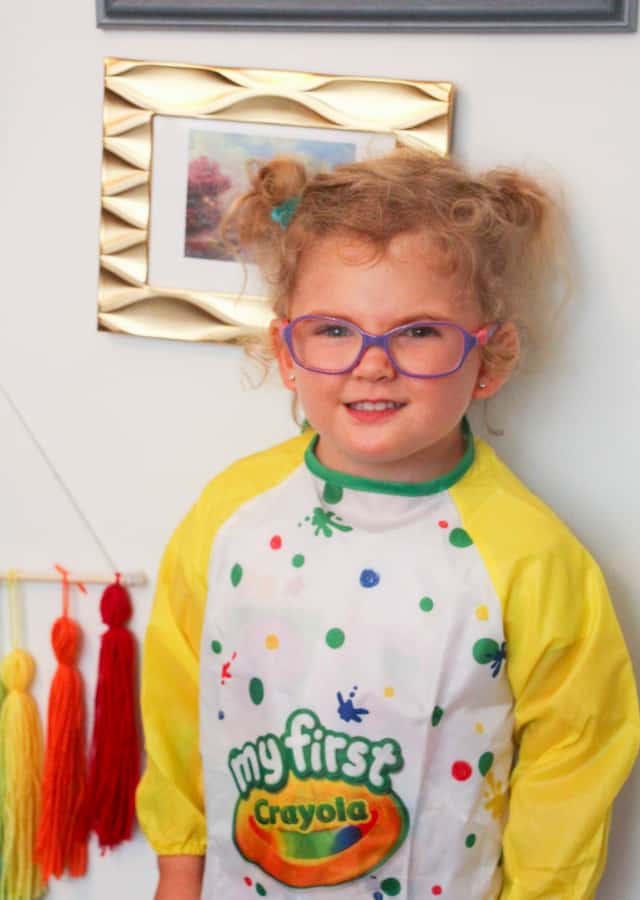 Children can decorate their paper however they like using markers, crayons, paints or all three! For the paints, they can use their fingers or the ergonomically designed triangular brushes.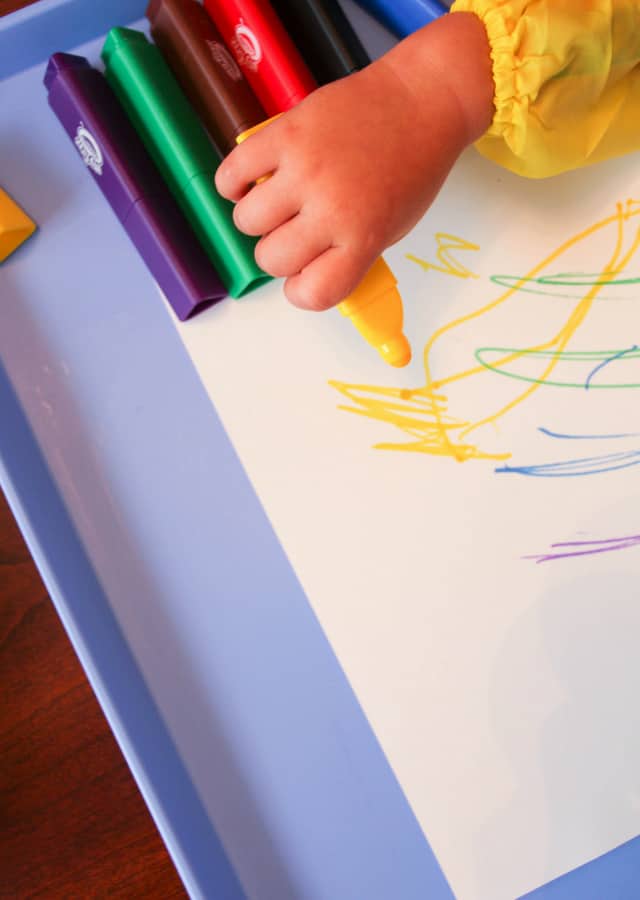 Once the children have completed a couple pages of art, let them dry.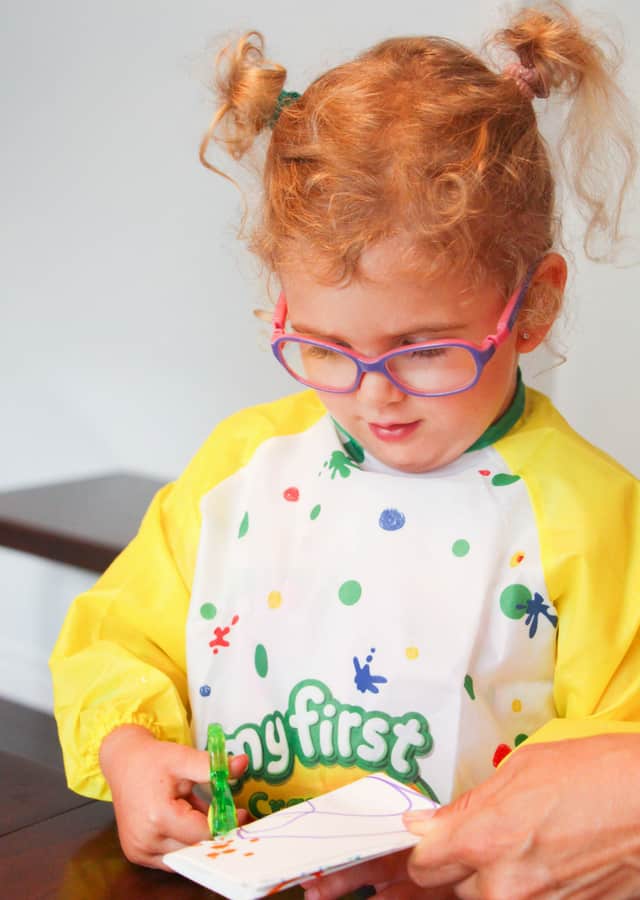 Once the art work is dry, help the kids fold their art into quarters (fold once, then once again) and then use the pattern scissors to cut random shapes and designs into the paper.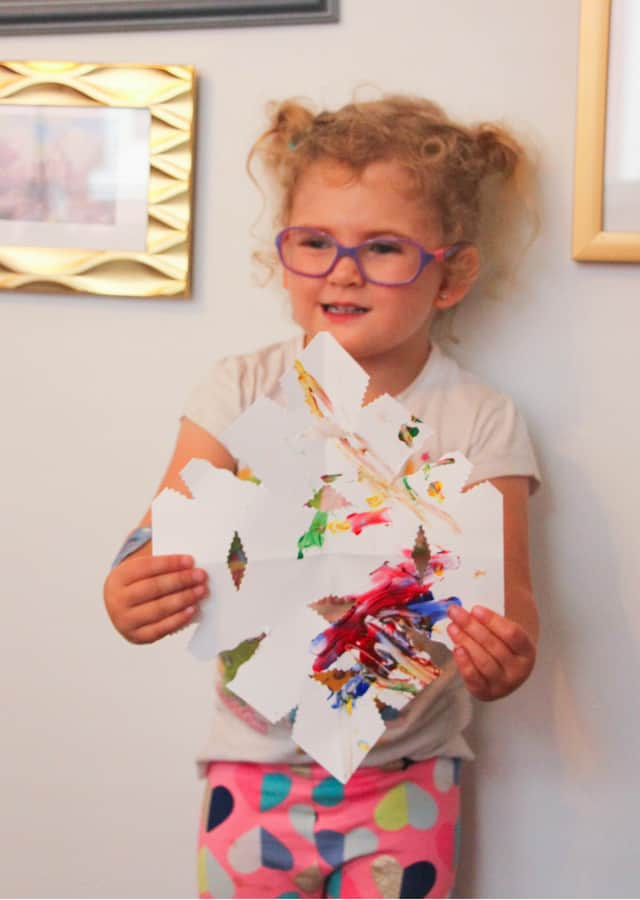 Open up the cut paper to reveal your snowflake. Make adjustments as desired.
String the snowflakes onto the ribbon, using tape or paper clips to secure them in place.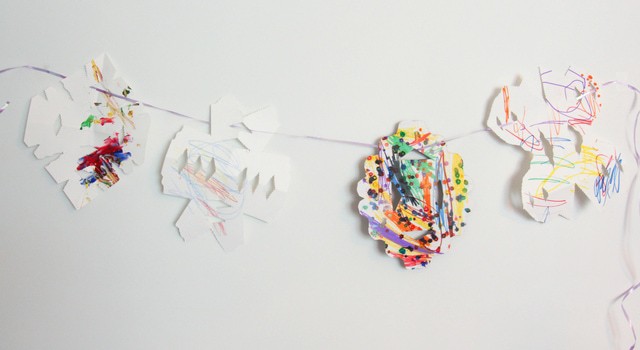 Tape your banner to the wall or the top of a window for a pretty display.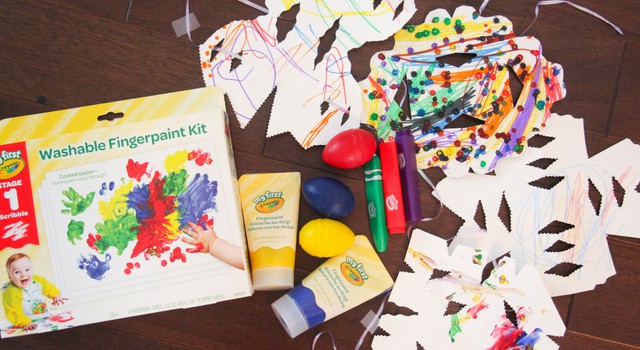 Do you have any fun ways to encourage the younger set to get creative?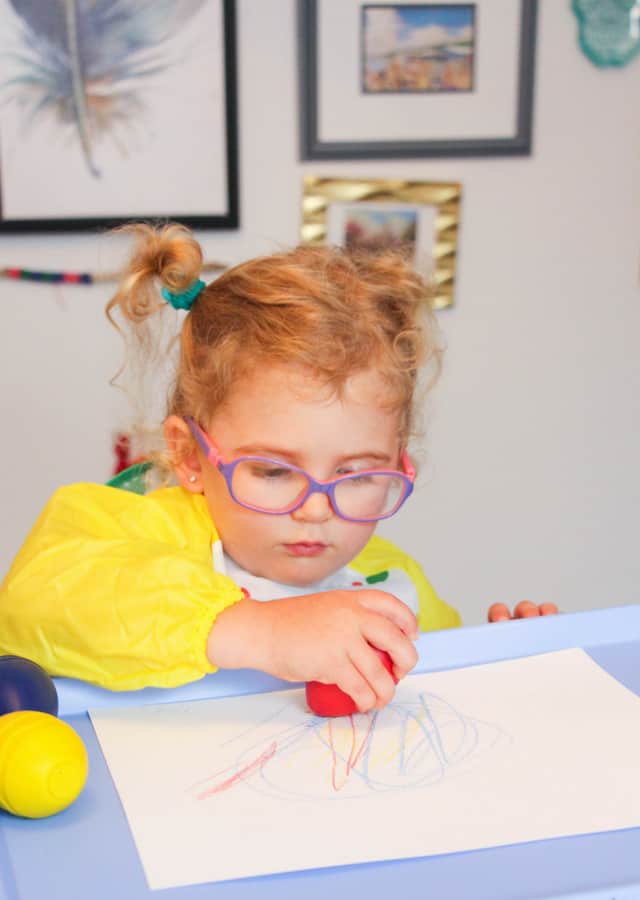 Be sure to check out the My First Crayola products we played with for this post! Ready to advance to the next paper snowflake? Try our Faux Stained Glass Paper Snowflake Ornament! Little ones will also love these craft stick snowflakes.
Latest posts by Jennifer Tammy
(see all)