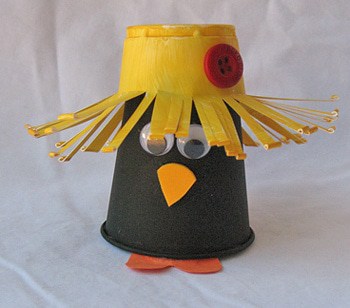 This plastic cup crow is a fun fall craft for kids that I made a few years ago. All you'll need are some plastic cups, a little paint, some construction paper and a few doodads. This is a great project for a fall or harvest party, for a craft station at your school's fall carnival or just for a fun afternoon craft for kids.
There are plenty of
scarecrow crafts
for fall, but let's not forget the crows! Psst, there are affiliate links in this post. That means if you happen to click and buy anything, I'll earn a small commission. Thank you!
To make this plastic cup crow you will need:
There's a printable version of this plastic cup crow project below!
Fun facts about crows:
Crows join what are called "roosts" in the fall and winter. That means they join together as large groups and sleep together as a group. This primarily happens during the fall and winter months as the group disperses in the spring during mating season.
In the spring you may notice that crows are very raucous and noisy, then strangely they become very quiet. Female crows make a lot of noise while nesting, but once eggs are laid both adults become rather quiet so as not to give away the location of their nest.
Surely you've seen a crow on the side of the road picking at roadkill. Crows will eat whatever is readily available, including fruits, vegetables, insects, eggs, and yes, dead animals.
Some fun crow crafts:
More fun fall crafts for kids: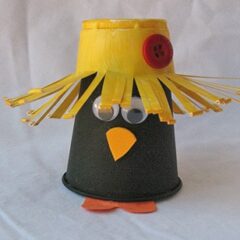 Print Project
Plastic Cup Crow
Supplies
2

small plastic cups

bathroom size (paper or foam cups work too!)

2

cotton balls

2

medium wiggle eyes

1

red button

scrap of orange craft foam

scrap of orange construction paper

Acrylic craft paint: black and goldenrod

scissors

white craft glue
Instructions
Paint one of the cups black and the other with goldenrod. Set cups aside to dry.

Cut a triangle from the orange craft foam for the beak.

Cut a heart shape for the feet from orange construction paper.

When paint is dry, use scissors to cut thin slits (fringes) halfway up the goldenrod cup, going all the way around. Bend the "fringes" upward to form the hat.

Turn the hat over and put 2 cotton balls inside the cup. Glue hat to the bottom end of the black painted cup. Let dry.

Glue 2 wiggle eyes and beak on to the cup under the hat.

Glue the red button to the front side of the hat.

Glue the heart feet to the opening of the black cup, bend the construction paper up into the sides of the cup so that just the "feet" stick out.
Latest posts by Amanda Formaro
(see all)