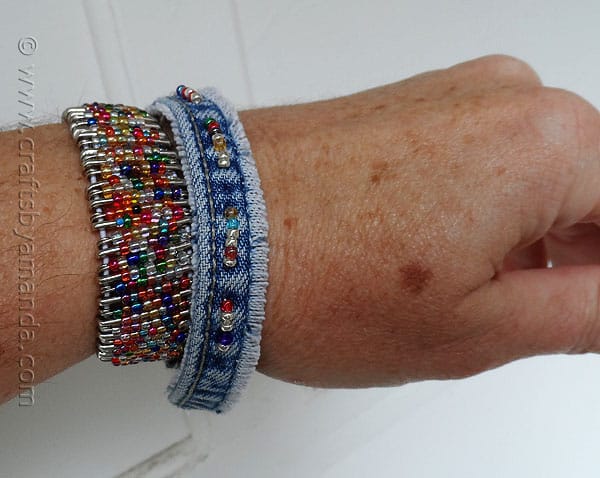 Do you save worn out blue jeans in hopes of recycling them into something cool? I do, all the time. With four growing kids we have gone through many, many pairs of jeans over the years. I have a big storage tub full of blue jeans and remnants of denim buried throughout just waiting for the next project. I don't wear a lot of jewelry, but fun things like this bracelet I'll wear often.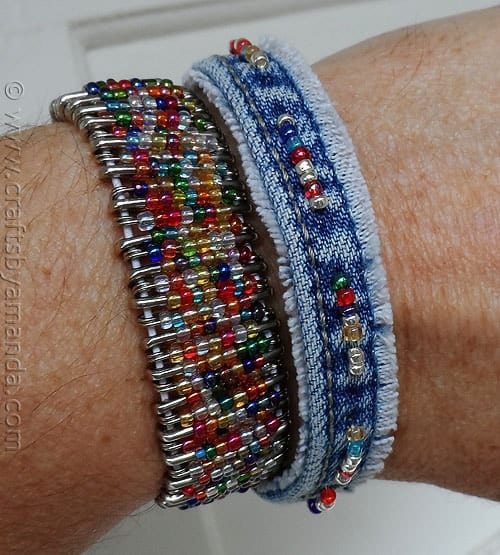 This particular project uses just the seam of the jeans. Here's the instructions for the safety pin bracelet too.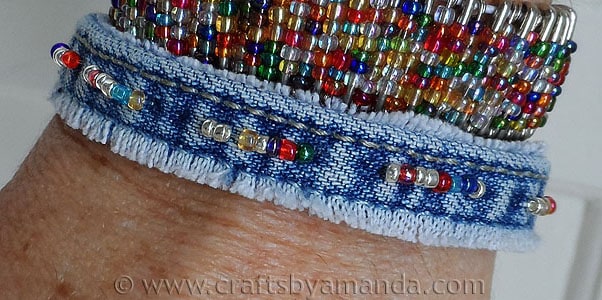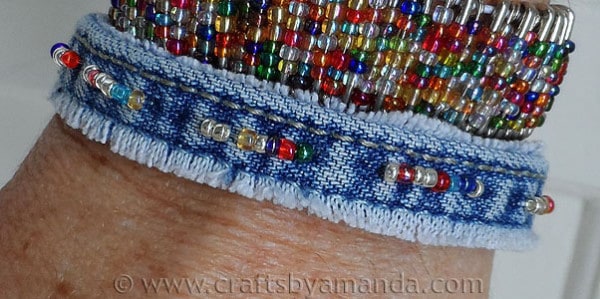 Often times the seam gets tossed because we only want the flat material that's ideal for sewing and glueing.
I have mountains of denim waiting for more recycling projects. In fact, I have a decent sewing machine now, I just have to figure out how to use it! So hopefully you'll see some more recycled denim crafts coming out of this blog in the near future. :)
More Bracelet Making Ideas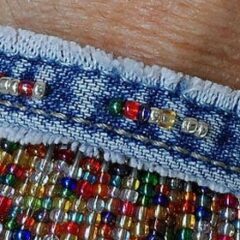 Print Project
Recycled Denim Beaded Bracelet
Supplies
Leg of old blue jeans

any size

Sewing needle

Barrel clasp

.5mm stretchable bead & jewelry cord

Colorful seed beads

Hot glue gun

Scissors
Instructions
You will need the actual seam of the blue jeans for this bracelet. Trim to about 1/4" along both sides of the seam. Cut seam to fit wrist, keep it a little loose, like a bangle and remember to account for the clasp.

Pull threads along the edges of the seam to fray the denim.

Thread a sewing needle with jewelry cord. From the back of the denim, run the needle in and up through the center where your clasp will go. Run the needle and cord through the loop in the clasp and sew several times, tie off. Secure clasp with a little hot glue. Repeat for the other end of the denim.

Thread needle through the back of the denim and pull taught. Thread 6-8 seed beads onto the needle and slide down the jewelry cord until the touch the denim. Lay the cord and beads down on the denim to gauge where to insert the needle and run the cord through to the back. Run in back up through to the front side about half an inch from where the last set ended, repeat the beading as in the first set. Continue this until you have as many beads as you like. Tie off and secure end with a little hot glue.
Expert Tips & FAQs
The easiest way to thread the beads onto the needle is to poke the needle into the bead and lift. Some beads may be too small to fit over the eye of the needle as seeds beads do vary slightly in size.
Latest posts by Amanda Formaro
(see all)