Make pretty winter luminaries that appear to be covered with freshly fallen snow using snow texture paint! Oh so gorgeous and perfect for the holidays, they are very easy to make.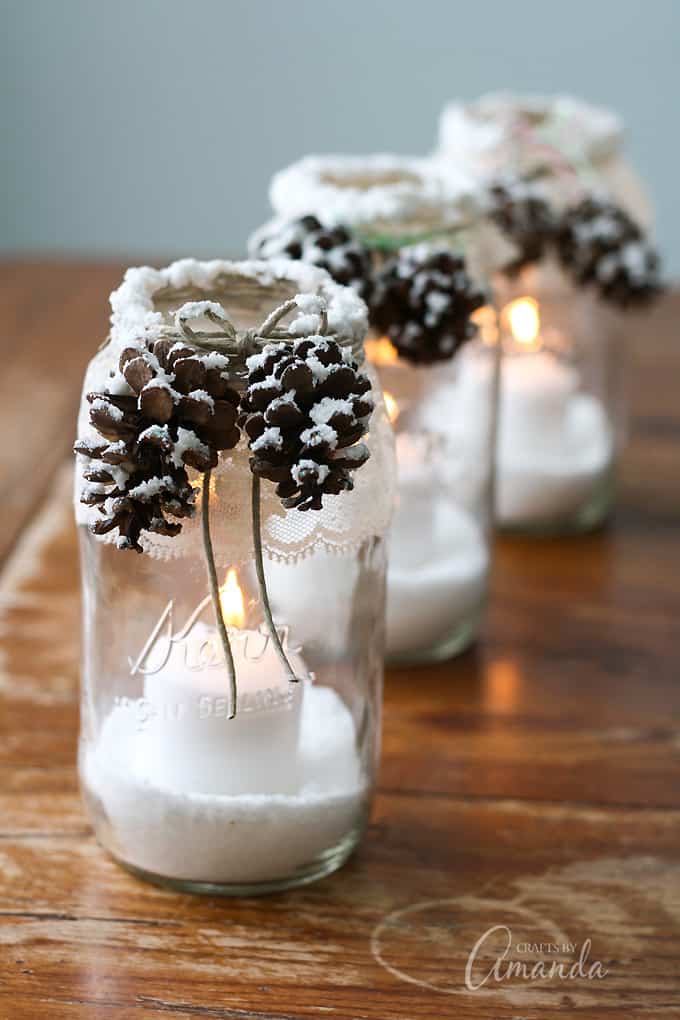 Make Beautiful Snowy Winter Luminaries
If you aren't like me and you don't wander around your yard in the spring picking up pinecones, you can always buy pinecones at the craft store. Yes, it's spring when pinecones fall from trees, even though we commonly associate them with autumn.
HINT – if you love luminaries but would rather buy them instead of making them, there's a big selection here on Etsy.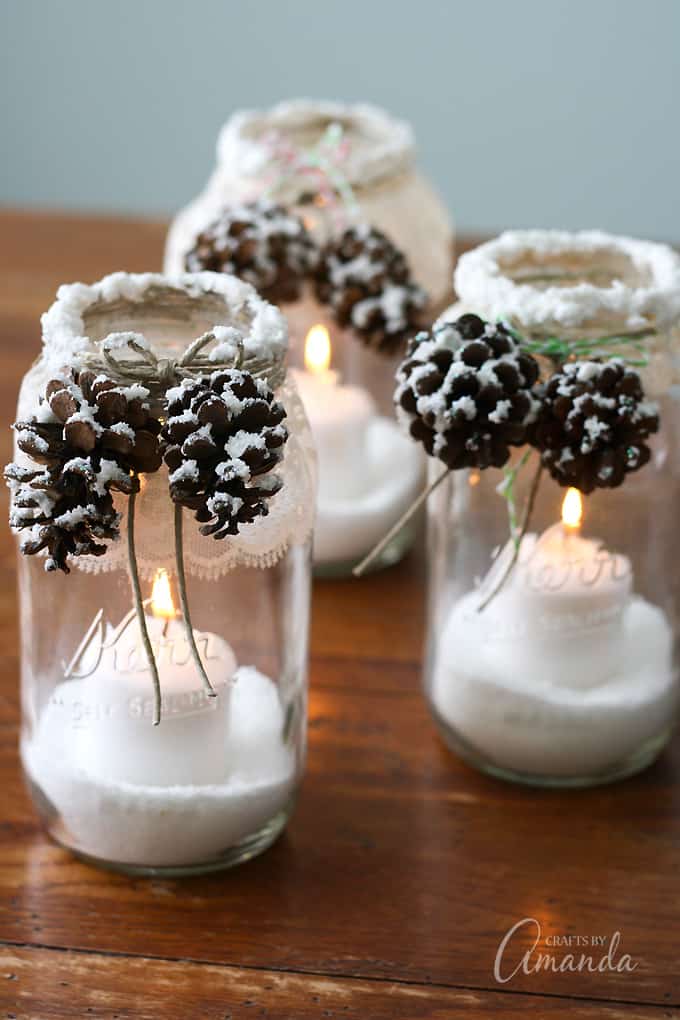 Pinecones fall in spring to release seeds for new trees, just like any other tree releases seedlings. So don't want until fall to go pinecone hunting or you may only find ones that have been obliterated by the elements and the occasional lawnmower. I was trying to think of alternatives to pinecones and I was thinking that dried orange slices would be really pretty too!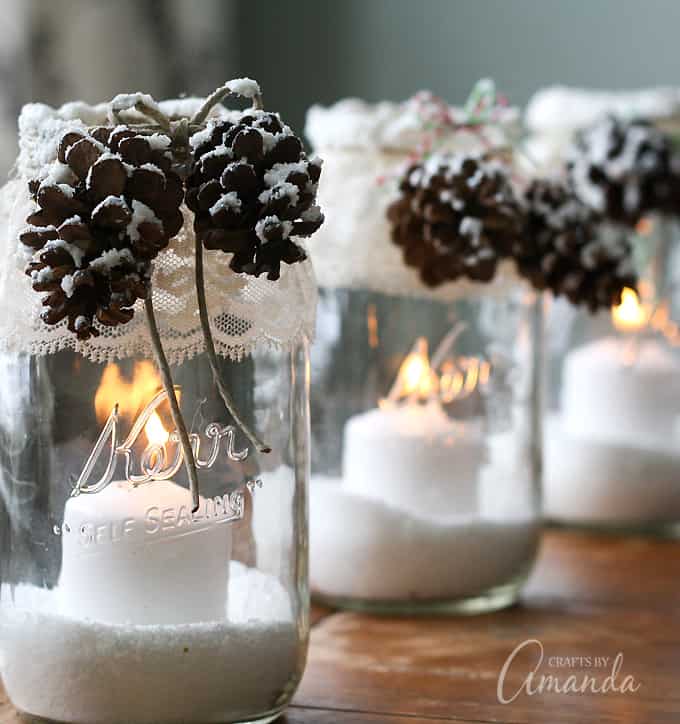 Snow texture paint is thick and usually applied with a palette knife. You can use a paintbrush or even a craft stick, and you'll see in this tutorial that I use my fingers too. Whatever works.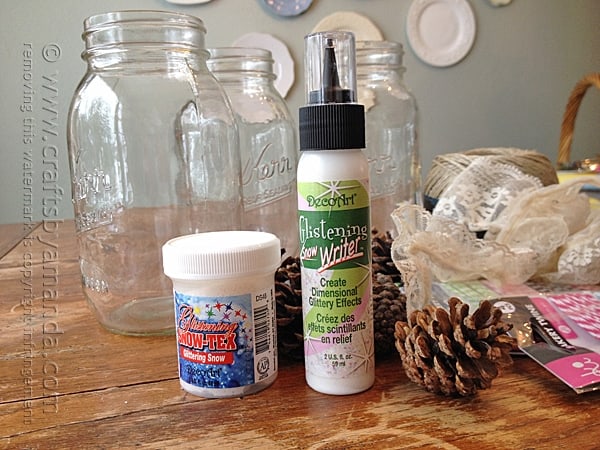 For these winter luminaries, I used Glistening Snow-Tex
by DecoArt which has a glittery finish to it, but unfortunately that's no longer sold – but it's simple enough to sprinkle glitter on top of regular Snow-Tex. They also make a Glistening Snow Writer
, pictured above, that can be used to write with or add small details. I didn't use the writer in this project, but it's great for ornaments! I also used some lace to wrap around the tops of the jars, and some twine and baker's twine.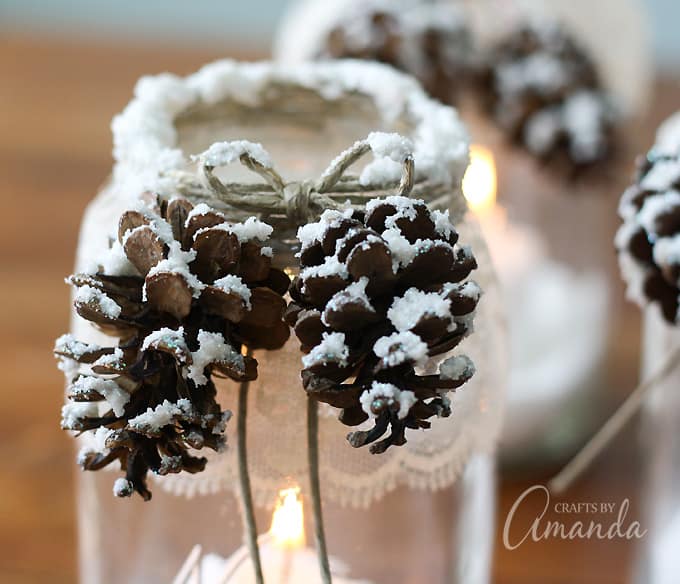 I've made a lot of different luminaries but these are definitely among my all-time favorites. The Sno-Tex dries nice and hard, so once you're done you can move them around if you need to. I just love how wintery and festive they look! In fact, I think a few holly berries would be a really nice touch too.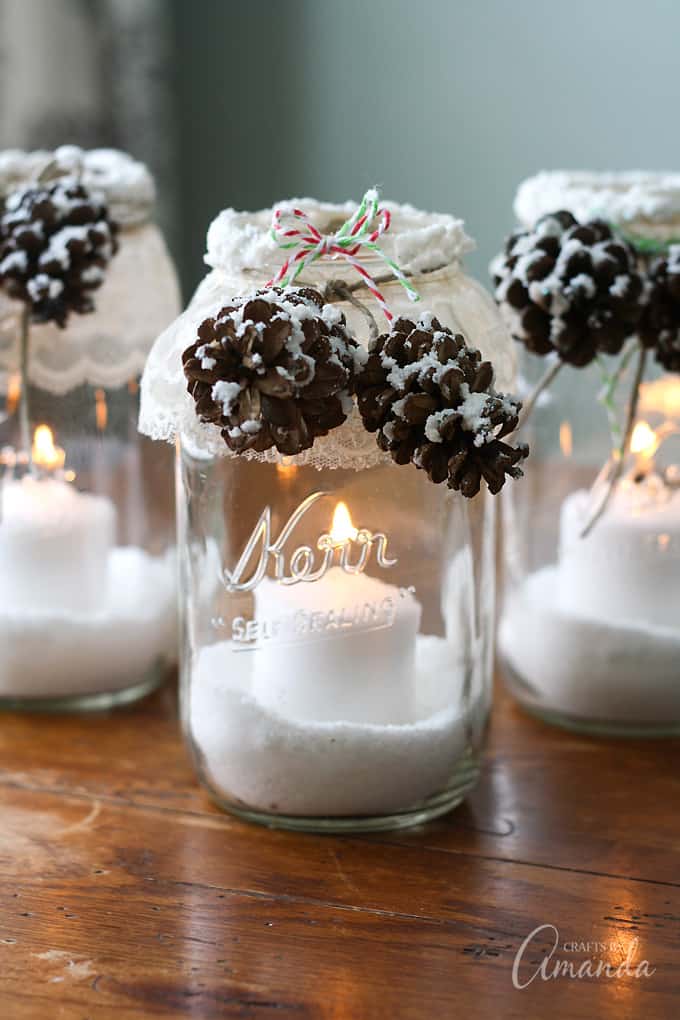 I went a little crazy with pictures of these winter luminaries, but I just couldn't decide on my favorites.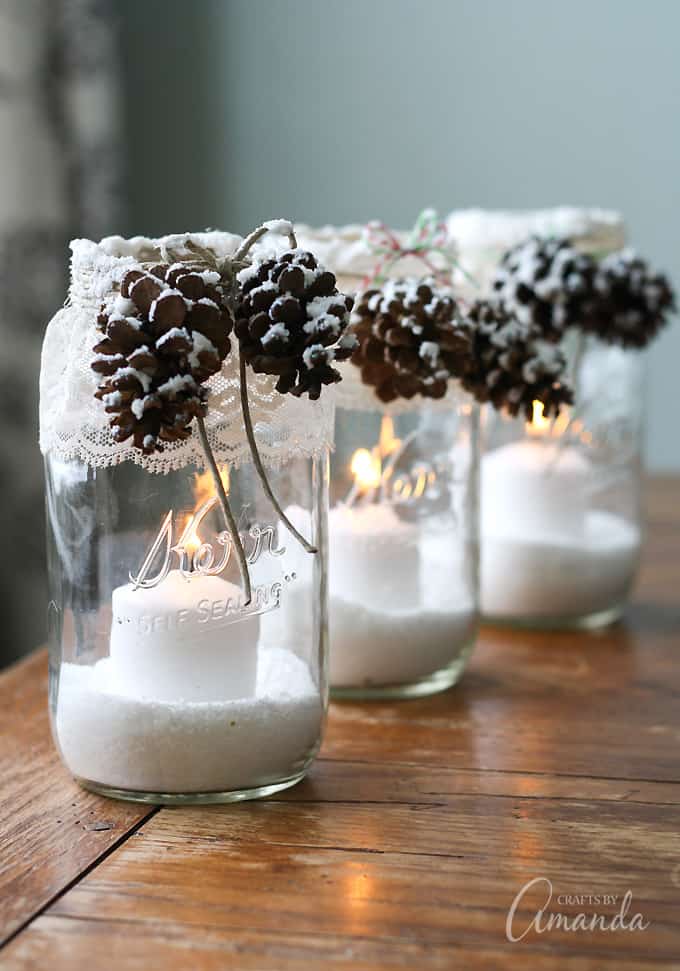 So you're getting them all!
To make these winter luminaries you will need: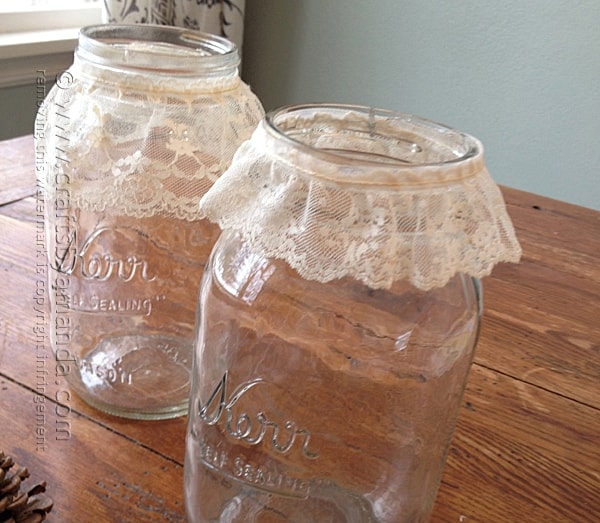 To start, I covered the rim of each jar with some lace.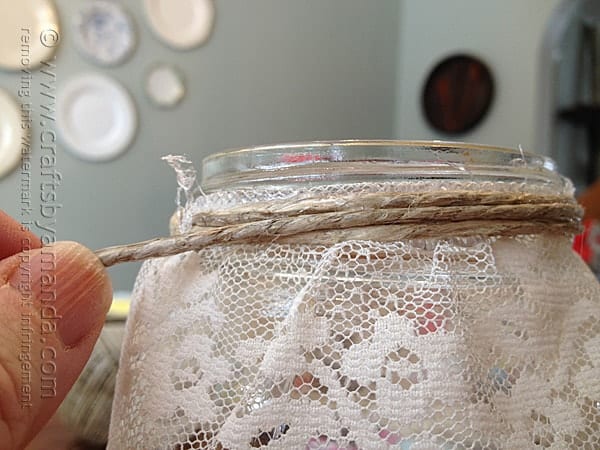 On one of them I wrapped the entire rim with twine, on another, I just tied some twine around the top. Do whatever makes you happy. That's what I do.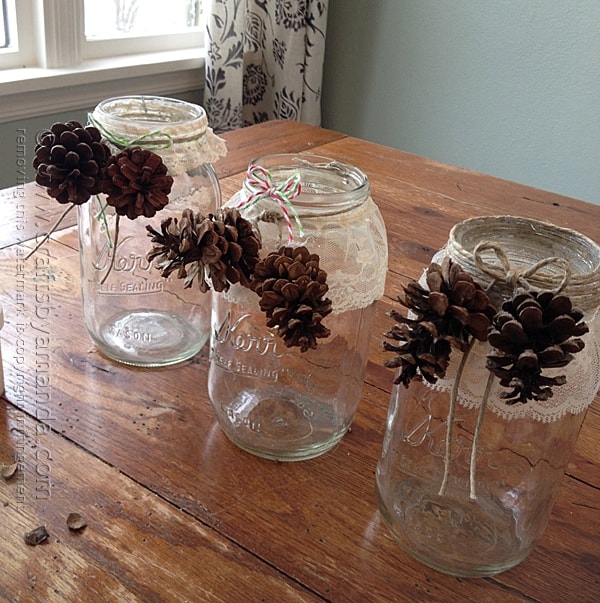 You can add the pinecones by gluing them to twine and then to the jar, or glue them directly onto the lace near the rim. Again, whatever works!
Stir up the Snow-Tex, here I'm using a palette knife…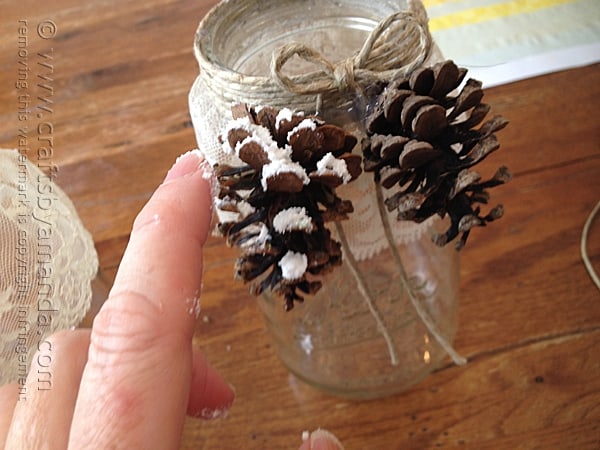 And here I'm using my fingers. I just find I have more control this way. Do whatever works for you. Put some Snow-Tex on the pinecones, then around the rims of the jars as well.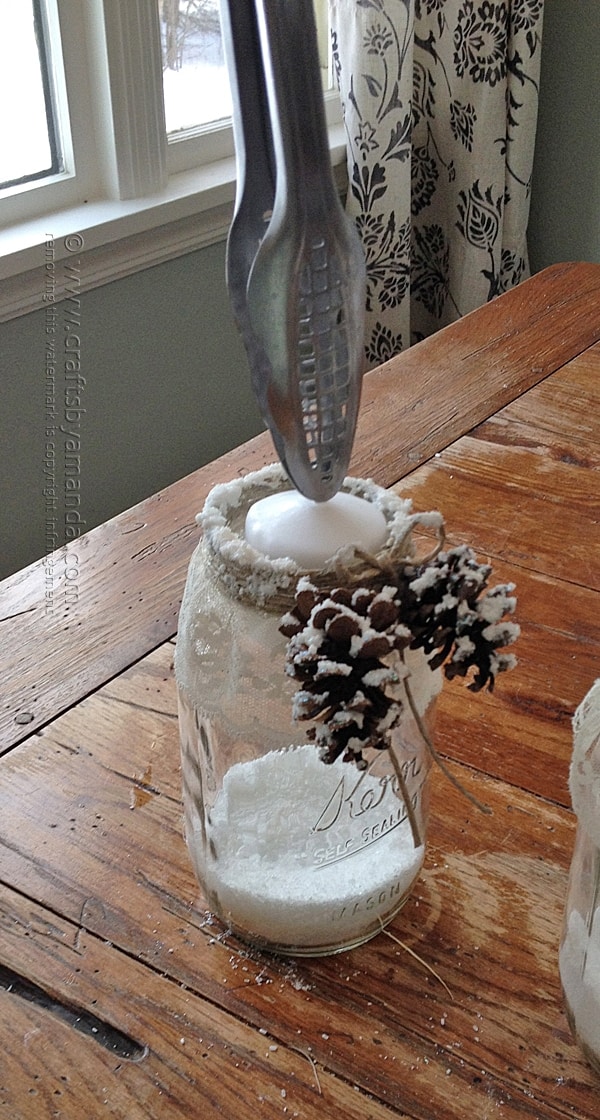 I added some epsom salts to the jars, about an inch or so, then put a candle down inside. I didn't want to bump the drying Snow-Tex, so I used some tongs to carefully add the candle. Now all you have to do is let the Snow-Tex dry for an hour or so.
Another option is to add the epsom salt and the candle first, then decorate. The only issue would be that you couldn't really pick the jar up and turn it in different positions without messing up the snow and candle. Either way would work though!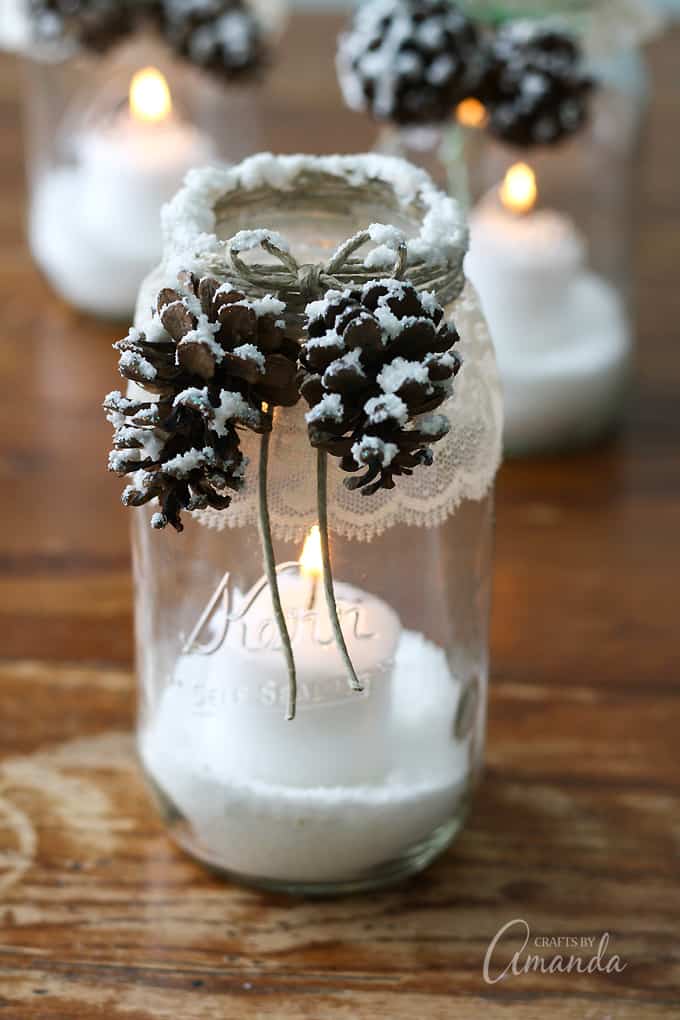 There, aren't they beautiful?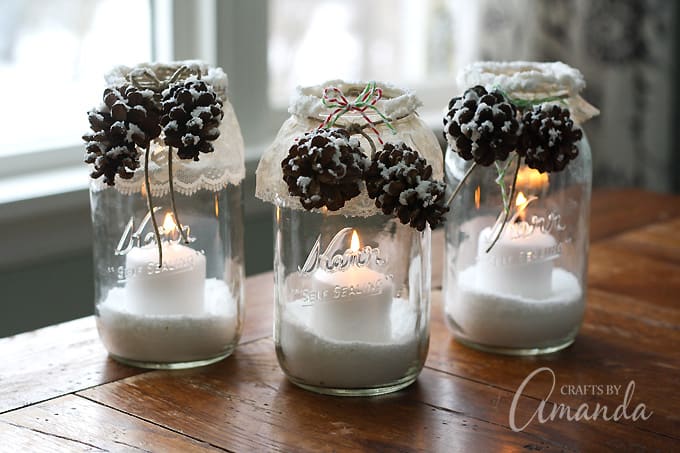 These winter luminaries are one of my favorite Christmas decorations this year! They will look great all lit up on your holiday table, on the mantle, or even lining the walk to your door.
More Christmas and winter luminaries: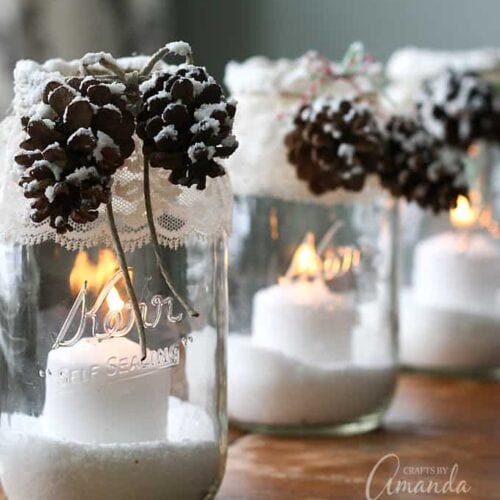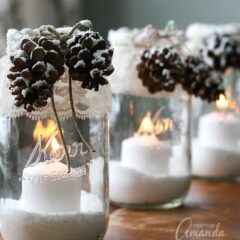 Print Project
Snowy Pinecone Candle Jars
Make pretty winter luminaries that appear to be covered with freshly fallen snow! Oh so gorgeous and perfect for the holidays, they are very easy to make.
Supplies
glass jar

2

pinecones

Lace

Twine and/or baker's twine

Hot glue gun

Snow-Tex

Epsom salt

Candle
Instructions
Wash and dry jars.

Glue lace around the rim of the jar.

Tie twine around the rim of the jar.

Attach pinecones to lace using hot glue.

Decorate pinecones and top of jar rim with Snow-Tex.

Add salt to the jar and insert the candle.
This post was originally published on this blog on Dec 15, 2013.
At the time this article was written, I was a DecoArt Core Blogger. I was compensated for this post, but have always loved DecoArt products! Therefore, all opinions expressed here are 100% my own.
Latest posts by Amanda Formaro
(see all)