I found one of those wooden U.S. map puzzles at a garage sale a while back. It was marked at a dollar because the small states on the eastern seaboard were missing. I'm pretty sure every puzzle that graces a garage sale table is missing at least one piece. I had an idea in my head for the pieces, but wasn't quite sure what I was going to do with the rest of it. But that happens to me a lot. I find things that look interesting and figure I can turn it into something else later.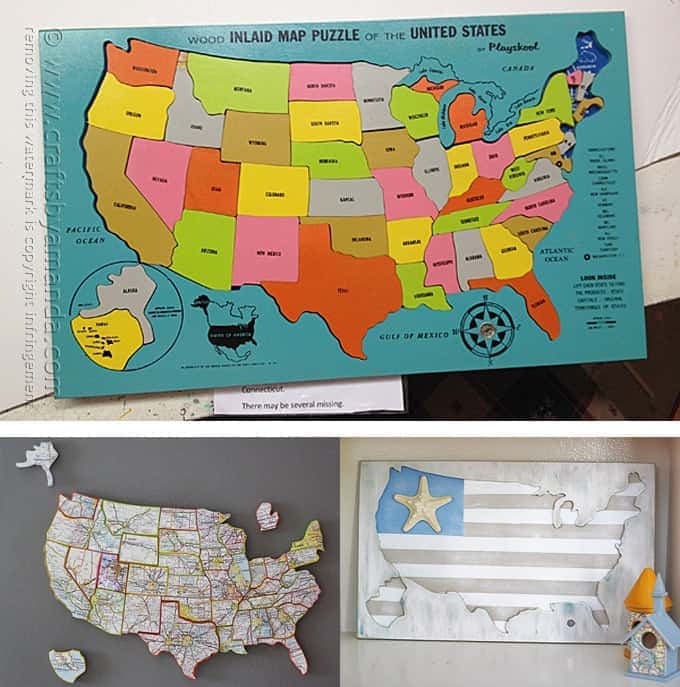 I knew I wanted to turn the pieces into map magnets. I've been picking up road atlases from garage sales and flea markets and planned to use those for the magnets, but it took a while longer to come up with the idea for the flag. My house is decorated with a coastal theme, so there you have it. A coastal themed U.S. map.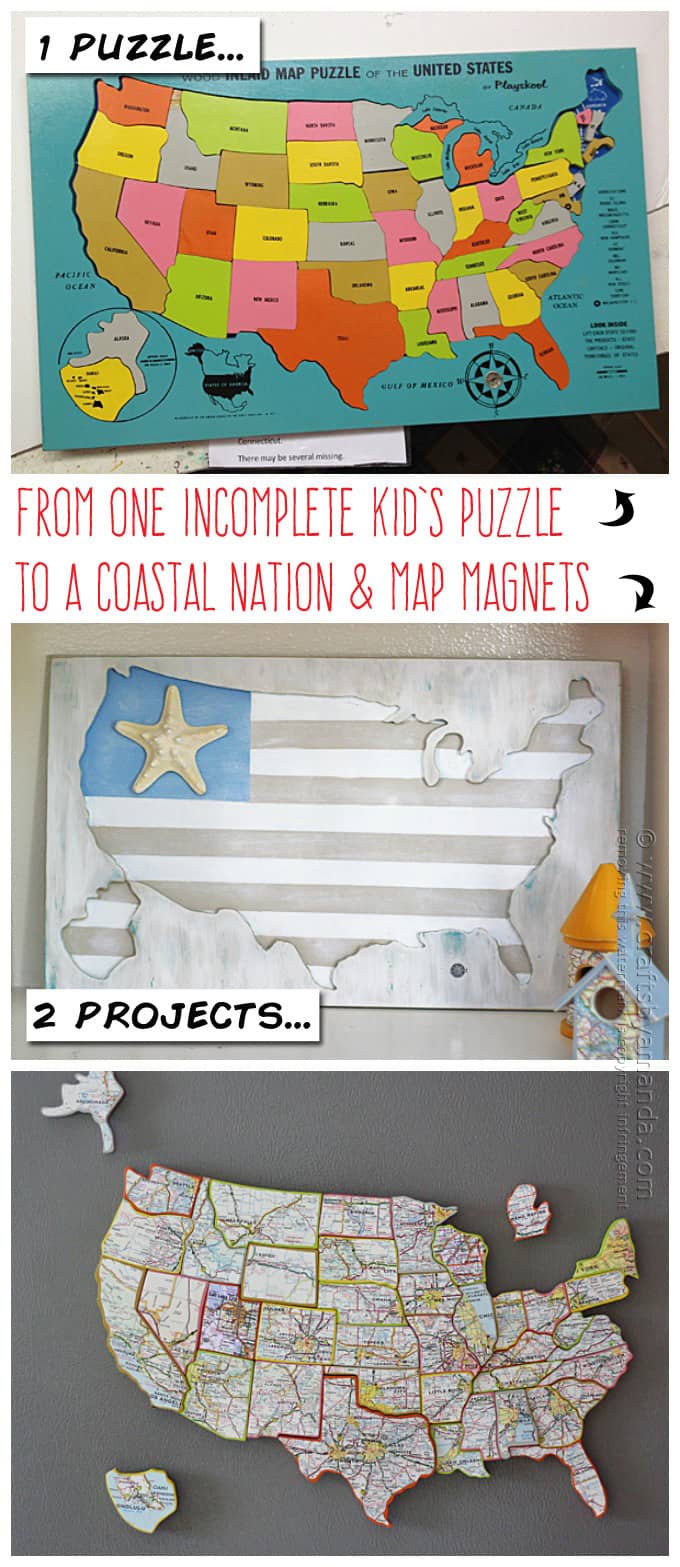 Adult Puzzle Craft
I love the way they both turned out! The magnets are on my fridge (no idea why the mitten [Michigan] is hovering above Indiana and Ohio like it has its own thing going on) and they are always a conversation piece.
I chose bigger cities from each state in the road atlases to use on each magnet. You'll notice that Utah actually has a different look than the rest. I did end up using two different atlases in order to have enough for all the pieces.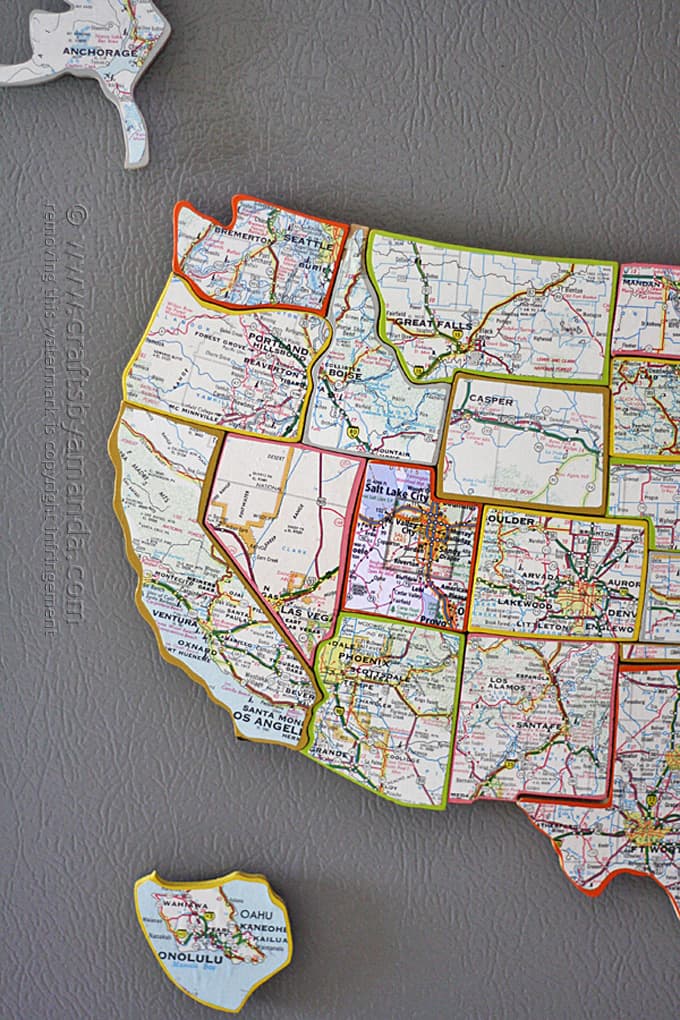 Even the teenagers check out the pieces and say they are "cool". Boy that word has stood the test of time, hasn't it?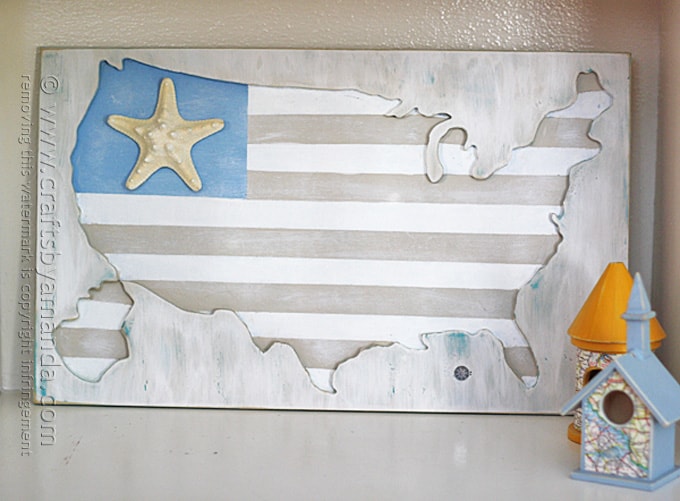 The other piece has a spot in my built-in bookcase in the living room. It's one of my favor decor pieces and I don't think I could ever part with it. (Link to the tutorials below.)
More Coastal Decor
If coastal themed projects are your thing, you might also like this striped fish or my weathered beach signs. You can browse all of my beach themed projects here.
More Map Projects
if you're map crazy like me your probably spotted the little map birdhouses in the photo above. It's one of my favorites! I also love these distressed map coasters. More? How about this crackled vintage map for your wall?
Get the Puzzle Tutorials
I'd love to show you how to make both of these projects. I made them exclusively for Fave Crafts, so you can get the instructions in their free e-book here.
Latest posts by Amanda Formaro
(see all)