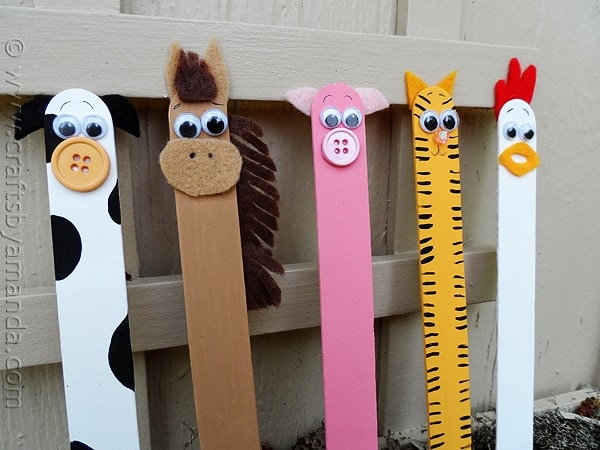 Craft sticks can be turned into just about anything. The cute characters found in a barnyard are a great example! Cows, horses, pigs, chickens and more, all in craft stick form! I've always loved craft sticks as a surface. They are inexpensive and have so many possibilities.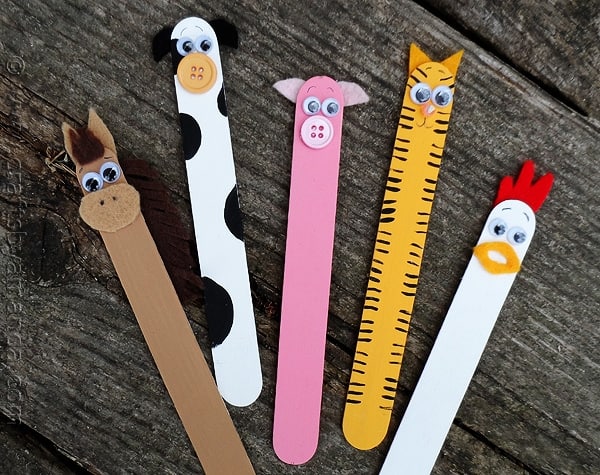 You can make animals out of them, as you can see here, but their boundaries are almost limitless. Snowmen, super heroes, jewelry boxes, scarecrows, mummies, puppets, the list goes on and on!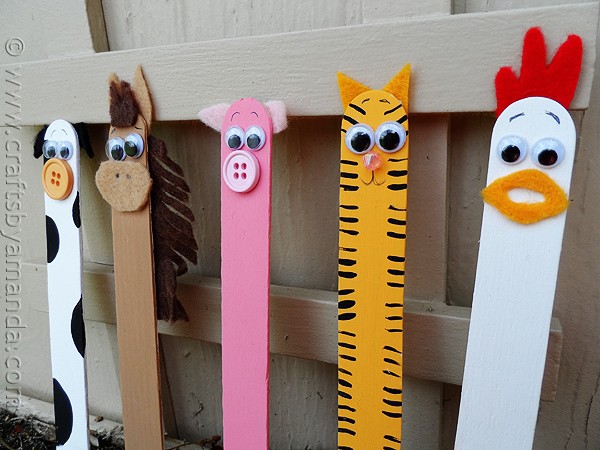 Farm animals are fun because your child can choose whatever color they want. Who says a chicken has to be white? Why not purple or pink? Horses can have long manes, short manes, spots or no spots. Cats can be solid in color, have stripes or splotches, or why not polka dots?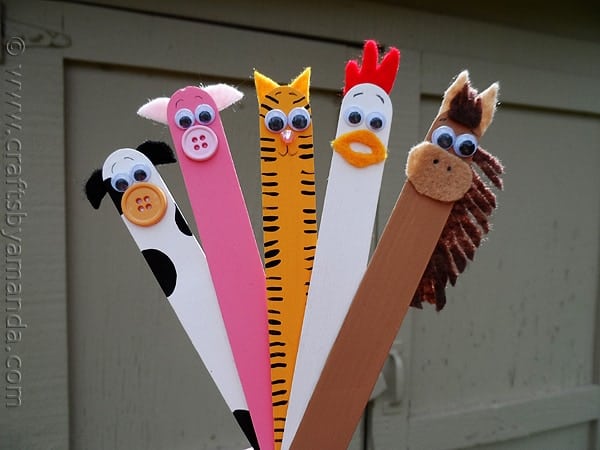 Let your child's imagination run free or if they like, follow the colors and designs in these instructions. Whatever is most fun for them!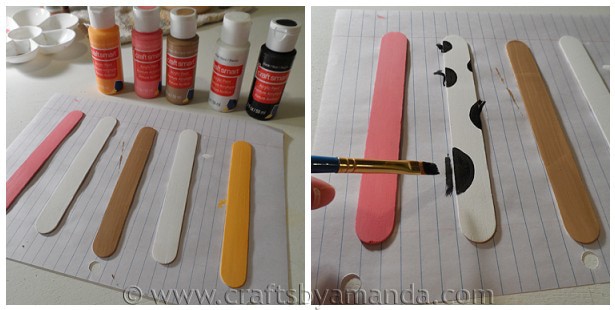 [Printable instructions below] Once your child has decided on colors, have them paint their jumbo craft sticks.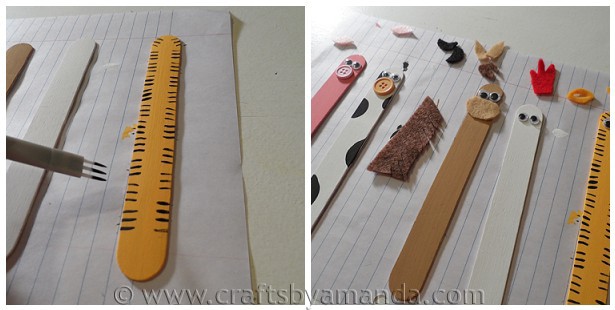 You can use buttons for noses and snouts and felt for embellishments like manes and beaks.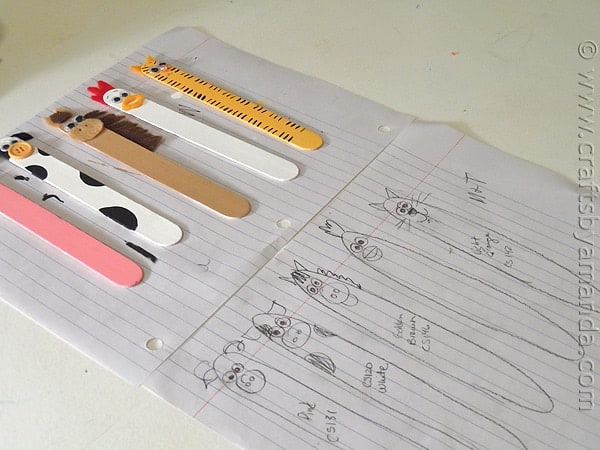 As you can see I drew mine out first to get an idea of what mine would look like.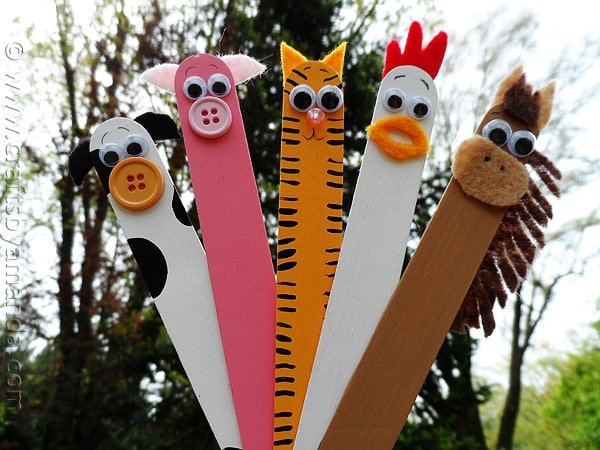 And there you have it! A set of barnyard animal puppets your child can play with or use as bookmarks!
More Craft Stick Crafts
Craft Stick Scarecrows
Craft Stick Puppet Theater
Craft Stick Watermelon
Craft Stick Beach Plaque
Craft Stick Trinket Box – Spoonful.com
Craft Stick Critters – Spoonful.com
Tons of projects made with craft sticks – Fun Family Crafts
Other Farm Animal Crafts
Farm themed crafts – Fun Family Crafts
Cardboard tube farm animals – Crafts by Amanda (pictured below)
Chocolate Pretzel Farm Animals – Hungry Happenings (pictured below)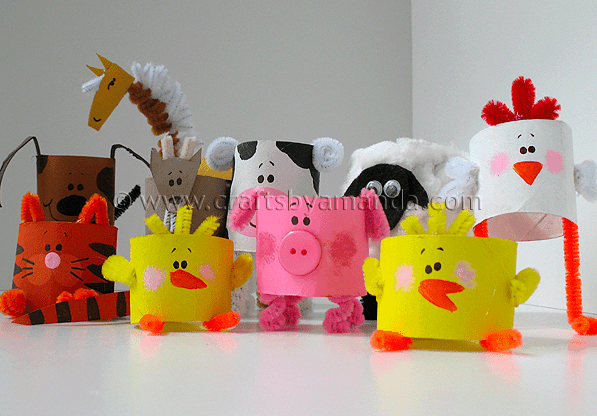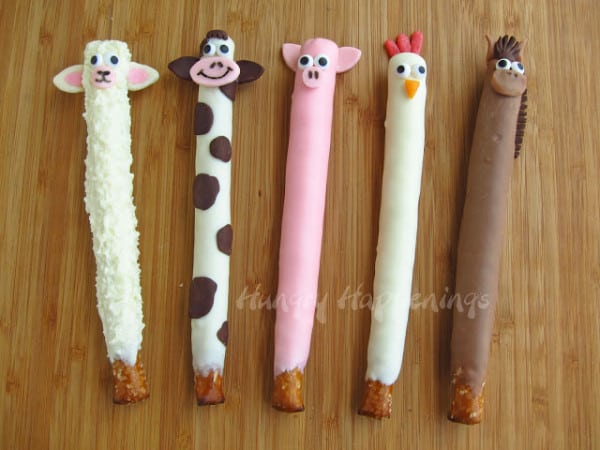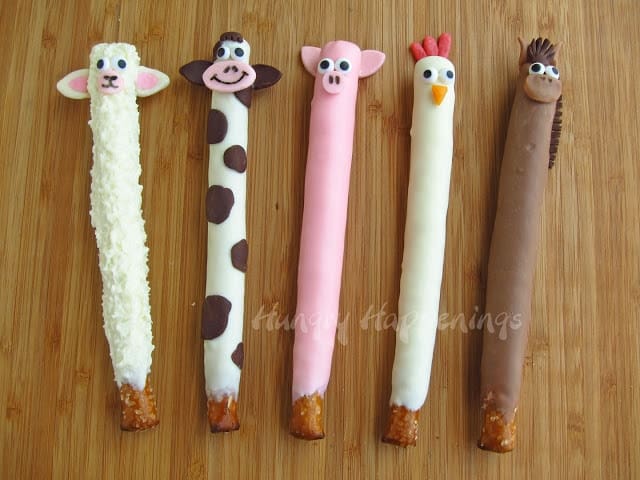 My friend Beth from Hungry Happening wrote to me and showed me the most adorable edible farm animals I've ever seen! She was inspired by my craft stick version and I absolutely LOVE them! You can see these adorable farm animal pretzels here.
Craft Stick Farm Animals
Supplies
5

jumbo craft sticks

Googly eyes

Buttons

tan and pink

Small pink bead

Scissors

Glue or glue dots

Felt: light brown

dark brown, black, pink,orange, and red

Paint: white

black, light brown, pink and orange

Fine point marker
Instructions
Begin by painting the craft sticks. Two of them will be white and the other three will be pink, light brown, and orange. paint some black splotches randomly on one of the white sticks.

Use a thin paint brush (or you can use a black Sharpie!) to add stripes to the orange stick.
Cut out pieces from felt for:
Pig's ears – pink

Cow's ears – black

Horse's ears and snout – light brown

Horse's mane and forelock – dark brown

Chicken's comb: red

Chicken's beak: orange

Cat's ears: orange

You can use glue, or if you like Glue Dots, to attach the googly eyes to each craft stick. Glue the felt pieces in place for each animal and glue on buttons and the cat's nose bead, and you have yourself a barn full of new friends!
Amanda Formaro is the crafty, entrepreneurial mother of four children. She loves to bake, cook, make kid's crafts and create decorative items for her home. She is a crafting expert and guru in the kitchen and has appeared online and in print publications many times over the years. She is also the editor for the Home & Garden channel at Craft Gossip and owner of FunFamilyCrafts.com.
Latest posts by Amanda Formaro (see all)