Do you have a glass painting project in mind that you want to try, but you're not sure where to begin? Whether you are brushing on your design, stenciling, or spray painting, these tips and insights will help you achieve the results you want and create a finished project you'll be proud of.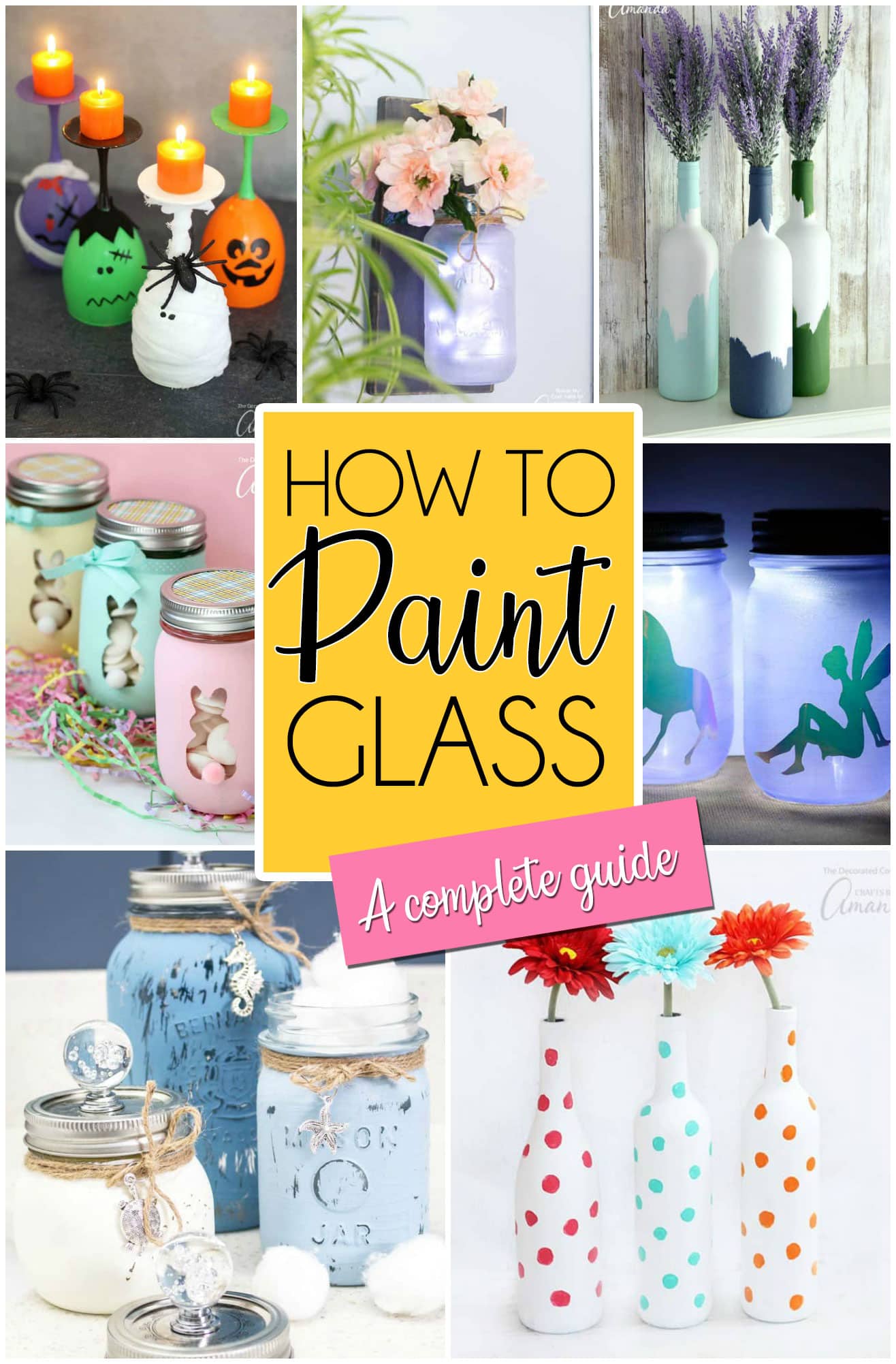 In this guide, we outline the methods to prepare your glass for painting as well as what products give you the best finished results. Plus, we'll share some helpful painting hacks and tricks that you'll want to try. You might just end up painting all the glass objects in your house!
Choosing Glass Objects to Paint
There's probably an abundant amount of items in your house ready for painting! Some of the most popular are wine or soda bottles as well as mason or pickle jars. The project featured at the right was made from a pickle jar using Glitter Enamels.
Consider saving your glass jars for your craft projects and designate a shelf or under-counter space to store them until you are ready for the painting process. In addition to items you can recycle and paint, consider items you can purchase at the dollar or craft store. For example, Dollar Tree has a wide variety of vases, candles, plates, and wine glasses ready for painting and they are only a dollar each!
These make great items to paint especially if you want to sell them for a markup or paint them for table decor at an event like a wedding or banquet. As a general rule, avoid stained or cracked glass that doesn't have sharp edges. In some cases, people do like to underpaint or paint on glass removed from picture frames, but be careful when doing so as you can easily cut yourself.
Washing your Glass
Prior to painting, you will want to wash your glass in the sink with sudsy dish-soap and hot water. Glass can easily attract dust and debris, and washing it before your project will help the paint cling to the surface. Dry your glass with a soft dish towel and let it air dry for several minutes on a towel until it is thoroughly dry. Rinsing with rubbing alcohol helps too.
Removing Residue and Stickers from Glass
If there's residue on your glass, use rubbing alcohol or white vinegar with a paper towel to do a more thorough cleaning. Some of your glass may have labels or stickers stuck to it with a sticky adhesive that will not come off. Goo-Gone is a great solution for removing those stubborn labels.
It comes in a spray bottle or spout dispenser and you can simply spritz the area and wipe down with a paper towel. Goo-Gone can be a bit greasy so thoroughly wash the glass again with soapy hot water and wipe down with a soft cloth after using.
Also, if you touch the clean glass surface, you can leave oils from your skin. So be sure your hands are clean and try not to touch where you want to paint. Hint – stick your hand inside a mason jar and hold it that way!
Buying Guide – Choosing Glass Paint
Below is a list of great insights and paint options for your next glass project. Some paints are more desirable than others based on the glass item's intended use (dinnerware, display purposes, etc).
There's a wide variety of paints on the market that are great for glass painting; each will give you a slightly different result based on your design and use. Below we breakdown the advantages of each and when you would choose one over the other.
Understanding Finishes
When designing your glass project, be aware that different paints will give you different finished results. Going into your project it's important to know that you can achieve a translucent, transparent, opaque result on your glass surface based on which paint you use and how many coats you do in your project.
Believe it or not, there's even metallic and glitter paints specially formulated for glass as well! Below we outline the various paints and sprays you can use on glass and what you can expect from each.
Non-Toxic vs. Food Safe
It's important to note, unless a product specifically says it is food safe, you must assume that it is not. An industry expert told me that even if it says it's non-toxic, that doesn't mean it's been approved by the FDA as food safe. That approval process is a lengthy and costly one that manufacturers often opt-out of, otherwise the cost of your paints would go up.
DecoArt Glass Paint
From experience, DecoArt makes a great quality acrylic paint product and their Glass Paint is no exception. This product has a satin finish and self-levels as you brush it on your glass. It takes four days to cure before use (if air-dried). Finished projects are also top rack dishwasher safe after being baked in an oven at 275°F for 30 minutes.
DecoArt's paint is not intended for contact with food, so keep it on the outer surface of your wine glass away from your lips and on the underside or edge of your plates. The color comes in both rich, opaque satin colors and shimmering metallics. The more coats you apply the more opaque it becomes.
DecoArt Gloss Enamels
Gloss Enamels are different from DecoArt's Glass Paint in that they have a thicker consistency and are shiny in appearance once dried. This paint comes in a wide variety of finishes including opaque, gloss, frost, metallic, and glitter. This product also takes 4 days to cure when air dried, and is top rack dishwasher safe when oven-baked at 325°F. This paint is non-toxic and easily cleans up with soap and water.
FolkArt Enamel Paint
Using stencils on your project? FolkArt Enamel Paint is a great paint choice that achieves a durable, scratch-resistant gloss finish. Once baked in an oven at 350°F for 30 minutes and then allowed to sit for 72 hours, the item will be top rack dishwasher safe.
Multi-Surface Paints
Multi-Surface paints are formulated and tested to work on different surfaces including glass. There's a variety of options on the market by DecoArt, Martha Stewart, and Plaid. You can also find multi-surface paints in less expensive craft brands like CraftSmart, but the less expensive varieties will need more coats as they are not as heavily pigmented.
Frosted Glass Paints
Looking for a paint that gives you a sea glass effect? The Crafts by Amanda team has had success painting on mason jars with crafted projects using Frost Glass Paints by both Plaid and Martha Stewart. There's also a great Krylon Frost Paint that Amanda has used on mason jar wall sconces (featured in the top photo) that produced a beautiful finished result.
Glass Stains
If you are seeking a stained glass effect, choose a glass stain like DecoArt's Glass Stains, Unicorn Spit, or Pebeo Vitrea. Some of these are often a little harder to come by at the craft store, so look for them online or at your local art store.
Also, some alcohol inks traditionally used for mixed media work well on glass. Ranger Industries makes several packs of alcohol inks in complementary colors that work nicely together. Jacquard Pinata Colors are another alcohol ink option that performs well when applied to glass.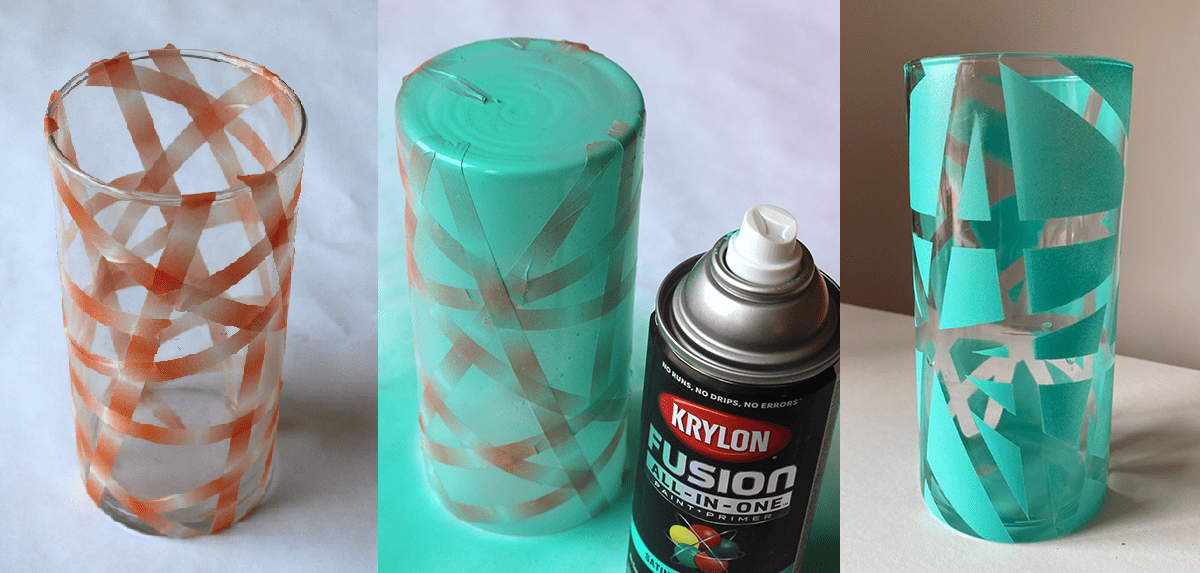 Glass Spray Paints
When shopping the spray paint aisle, always check the label to see if the paint works on glass or offers a multi-surface solution. You want to make sure you are getting a quality paint that will stick solidly to your glass surface.
Chalky finish spray paint is a favorite go-to spray for common glass items like mason jars. And there are other varieties like Looking Glass paint by Krylon that give a mirror effect on glass.
As far as a regular satin finish, I tested out Krylon Fusion All-In-One paint and it gave great, even-coverage and a matte finish with no bleed. Amanda has also used Rust-Oleum Painter's Touch 2X Ultra Cover for painting wine bottles and it gave a smooth consistent coverage after a few light coats.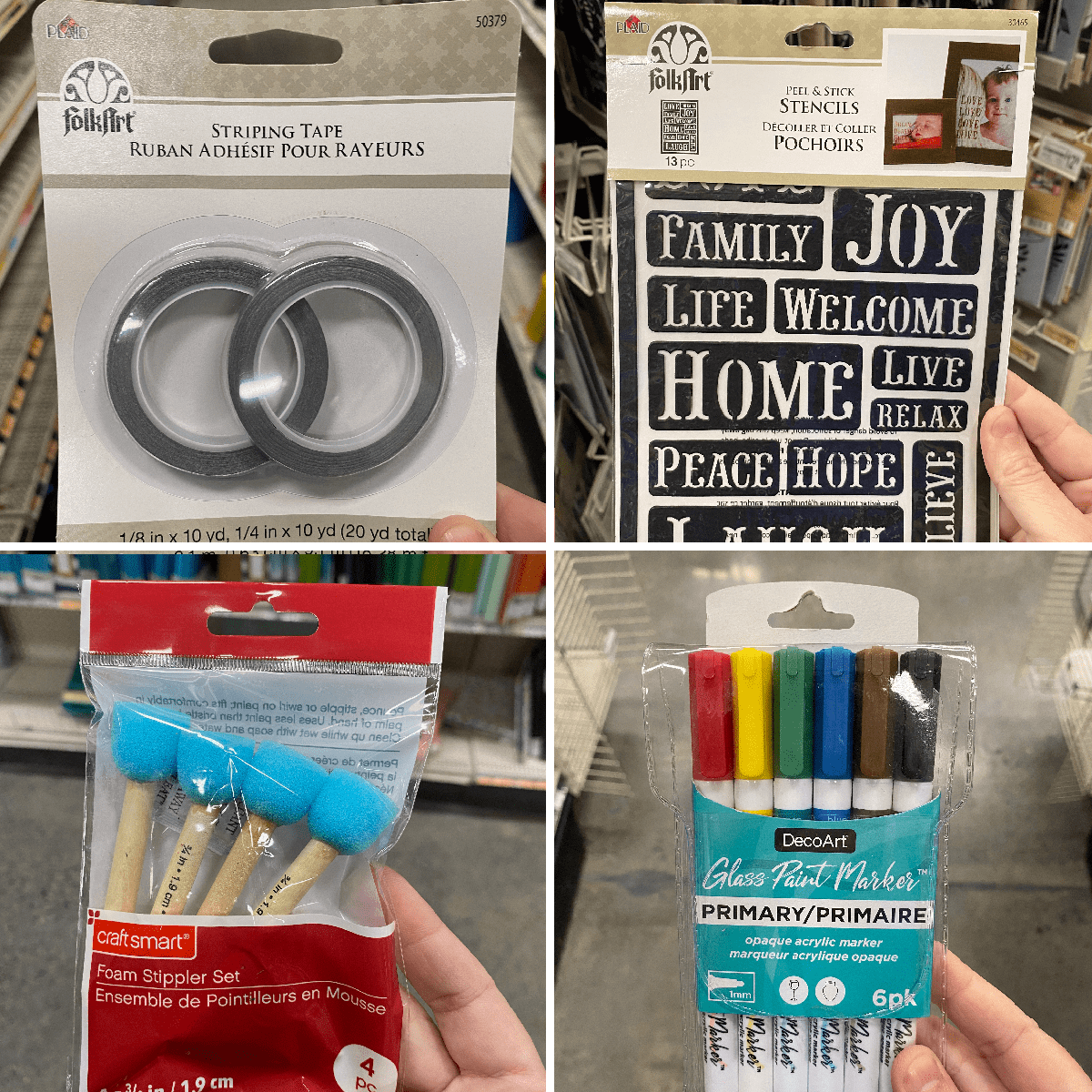 Expert Tips for Glass Painting
Here are some helpful tips before starting your glass painting project.
Consider masking or striping tape for doing geometric line work, stripes, and patterns on glass.
Many paint brands have charts showing which paints were made exclusively for glass, check it out on your next visit to the craft store.
Look for peel and stick stencils that easily adhere to your glass surface. They are great if you struggle with doing freehand painting or want an exact shape. There are many varieties including patterns, trendy motifs, and letters to work with.
Foam stippler/pouncer sponges are great for getting smooth, even coverage when working with glass. There are different sizes of pouncers available.
Use the back of your paintbrush or the end of a pencil eraser to make small polka dots on glass, like on these polka dot wine bottles.
If you want to skip the brush or pouncer, try Glass Paint Markers like these from DecoArt. Try some calligraphy, freehand a design, or use it with a cling stencil.
Visit your favorite paint brand's web site for more ideas for glass painting and product information; also search "Glass Paint Ideas" on Pinterest to get inspired.
Consider making your own custom stencils using a Cricut or Silhouette die cutting machine. It's easy to download stencils/designs from their online design hubs and make cool designs in minutes using repositionable vinyl.
Of all the paints featured above, keep in mind that not all stores carry the same exact products or assortments. You may need to price compare or find them online to get custom colors or finishes. Some stores are simply only stocked with a select assortment.
If you are ever unsure about how to wash your glass painted item, to be on the safe side wipe it down with a damp cloth and hand wash only.
Just like any painting project, practice makes perfect. It may take a few tries to get a handle on the glass painting process. It can take some practice to get even coats, coverage, and brush effects. Try on one of these of glass projects for size…
Fun Glass Paint Projects to Try
Be sure to check to our guide for painting on plastic as well!
Latest posts by Alexa Westerfield
(see all)