Who doesn't love cute snowman crafts? Kids love them and they are popular long after Christmas is over. A felt board is a great way to engage little ones and it encourages imagination, similar to our Four Seasons Felt Board, this snowman craft will be a hit with the kids!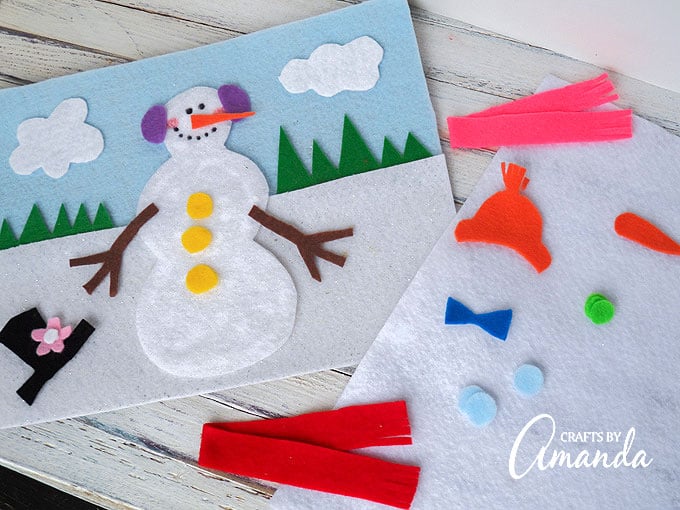 Snowman Crafts: Snowman Felt Board
Snowman crafts are really popular because they are so easy to make your own. Just change hats, noses, scarves and the snowman is different. Here are just a few of the different ways to dress up the snowman on this felt board we are about to make.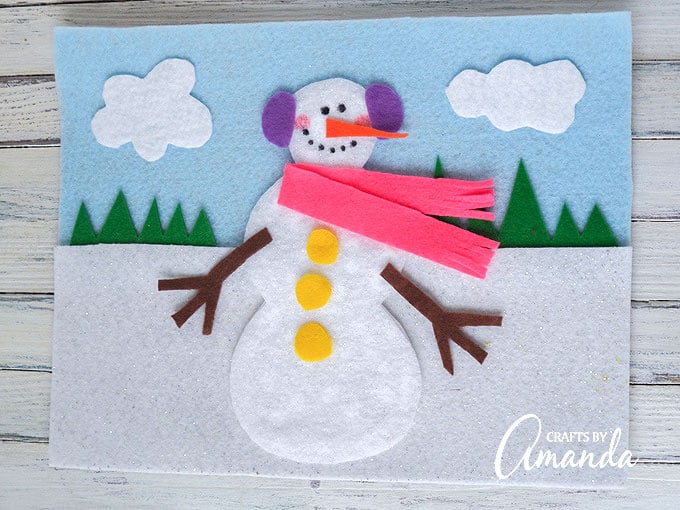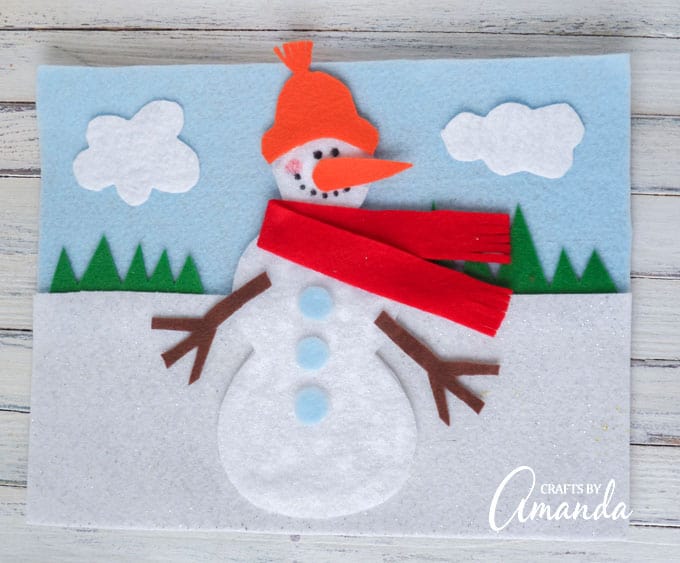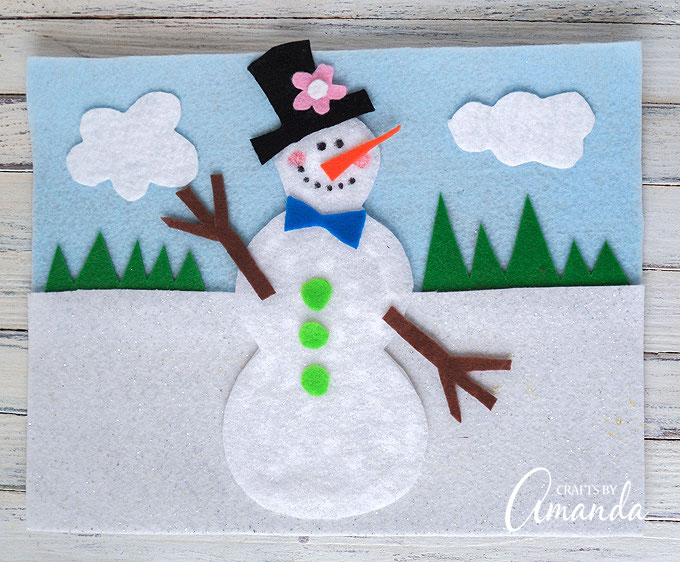 FIND THE FULL PRINTABLE INSTRUCTIONS AT THE END OF THIS POST.
What you'll need to make a Snowman Felt Board
Making the Snowman Felt Board
You'll cover a piece of cardboard with light blue felt to set the background. half of a white sheet is added for the snow, but we don't glue it down in the center so we can lift the flap a bit to move trees around. As you can see from this picture, you can reposition the snowman by moving the trees.
You'll make a basic felt snowman and add eyes, mouth, and cheeks with a marker. All of the other pieces are made from felt and removable.
Store all your pieces in baggies with a zipper enclosure! Great for travel too.
Other Snowman Crafts
I really like snowman crafts, especially for kids, because you can make them out of just about anything! Think about it. If it's round or long or even square, you can imagine it as a snowman. Let me show you what I mean. Here are some other snowman crafts made from different shapes.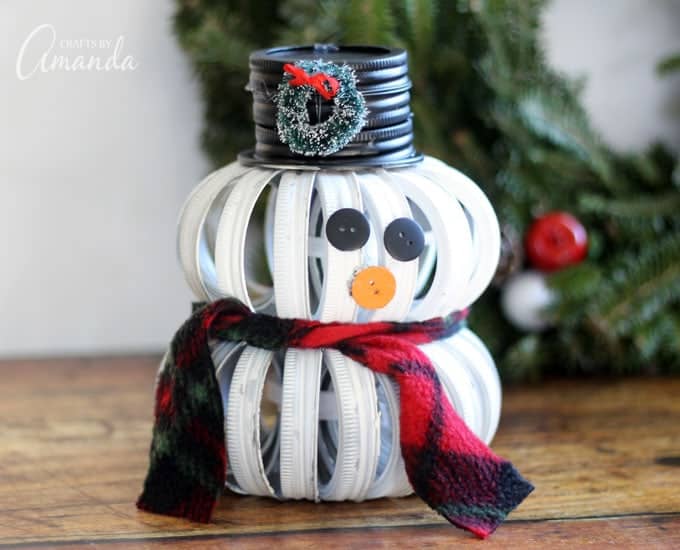 Or a more adult-friendly snowman craft that's not only adorable but unique too… this Mason Jar Lid Snowman!
Anyway, you get the point. Nothing is safe from me or anyone else turning it into a snowman! ;-) if you are looking for more, there are a ton of snowman crafts on my other blog, Fun Family Crafts. Have fun!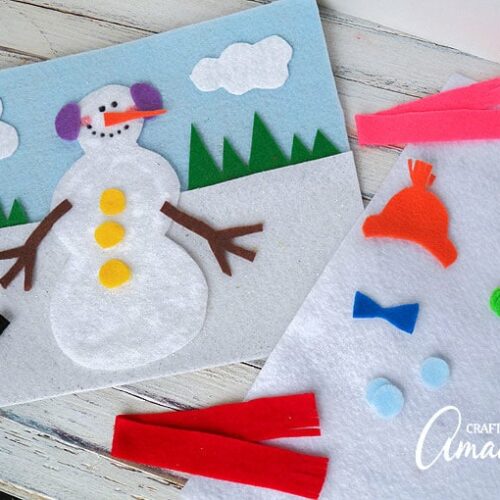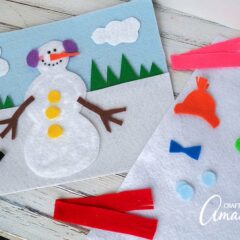 Print Project
Snowman Felt Board
Who doesn't love cute snowman crafts? Snowman crafts are popular because they are easy to make your own. A felt board is a great way to engage little ones.
Supplies
8

x10 cardboard

back of a writing pad works great

Felt: light blue

white, green, and various other colors

Black and pink Sharpies

White craft glue
Instructions
Cover the cardboard with white craft glue and spread it into an even layer using your finger. Be sure that all of the cardboard is covered.

Cover a little more than half of the cardboard with light blue felt for the sky. Cover the bottom section with white felt, overlapping the blue by about ½". Do not glue down the overlap.

Cut out two sections of triangle trees from green felt. These can be inserted into the white felt "pocket" that overlaps the blue felt. This way the trees can be moved and your snowman can be repositioned. Cut out clouds from white felt.

Cut out snowman shape from white felt, cut another and glue them together. This will make your snowman a bit sturdier.

Cut noses from orange felt, stick arms from brown felt, and accessories from various other colors. You can make a top hat, stocking cap, ear muffs, scarves, mittens (not shown), a bow tie and buttons.

Draw facial features on with black and pink Sharpies (hint: place a hat and scarf in place before drawing to be sure you have enough room).

Kids will be able to make various different snowmen by dressing them in different accessories!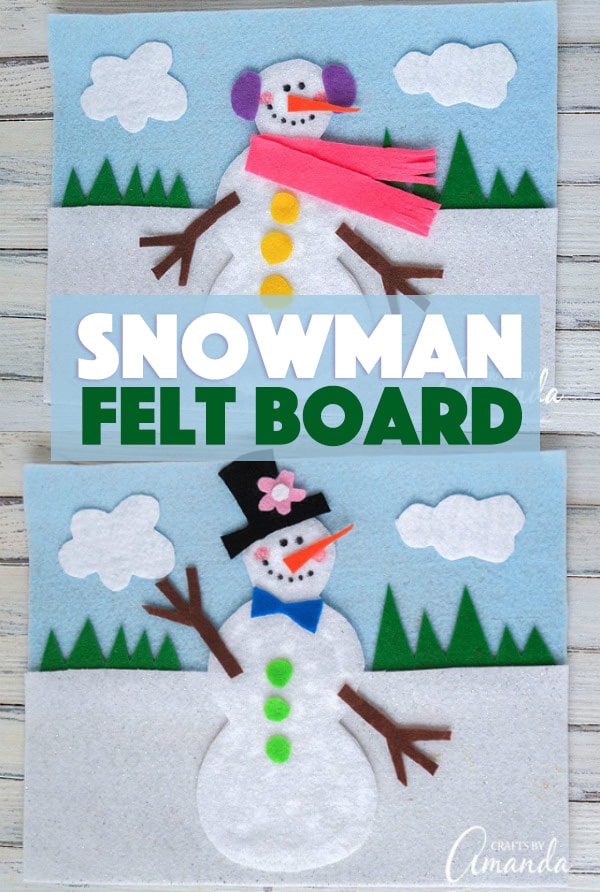 This post was originally published on this blog on Jan 24, 2013.
Latest posts by Amanda Formaro
(see all)