Meet Crabby. He's our latest DIY driftwood crab wall art and we think he's pretty crab-tastic! We'll show you how to make your very own crab-errific (I could do this all day;)) art piece to add some coastal flare to your space.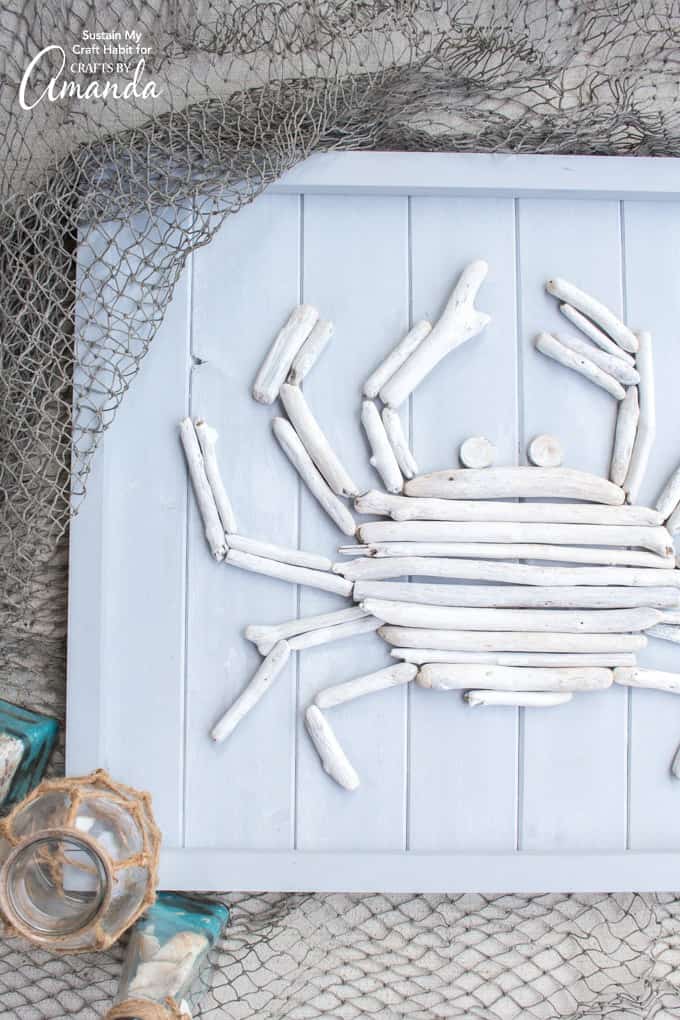 Driftwood Crab Wall Art
Hi friends! This is Sonja from Sustain My Craft Habit, a DIY, craft and home decor blog I co-author with my sister Jane. Collecting driftwood at the beach near our family cottage is one of our favorite pastimes.
We collect all different sizes varying in lengths and widths and hold on to them for our next crafting project. Next time you're at the beach, don't miss your chance to collect beautiful pieces of driftwood to use for all types of driftwood wall decor, such as:
Just thinking about all these beachy decor ideas is bringing about some creative vibes. This finished driftwood wall decor measures 28″ wide by 24″ high making it an impressive stand-alone showpiece on your wall or fireplace mantel. We actually used pine pieces left over from our farmhouse inspired DIY memo board.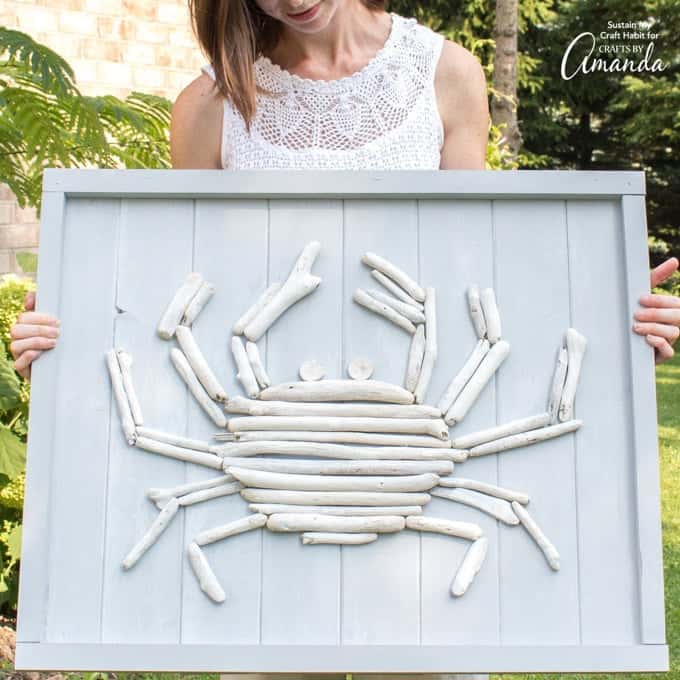 Materials Needed to make this Driftwood Crab Wall Decor:
Crab Template for Printing, measures 21.5″ wide x 16″ high
8 pieces of Tongue and Groove Pine boards (3 1/2″ wide x 5/16″ thick ), cut to 24" long
1″ x 1″ wood trim (2 x 24″ long, 2 x 28″ long)
Cotton rag
Driftwood pieces, assorted lengths and widths
Wood Glue (Lepage, no-clamp, clear drying)
How to Make your Own "Crabby" Driftwood Wall Decor:
The Prep Work – Artboard
Cut 8 pieces of tongue and groove pine boards measuring 24″ long.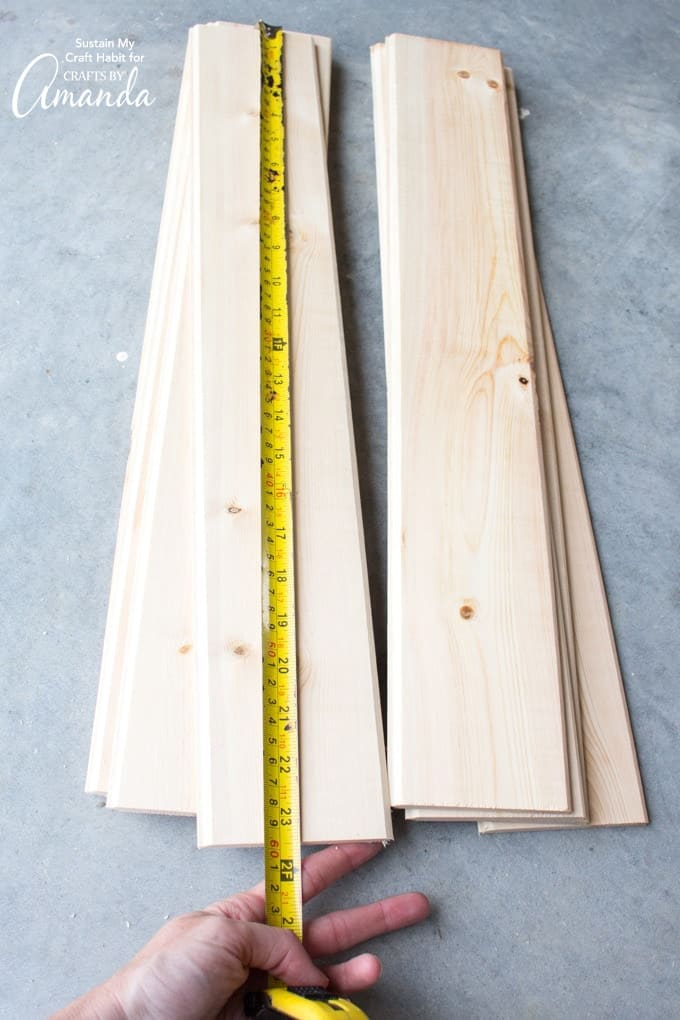 Next, cut 4 pieces of 1×1 square trim: two to measure 24" long and two to measure 28" long.
Paint the surface of all pine boards and trim in yesteryear and leave to dry. You can repeat if additional coverage is needed.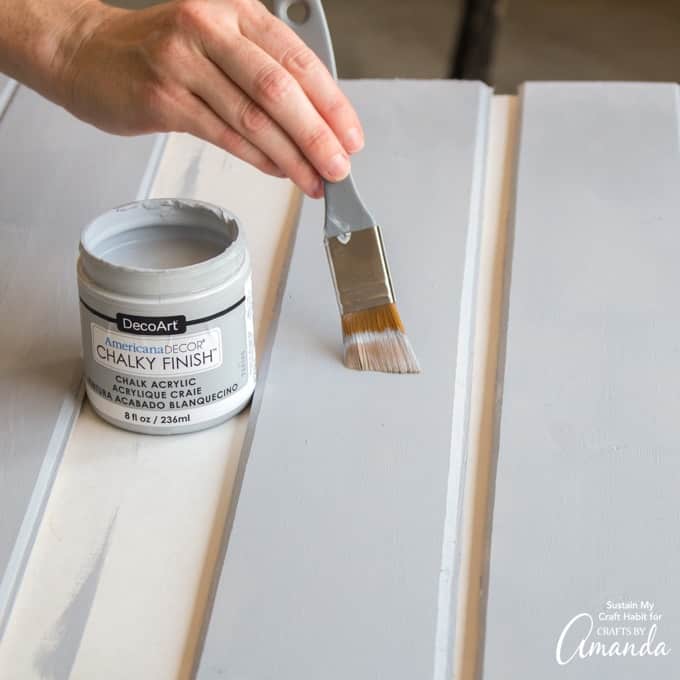 Working with one pine board at a time and in small sections, paint on a layer of white crème wax and quickly rub away excess using a cotton cloth. Continue with the remaining pine boards and leave to dry fully before moving on to next step.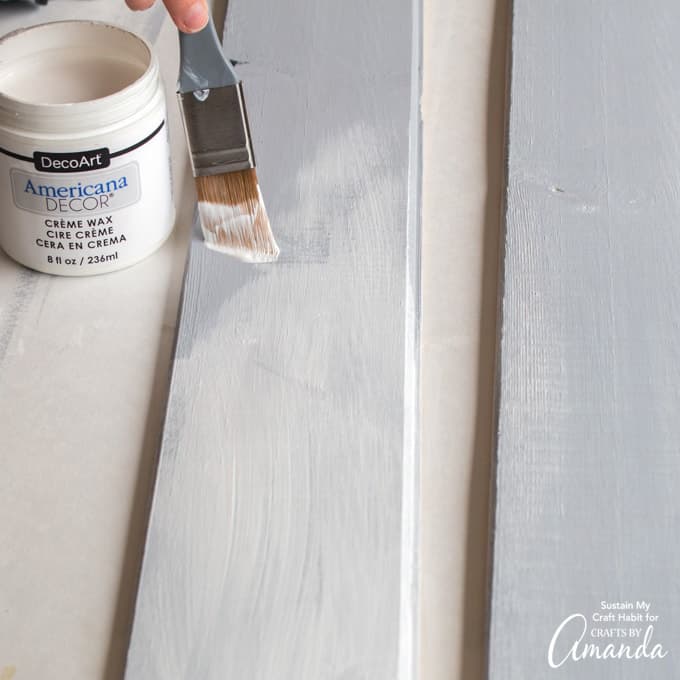 The white creme wax finish will serve two purposes:
      it will protect the chalky painted surface and
      it will leave a nice rustic white wash effect over the yesteryear paint.
See the soft subtle difference after the creme wax is applied: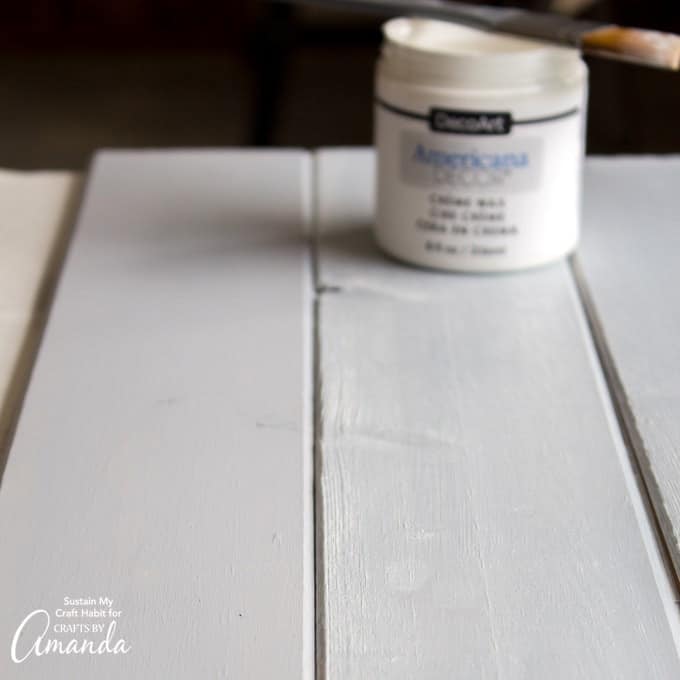 The Assembly – Artboard
Assemble the painted tongue and groove boards to create your backing (or "canvas"). Run a bead of wood glue along the tongue and groove edges and join boards together. Make sure all edges are square and even.
Position the trim work along the outer edges of the joined pine boards. Attach the trim work carefully using a nail gun making sure the nails are not longer than the combined thickness of the trim and pine boards. Be sure to use the proper protective gear when operating any tools. In order for the nail holes to not be visible, you can flip the piece over and nail from the back side.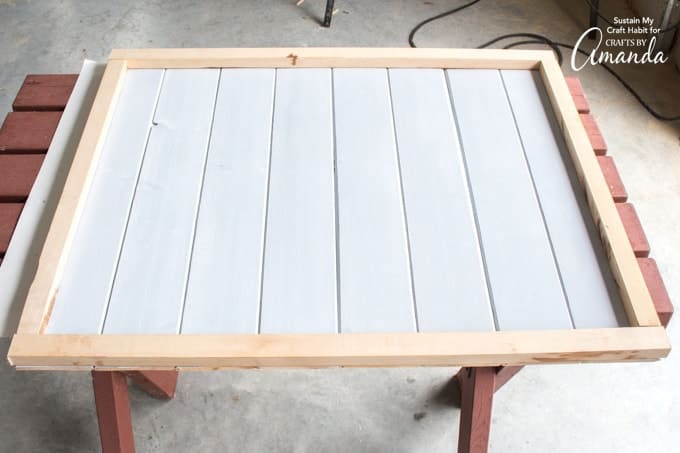 The Prep Work – Driftwood Crab
Print off the crab template on 4 sheets of 8.5″ x 11″. Place the papers together to form crab art and tape along joining edges.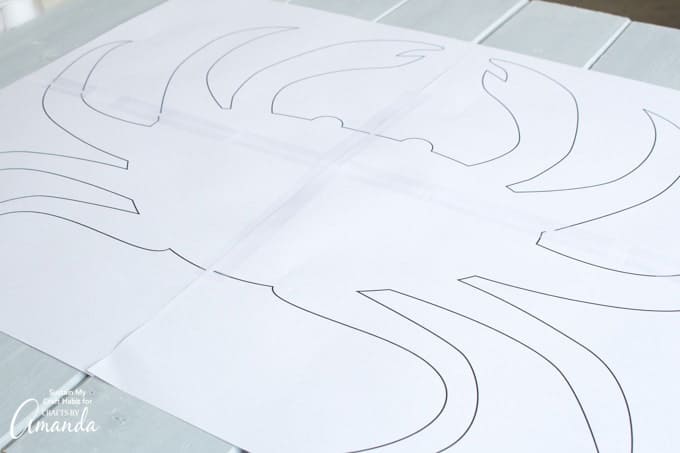 Begin selecting the driftwood pieces to fit inside the crab template, working from the center of the crab to the outer legs. It's a bit like putting a puzzle piece together so take your time and enjoy:)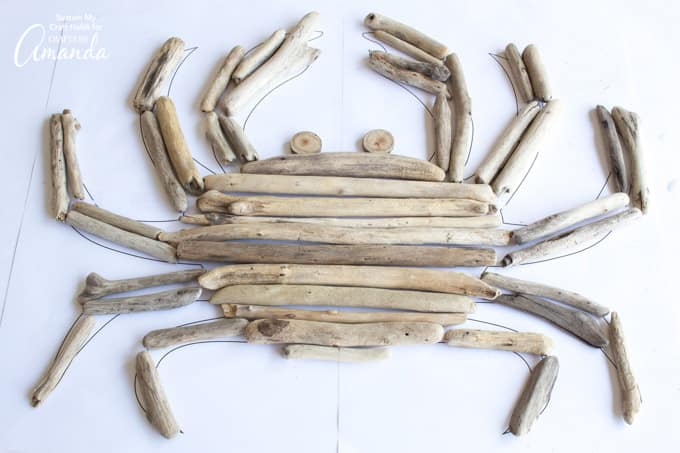 Once you're happy with the set up, paint the surface of each driftwood using a white crème wax. Replace the driftwood one piece at a time and continue until each driftwood is painted. Again, leave the pieces to dry fully before moving on to the next step.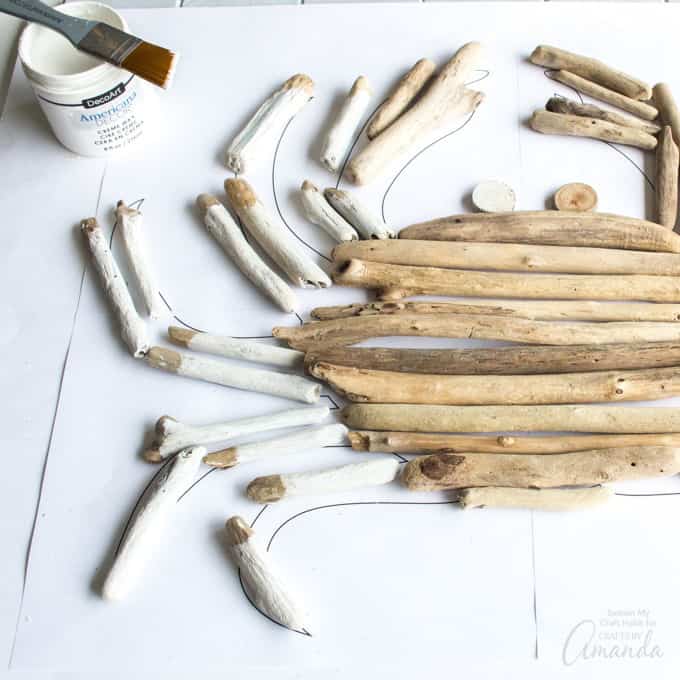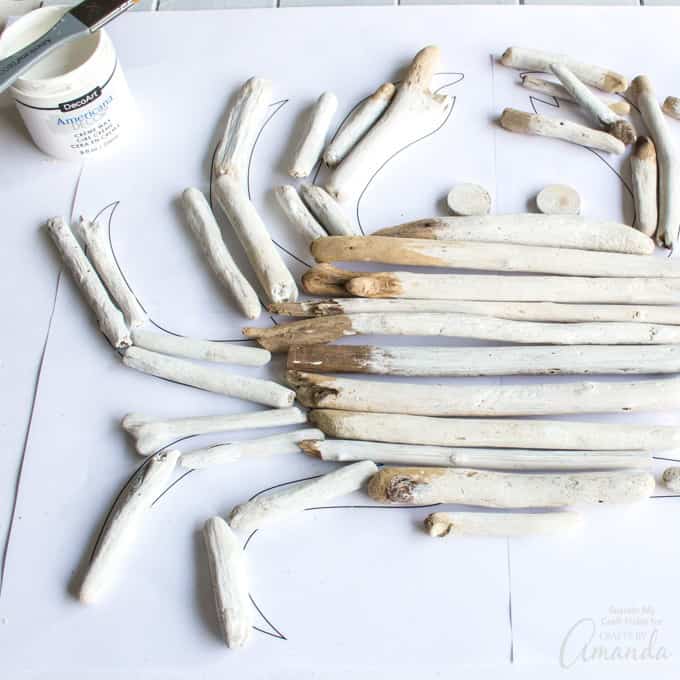 The Assembly: Making the Driftwood Crab Wall Art
Print off the crab template again, tape and cut out.
Place on top of the prepared artboard (aka canvas) and use a pencil to faintly trace around the crab. This will be your guide for placing the driftwood pieces directly onto the artboard.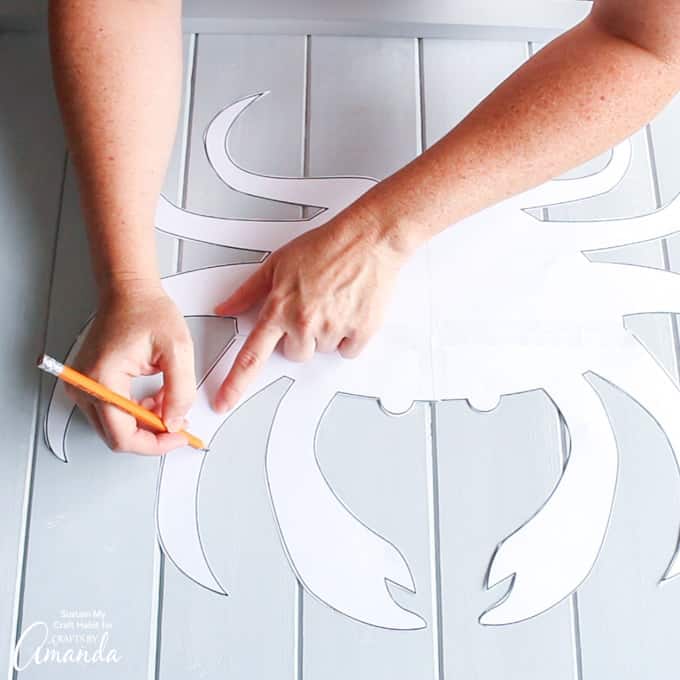 Transfer the prepared crab from one section onto the same section on the artboard. Using wood glue, apply a thick coat of glue with a paintbrush to the back side of each driftwood. Press down and hold in place and then continue until all the pieces are on the artboard.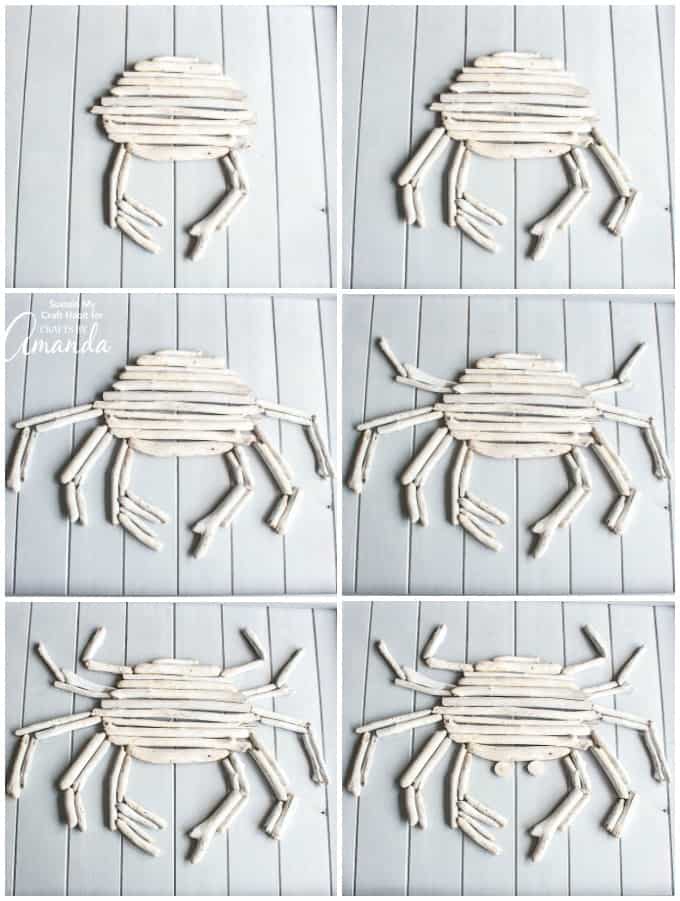 Weigh the driftwood pieces down with a heavy object or as in our case, with large rocks. Leave it to set fully before hanging.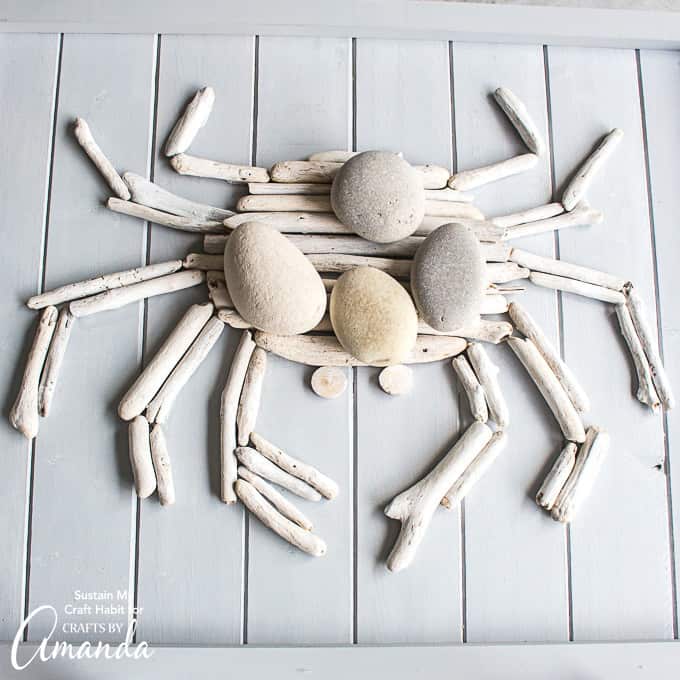 Add the hanging hardware to the backside of the art piece to display your new driftwood crab wall art on the wall. And enjoy!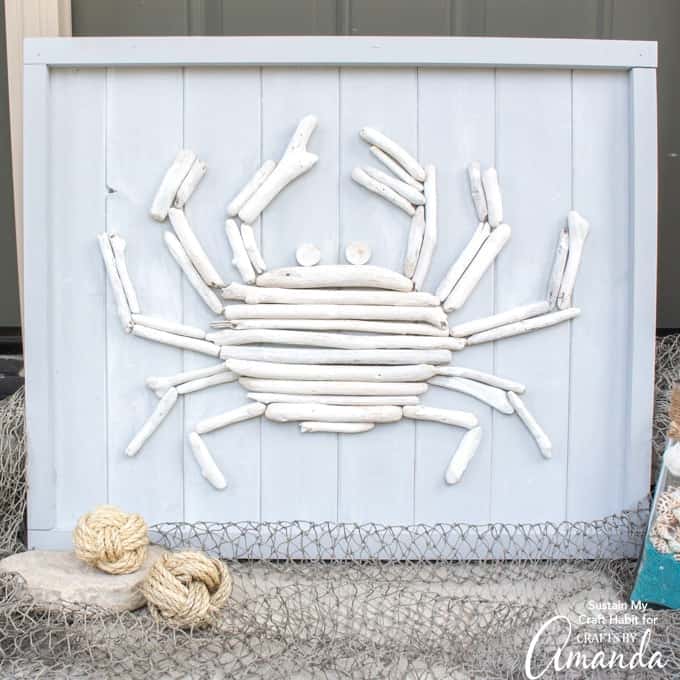 Looking for more beachy project ideas? Check out this post packed with 38+ beach craft ideas for adults and kids.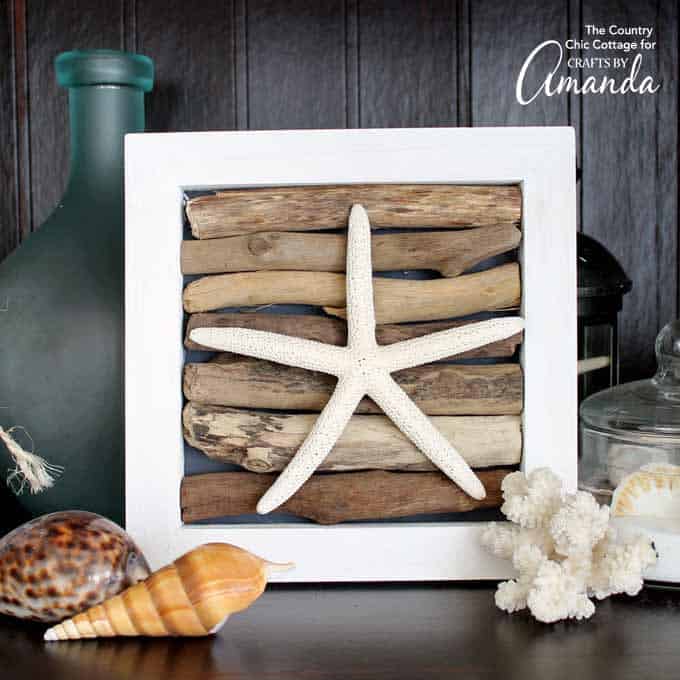 Have leftover driftwood? Try this adorable Driftwood Art with a Starfish!
Watch the video below to see how to make this driftwood crab wall art!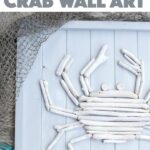 Print Project
A Crabby Piece of Driftwood Wall Decor
Supplies
Crab Template for Printing

measures 21.5" wide x 16" high

8

pieces

of Tongue and Groove Pine boards

3 1/2" wide x 5/16" thick , cut to 24" long

1

" x 1" wood trim

2 x 24" long, 2 x 28" long

Decoart Americana Chalky Paint

Yesteryear

Decoart Americana White Creme Wax

Paint brush

1" angled and small sized

Cotton rag

Driftwood pieces

assorted lengths and widths

Airgun Nailer

Wood Glue

Lepage, no-clamp, clear drying
Instructions
Prepare and paint the backboard wood frame with grey chalky paint and white creme wax.

Print out the crab template and select appropriate driftwood pieces to fit the template.

Paint the selected driftwood pieces with white creme wax.

Trace the crab template onto the backboard.

Assemble and glue the driftwood pieces onto the backboard to create the crab.
Jane and Sonja are sisters, moms and lifelong craft addicts both living near Toronto, Canada with their families. They share their love of creativity, nature and coastal craft and DIY ideas on their blog Sustain My Craft Habit.
Latest posts by Jane and Sonja (see all)