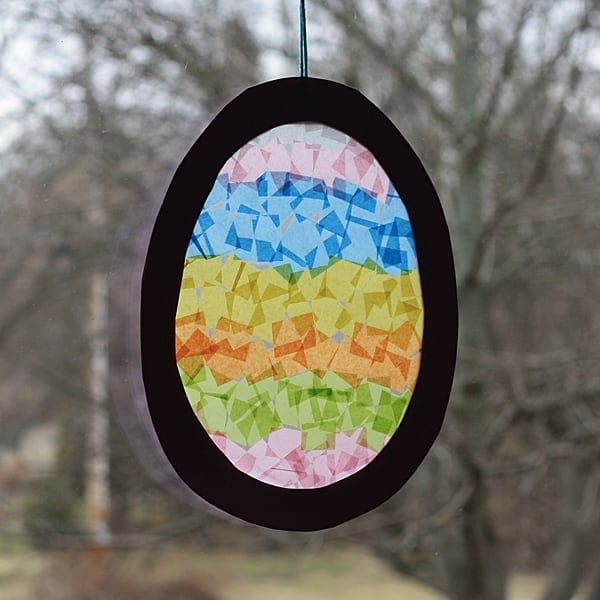 Tissue paper sun catchers have been around forever. They are fun to make and so pretty to look at! You can adapt them for every holiday and kids love to make them. You will need clear contact paper. One roll will make a ton of sun catchers!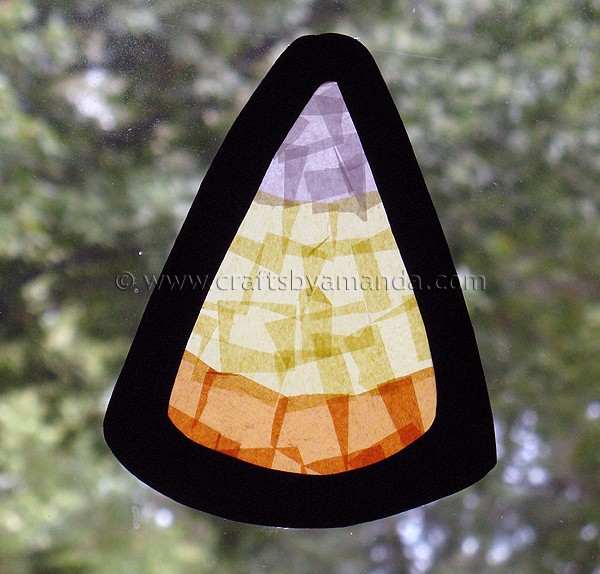 I made this candy corn sun catcher for Halloween a few years ago and have made a variety of different designs over the years.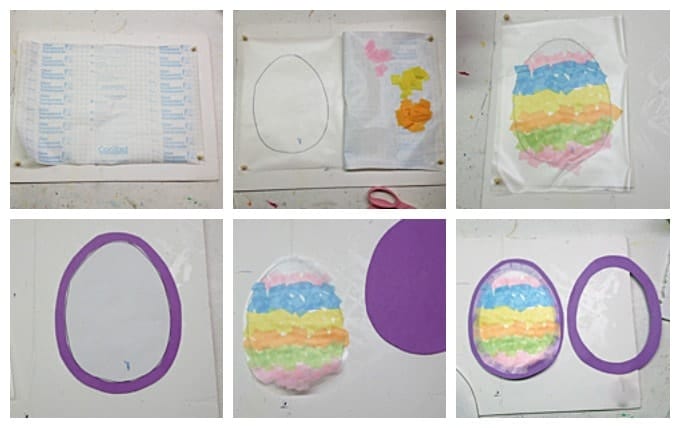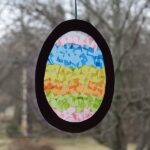 Print Project
Easter Egg Sun Catcher
Supplies
Clear contact paper

2

sheets purple construction paper

Tissue paper in various colors

1

sheet white paper

12-

inch

piece of yarn

Tools: Black marker

glue stick, scissors, 4 pushpins, foam board or cork board
Instructions
You will need a sheet of contact paper that is twice the size of a piece of construction paper. Lay the contact paper, clear side down (do not remove the backing yet!) onto the foam board and tack it in place with pushpins, one in each corner.

Draw an egg shape on white paper with a black marker. Slide the egg drawing underneath the contact paper on the left side. Carefully peel the backing off the left side of the contact paper (the sticky side should be facing upward) and fold it over to the right, tacking it under the pushpins on the right to hold it in place.

Have children decorate the sticky side of the contact paper with tissue paper, using the egg drawing underneath as a guide.

When children are done decorating, peel the backing off the right side of the contact paper and fold it over to the left, sticky side to sticky side. This will sandwich the tissue paper design between the contact paper.

Take the egg drawing and cut it out. Use that as a guide to cut egg shapes from the purple construction paper. Stack both sheets of construction paper together and cut around the egg, leaving about a 1-inch border all the way around.

Use the egg cut-out to cut the decorated contact paper in the same fashion, only leaving about 1/2-inch border all the way around.

Tie your yarn into a loop. Use glue stick to adhere the egg inside the two construction paper eggs, creating a frame for your suncatcher. Be sure to glue the yarn inside with the contact paper egg.
I originally made this project for Spoonful. Spoonful has since closed and the instructions were taken down. I am putting the instructions here until such time that Spoonful projects are redirected to a new home. At that time I will remove the instructions and link directly to the project on their site.