I haven't made a ton of wreaths in my time, but when I do sit down at the craft table I want that wreath project to be easy and fast. My burlap wreath is like that, easy to do, only a few supplies and takes very little time to put together. This bandana wreath is similar and only took about 20 minutes.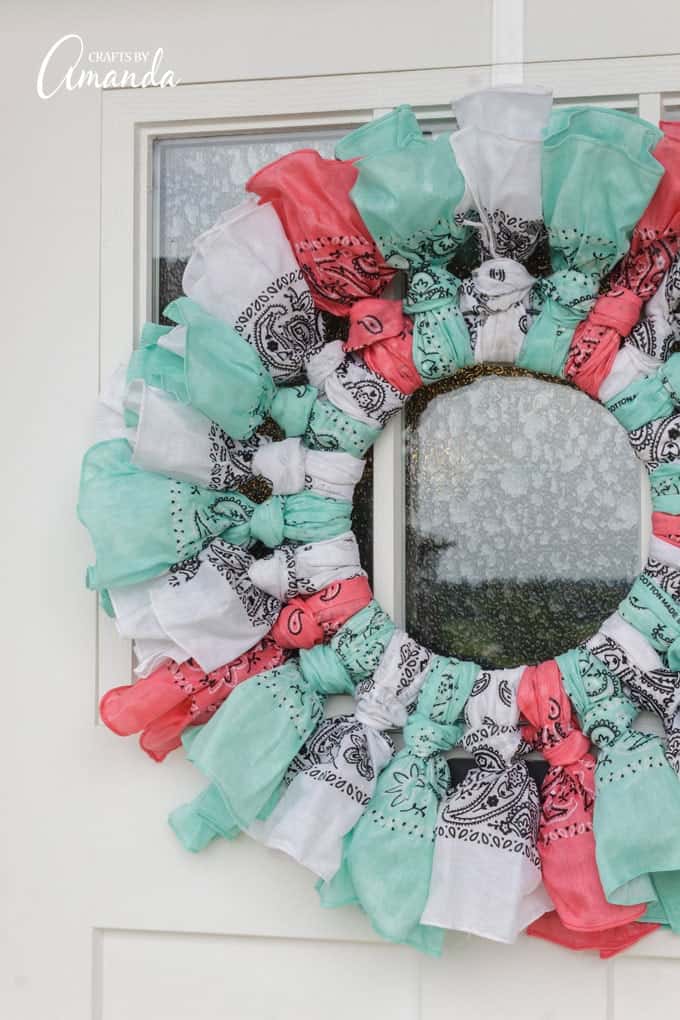 Making a bandana wreath
I recently shared a bunch of pretty spring wreaths and that motivated me to make something myself. However, procrastination is a real problem and I didn't get around to it until after the 4th of July!
In fact, I was inspired by my friend Angie, who is also a contributor on this blog, when she made this patriotic wreath from bandanas.
Buying a bandana wreath
NOTE: if you prefer to buy a bandana wreath, while I don't sell my projects, there are lots of bandana wreaths available on Etsy here!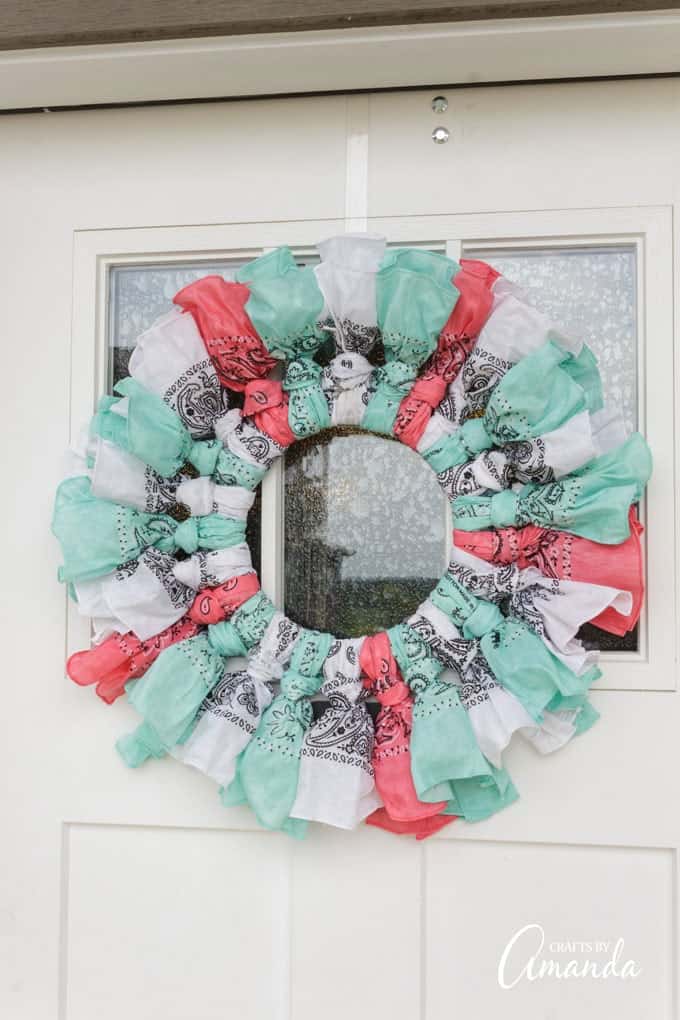 How to keep a bandana wreath from drooping
I've had my bandana wreath hanging on my door for about a month now. But I decided not to post it right away until I could solve one problem and tell you how to fix it too…
Droopiness.
I hung my wreath and it looked great the first day. By the second day, all the bandanas were beginning to droop. Gravity was taking over. Then it rained, and well! Let me tell you that wasn't pretty at all. I had to take it down, lay it out on a flat surface and let it dry.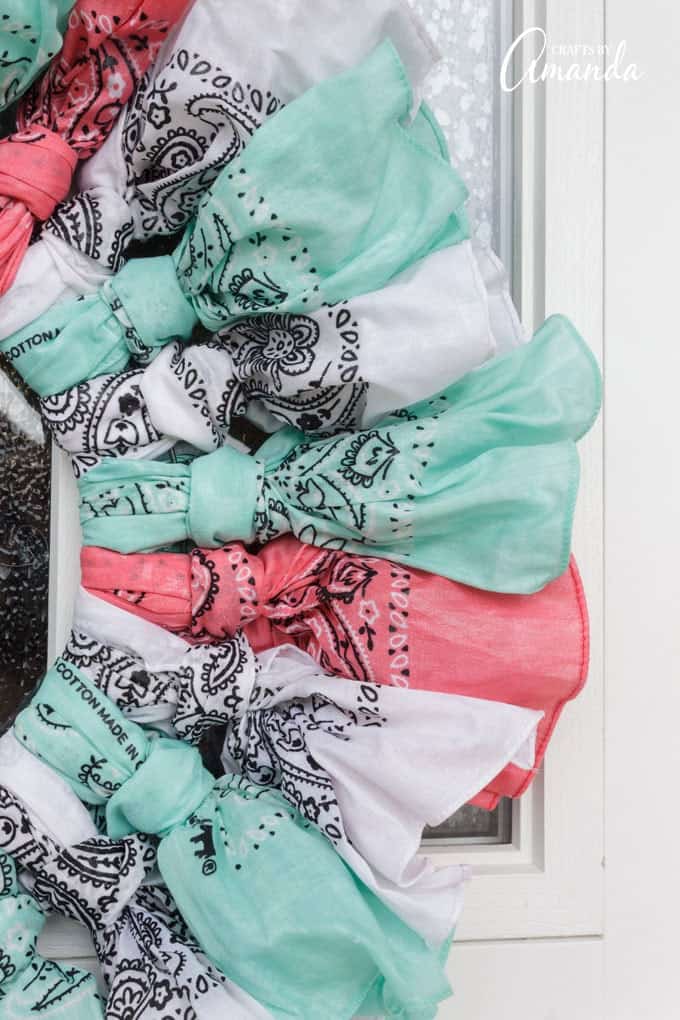 However after a little brainstorming and digging through my craft room stash I found the solution to my drooping bandana wreath… water resistant fabric stiffener. Adding this step does, however, remove this wreath from the 30-minute craft category.
You can make the wreath in 30 minutes for sure, but if you add the stiffener you will need to not only account for the time it takes to apply it, but also for the drying time. But it's worth it, I promise!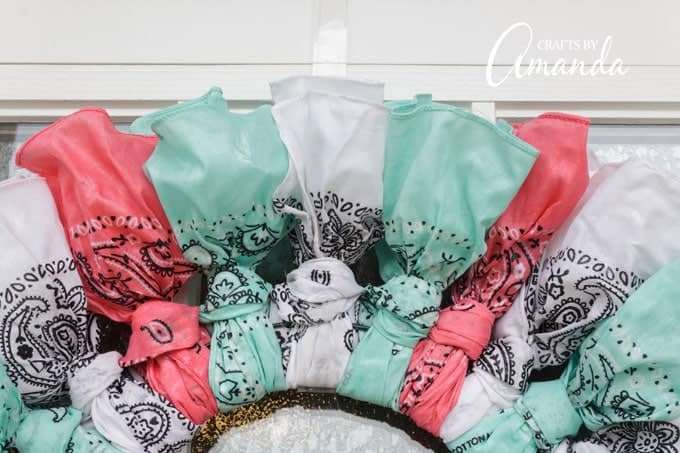 Now my bandana wreath is permanently perky and the rain doesn't bother it. Pretty excited about that! I think you could make a fabric wreath with this method too.
Supplies to make a bandana wreath:
12-15 bandanas (I used 5 teal, 5 white and 3 coral)
2 large trash bags or dollar store plastic tablecloth
*I used Martha Stewart fabric stiffener because I had it in my craft room. But I looked and apparently they don't sell it anymore, I can't find it online anywhere. However, even though I haven't tested it, Aleene's is a good, solid brand and I'm sure it's a solid substitute.
It's called Aleene's Fabric Stiffener & Draping Liquid which is also water resistant. You can use any fabric stiffener, but the water resistance is what sold me.
FOR THE INSTRUCTIONS, please see the printable version below or watch the video above.
You could use any color bandanas you like and you can decorate your wreath too. Originally I was going to add starfish to mine but I ended up liking it all on its own. You do what makes you happy with your bandana wreath and be sure to send me a picture!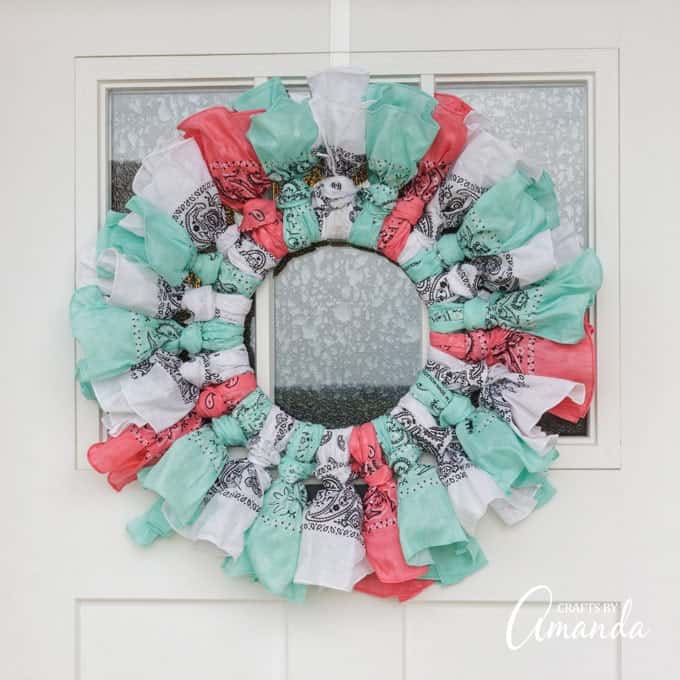 If you liked this bandana wreath, you may also like my denim wreath made from scraps of colorful blue jeans! Or for a different type of patio DIY try these fun and easy Stenciled Burlap Pillows! Customize them to say whatever you want, and enjoy these adorable outdoor pillows for your patio set.
Don't miss this beautiful hula hoop wreath that you can make from a handful of supplies and an old hula hoop!
Want more? Check out these summer wreaths! 
More Wreath Projects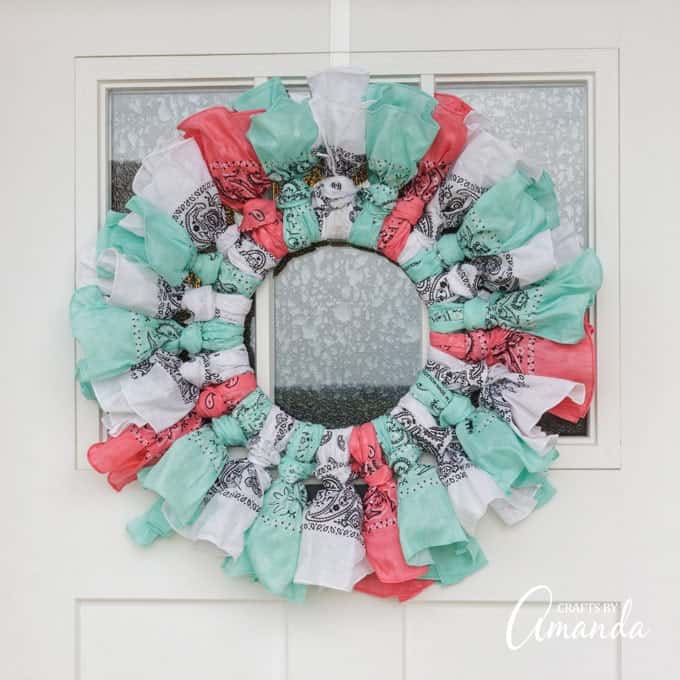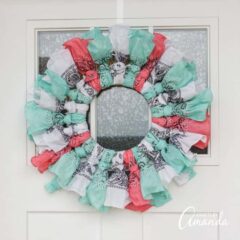 Print Project
Bandana Wreath
Use whatever colors you choose (red, white, and blue would be awesome for the 4th of July!) to make this super fun wreath from bandanas.
Supplies
12-15

bandanas

I used 5 teal, 5 white and 3 coral

12-

inch

wire wreath form

Scissors

Hot glue gun

2

large trash bags or dollar store plastic tablecloth

Water-resistant fabric stiffener

Large paintbrush

15

sheets of paper
Instructions
Cut each bandana in half.

Take one of the bandana halves and gather it together lengthwise, then fold it in half so that you have a loop at one end.

Place the open ends of the bandana underneath the wreath form. The open ends will be in the center of the wreath form and the loop will be on the outside.

Pass the open ends of the bandana over the wreath form and insert into the loop end then pull tight.

Repeat this process with all the bandanas (or as many as you like), tightening and squishing them all together until it suits you.

Use hot glue to secure the knots so that they do not loosen.

Fluff out the ends of each bandana.

Line work surface with plastic trash bags or tablecloth.

use paintbrush to apply fabric stiffener to the ends of each bandana. Saturate each piece, but it shouldn't be dripping off.

Form each bandana end so that it is open and "poofed" out.

Tear each piece of paper in half and crumple into a ball. Place a crumpled ball into the end of each bandana to help hold its shape while the stiffener dries.

Allow to dry 24 hours or whatever is recommended on your stiffener bottle then remove crumpled paper and hang your wreath!
This post was originally published on this blog on Jul 29, 2017.
– You might also like this project – Patriotic Bandana Wreath
Latest posts by Amanda Formaro
(see all)