Hosting a Halloween party for kids can be really fun and also a little overwhelming. However, armed with lots of Halloween party ideas you can host a fantastic bash that your littles with love and remember.
You can get some ideas for snacks and games from my Pumpkin Painting Party too!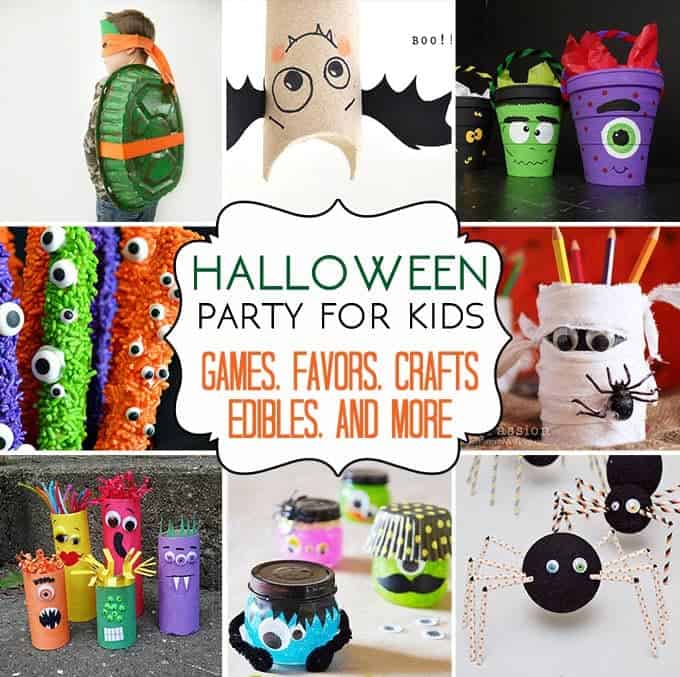 From great ideas for make & take crafts to spooky DIY decorations, there are plenty of ideas here. Making your own party favors and games and serving adorably delicious Halloween edible treats makes for a successful Halloween party for kids.
Hi I'm Courtney, and it's been so exciting getting this roundup together of 37 Crafts and Tips for the Ultimate Halloween Party! I rounded up all my favorite Halloween kids crafts, treats, games, favors and even some DIY costumes to share with everyone. If you'd like some adult Halloween crafts, you'll definitely want to check out these DIY Halloween Decorations!
Halloween Party Ideas: Crafts, DIY Favors, Games & Treats
I love throwing a Halloween party for my boys and their friends every year. So when getting my Halloween parties together (or any party for that matter), these are some things that make it a little easier for me.
1. Halloween Crafts
Crafts for the kids are always number one on my list. So picking out the perfect craft for your party theme is a must on your to do list. It's a great activity to help keep the kids busy during any party. Set up a make & take station by having chairs around a folding table with all the supplies in the center.
Kids can finish their craft then leave it on the table to dry while they enjoy the rest of the party. When it's time to go home, be sure they pick up their make & take!
Here are some fun and easy Halloween crafts for kids of any age. Don't forget to prep your craft table ahead of time to make crafting time a lot easier with the kids.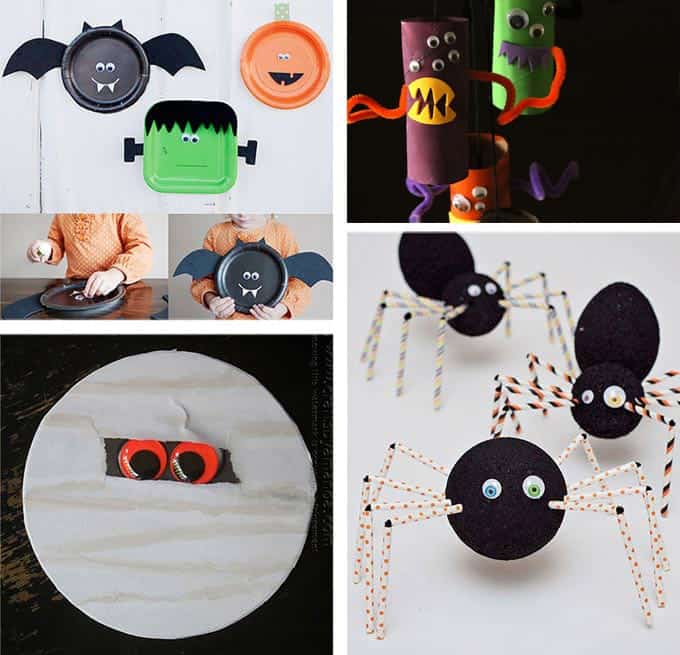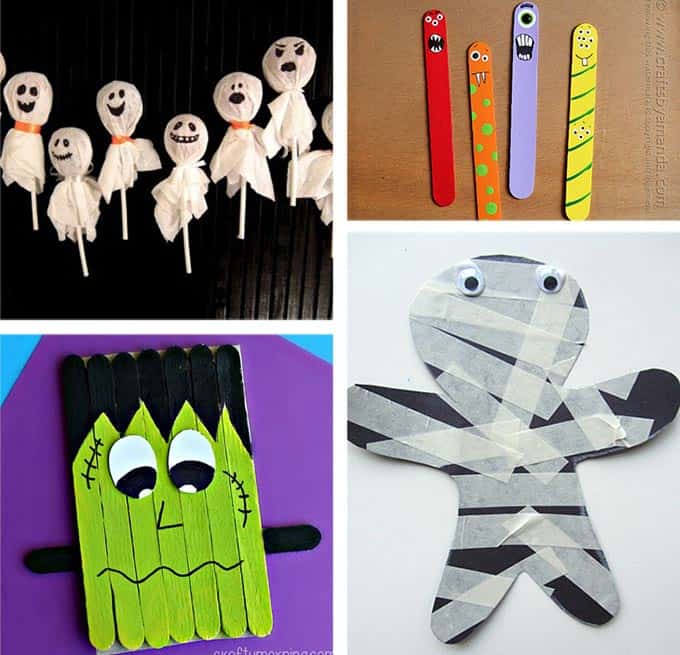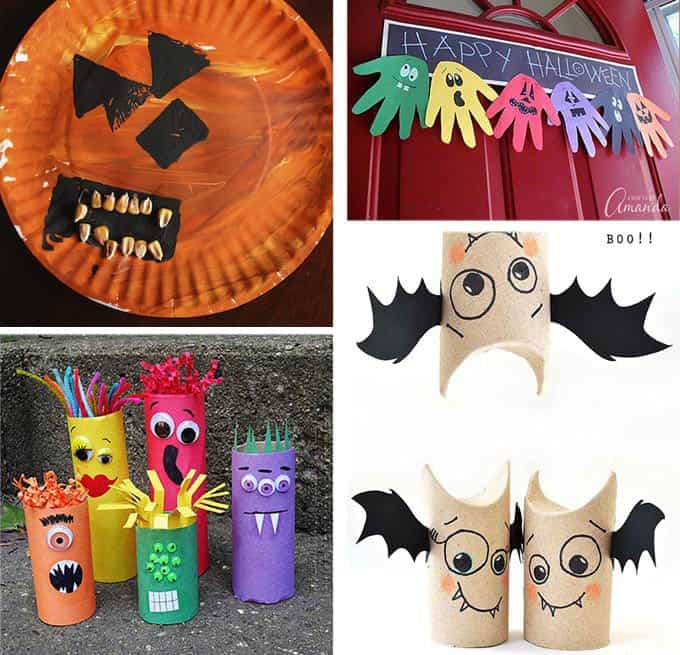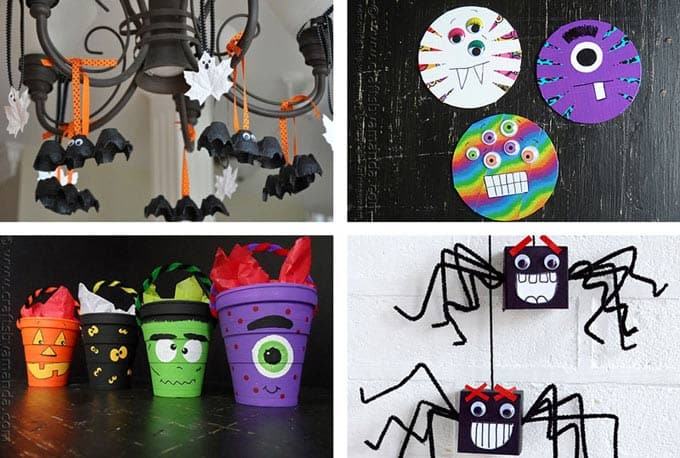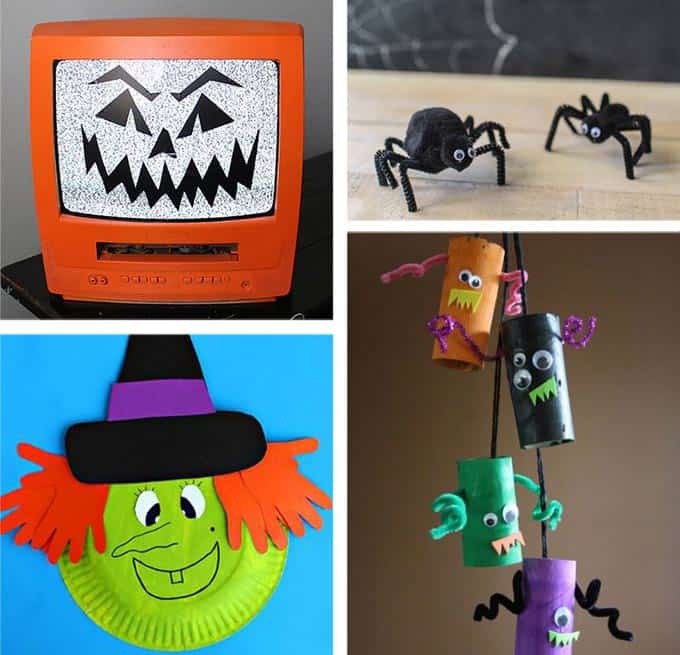 2. Party Favors
I'm a sucker for making party favors for all my kids parties. It's usually a lot cheaper and you can get a little more creative than you can with store bought favors.
One of the great things about these favors is that you can make them ahead of time or let the kids help out during the party! It's up to you.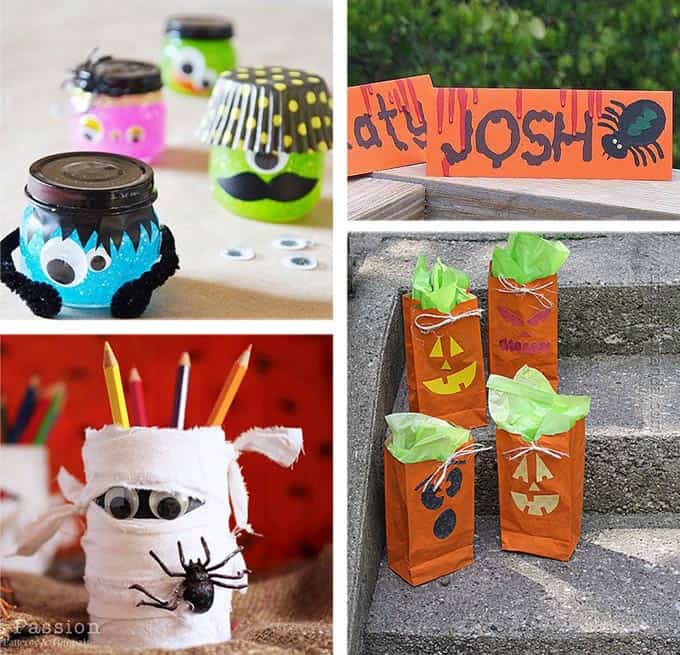 3. Spooky Party Treats
The kids just love themed treat at parties, heck I think we all do! These are some simple yet fun ideas you can make yourself. You can even make a special "spooky treats" table that the kids will love!
I always have the guests try to bring a special spooky treat themselves for the party. My guests have gotten pretty creative over the years!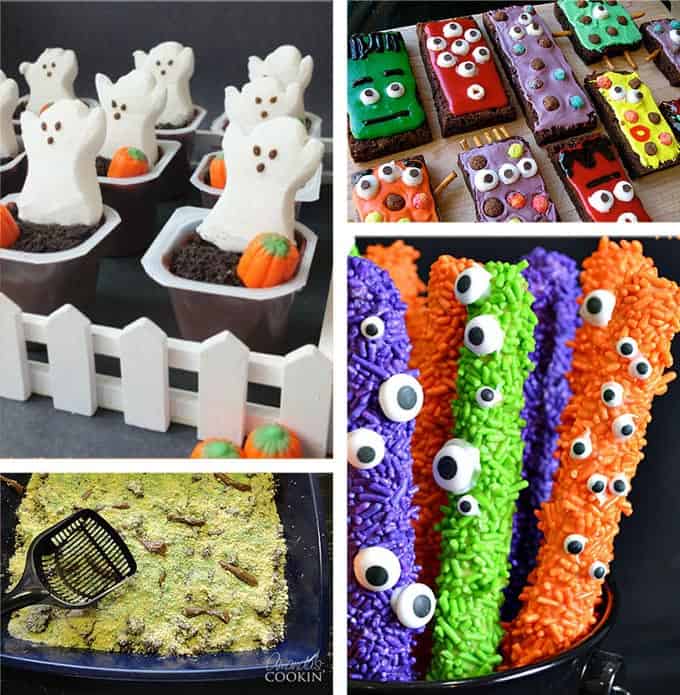 4. Party Games
Now it's not a party without some fun games. I found some great ideas that will make this the best Halloween party yet and they are easy to make!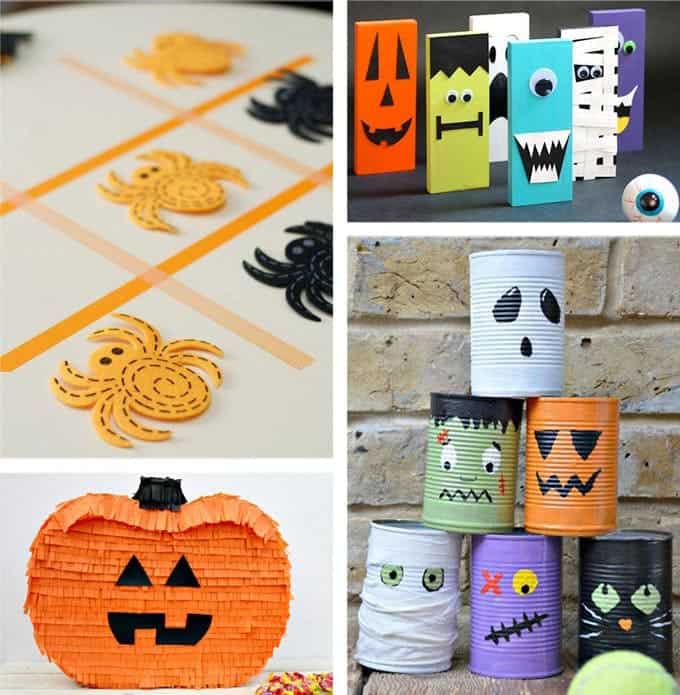 5. DIY Costumes
While costumes aren't usually lumped into posts about Halloween party ideas, they are definitely an integral part of the party. Kids love to dress up so here are some great DIY costumes that you can make for your kids in no time!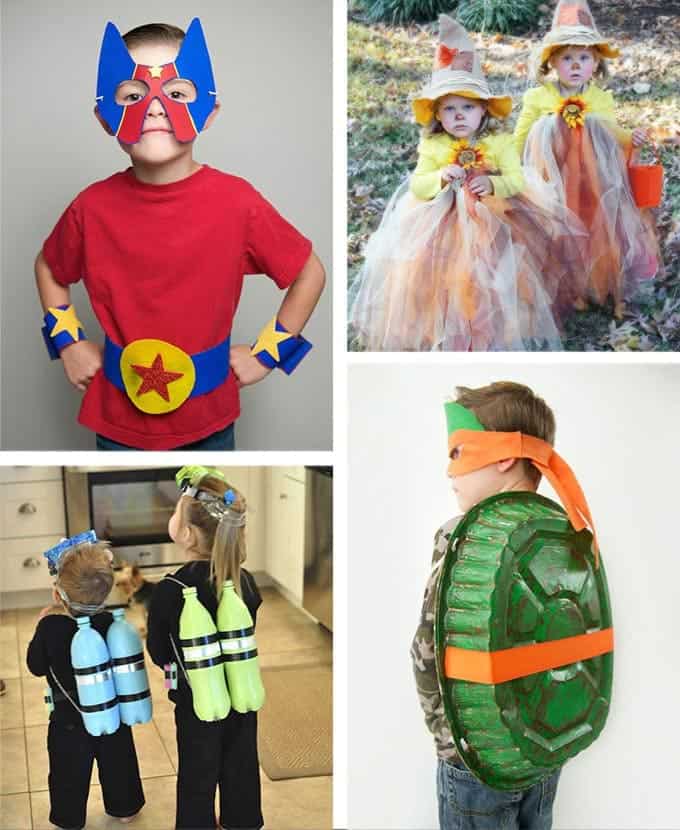 Bonus – Halloween Party
Looking for some more Halloween party ideas and inspiration, here's a complete party you'll love. I always make sure to have a focal table at all my parties.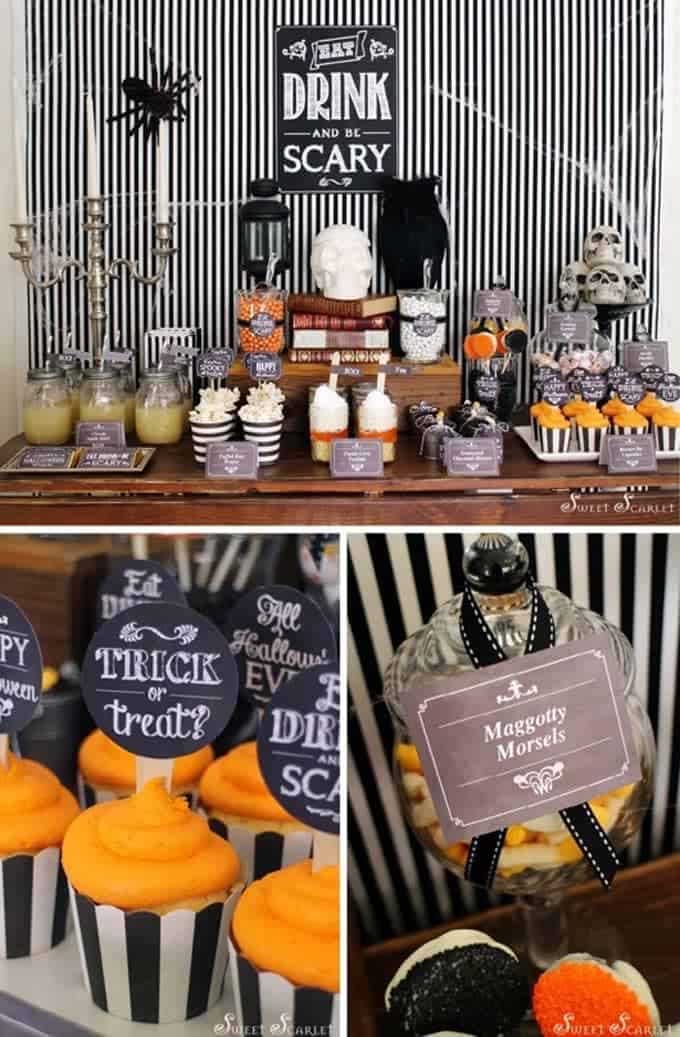 Whether it's Halloween party ideas you need or inspiration for a birthday party, following these suggestions will make the process so much easier.
Planning a Halloween party should be a fun and exciting process not a stressful one. When the party's over and you see what a great time the kids had, you'll know it was all worthwhile.
If you are looking for ideas, here are some great DIY Halloween decorations, and don't miss our Glowing Jack O'Lantern Jars and these super cute Plastic Spoon Monster Trick or Treaters! I also found a fabulous collection of Halloween party games!
Another great kid's craft that can easily be turned into Halloween themed is this Homemade Floam! Homemade floam would make a super fun project to do during the party, or sent home as a party favor they won't want to put down.
Latest posts by Amanda Formaro
(see all)