I'm going to show you how to make these adorable ladybug painted rocks, which you can keep outside in your garden. But first, there's a back story about this super easy craft for kids I first made almost a decade ago. These are super cute garden rocks that you'll be able to leave outside in the elements.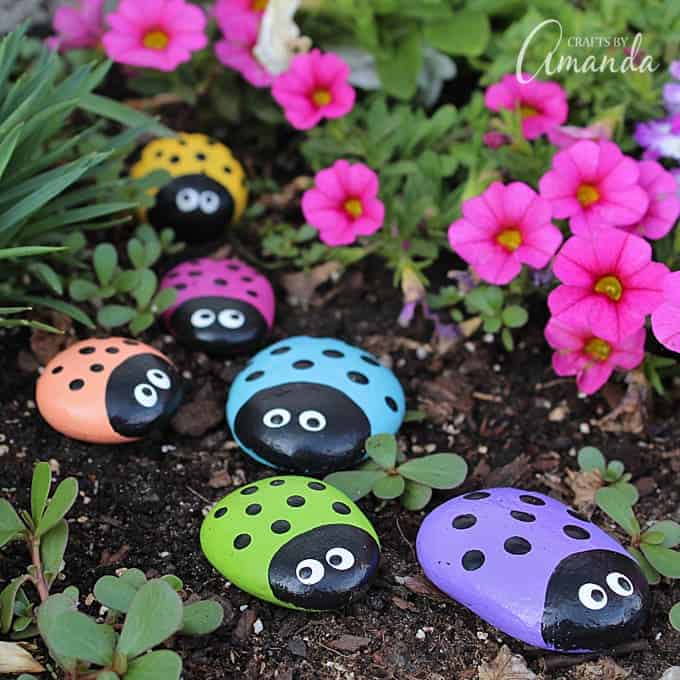 Related – You may also love this Halloween version of garden rocks, Glow in the Dark Monster Rocks! I've even put together a collection of ideas for painted rocks for you! Don't miss our cactus rocks too!
The backstory on my ladybug painted rocks
Back in 2006, I started working for a company called Kaboose. They had actually purchased the website owned by a woman I had known since 1997. She had a site called Kid's Domain. We were webmasters back in the day, long before blogs were around.
She sold her website to a company in Canada. They renamed it Kaboose and hired me to revamp some of Grace's older projects that didn't have photos. They liked my work enough to hire me to create new kid's crafts for their site.
A few years later, Kaboose was sold to Disney. I remained on as a freelance crafter and their resident craft expert for quite a while, until Disney made the decision to stop producing content for Kaboose. Sometime later Spoonful was born and by that time I had created over 500 projects for them!
Most of the Kaboose projects were moved to the new Spoonful site and not long after I started working for them again. It was short lived though as about a year later Disney closed the doors at Spoonful and that was that. I had a great run with them and made MANY projects for their sites.
FREQUENTLY ASKED QUESTIONS
1. Where can I get the rocks?
You can find river rocks at any home improvement store (like Lowes, Home Depot, etc), at garden centers and craft supply stores like Michaels. I have also been told the dollar stores and Walmart carry them. Be sure to check the floral department in craft stores if you are having trouble locating them. And of course, you can buy them here on Amazon.
2. I'd like to buy some, not make them. Do you sell ladybug rocks?
I personally do not sell my ladybug rocks, however, there are several sellers on Etsy that are selling ladybugs similar to mine. You can find those here.
3. What kind of paint do I use so I can keep these outside?
You will see the paint I used below and in the supply list. It's called Patio Paint and is formulated specifically for outdoor use. I love it and have been using it for years. You can get it on Amazon here, or check your local craft supply store.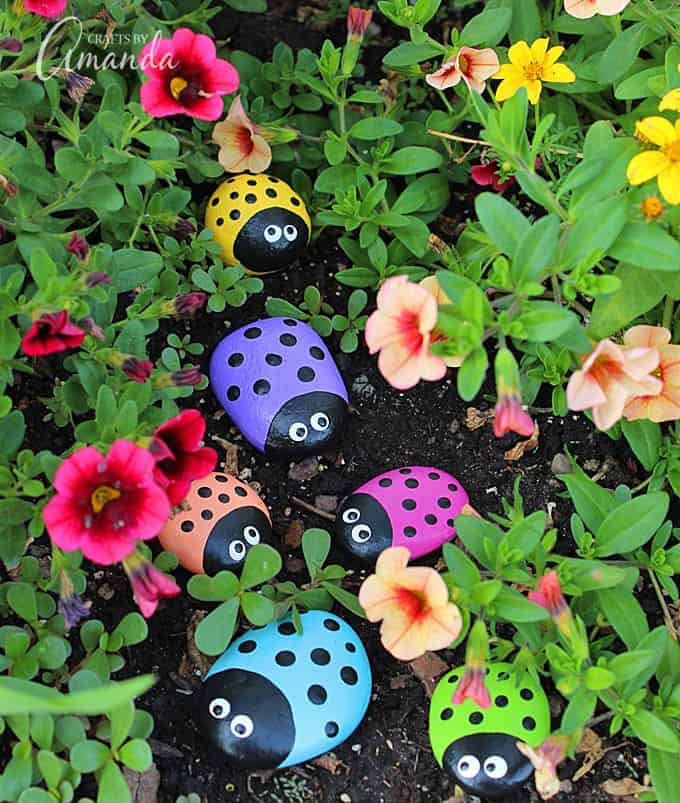 Ladybug Painted Rocks
One of those projects were actually these exact ladybug rocks that are now over at Parenting.com. I made them sometime around 2007 or 2008. Over the years these ladybug painted rocks have made their rounds on the Internet.
But when Kaboose and Spoonful disappeared, Parenting was the only one left with my project. The ones I made for them were similar to the ones I'm going to show you today. The ones I have on this blog do not use googly eyes because they will be kept outside and glue will eventually break down due to the weather.
The other differences include using outdoor paint and the ones I made before had a little line going up their backs. Other than that they are pretty much the same!
How to make ladybug painted rocks
I'll show you how to make them in the video within this post.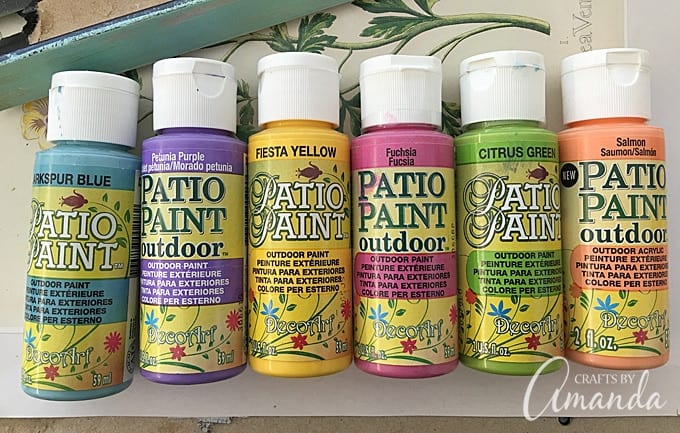 Things you will need:
There! Wasn't that fun!? I had my ladybugs in the flower boxes outside of my studio. Hopefully, no one walks off with them! (Update: people did walk off with them!) Worse case scenario? I have to make more. And that's not so bad. :) There are over 250 easy crafts for kids here so don't leave without bookmarking some first. :)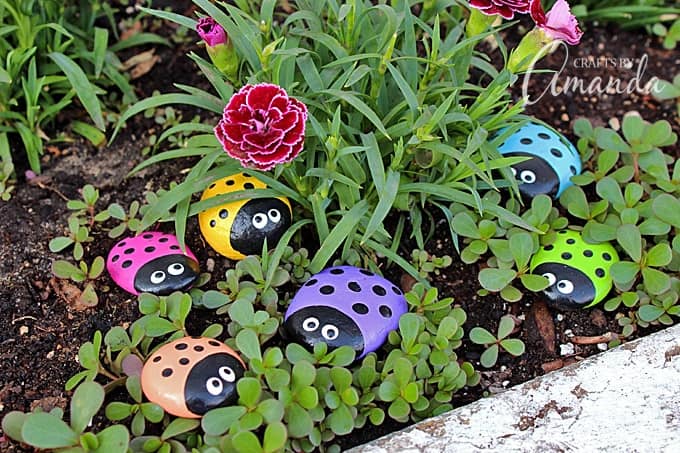 MORE GARDEN CRAFT IDEAS:
You can also use these cute ladybugs in my most recent project, Ladybug Tic Tac Toe!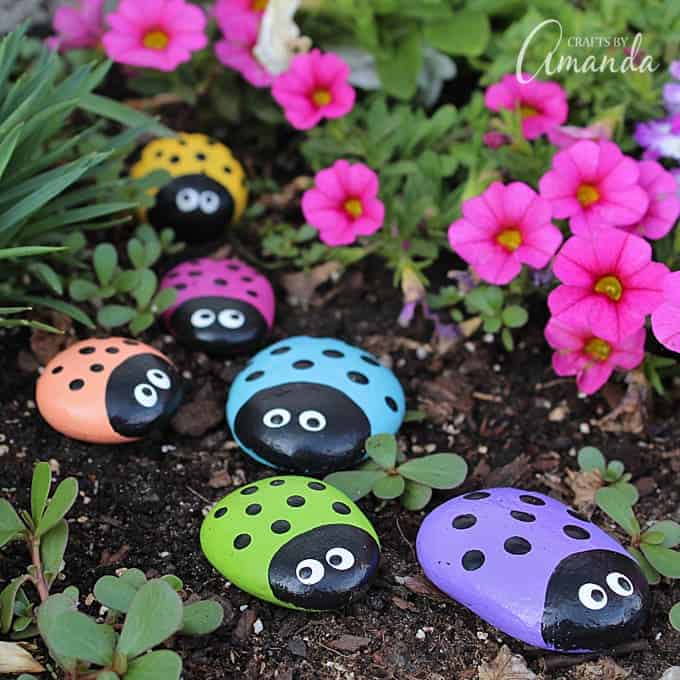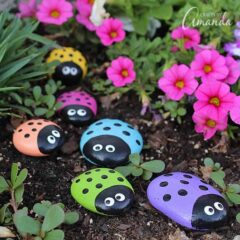 Print Project
Ladybug Painted Rocks
Learn to make these adorable ladybug painted rocks. use special outdoor paint for this adorable garden craft so you can keep garden ladybugs all summer!
Supplies
Patio Paint in colors of your choice

I used Larkspur Blue, Petunia Purple, Fiesta Yellow, Fuchsia, Citrus Green and Salmon

Smooth rocks

preferably oval or round in shape

Paintbrush

Toothpick

Outdoor sealer or Patio Paint Clear Coat
Instructions
Wash and dry your rocks.

Paint with colorful Patio Paint, don't paint the bottoms if these will be sitting in the soil.

Paint on a black head and let dry.

Use the handle end of a paintbrush to dot on ladybug spots with black paint.

Use the handle end of a paintbrush to dot on white eyes. LET DRY COMPLETELY!

Cut the tip off of a toothpick. Dip in black paint and dot onto white eyes.

When completely dry, paint ladybugs with a coat of Patio Paint Clear Coat or outdoor formula sealer like Mod Podge.
This project was originally published on this blog on Jun 11, 2016
Latest posts by Amanda Formaro
(see all)